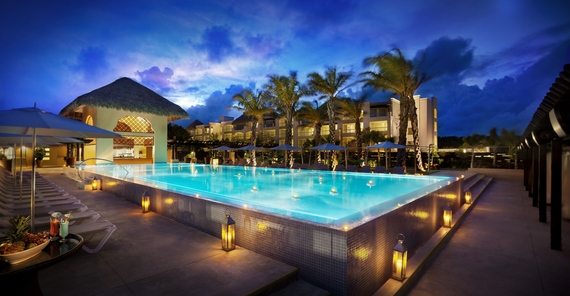 Before visiting the Hard Rock Hotel and Casino in Punta Cana, Dominican Republic, I assumed all all-inclusive resorts were cookie cutter. Not so at the Hard Rock. The HRHC in Punta Cana blends music, local culture, and luxurious one of a kind amenities to make each one of their guests feel like rock royalty as they explore the 121 acres along Dominican beachfront, 15 pools, nine restaurants, Jack Nicklaus-designed golf course, Rock Spa and casino.
With so much to do and explore, it's easy to become overwhelmed. So I've come up with a quick five-point hit list of things you should absolutely do to get the most out of this unique rock star experience.
Get in sync
Treat yo'self at the resort's luxurious Rock Spa. Personally, I indulged in the Spa's signature Synchronicity massage experience. It was unlike any other massage I've ever had before. As I laid on my back, music was pulsed through the plush massage bed, treating my tired, achy backside to a gentle rhythmic massage as the my massage therapist worked her magic on the fronts of my legs and arms. The experience gave new meaning to the phrase, "feel the music."
Mangia in a mansion
For a truly VIP experience, dine at the Simon Mansion restaurant, located inside of the Hard Rock's casino. Designed to resemble an over the top mansion, the Latin fusion restaurant is divided into different spaces that reflect different rooms found in a home--a dining room, living room, bedroom, bathroom, library and so on. Everything about this restaurant screams rock star, from the space itself to the eclectic menu offering everything from wok charred edamame to a siracha-spiced surf & turf cassava worth flying back for.
Note: Simon Mansion isn't covered under any of the all-inclusive packages.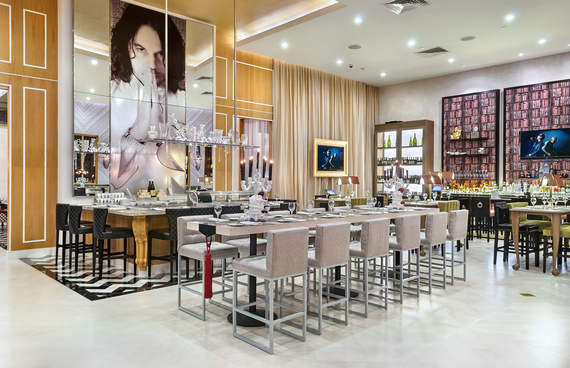 Hit some balls
You don't have to be a PGA contender to enjoy the HRHC's expansive golf course. Trust me. I can barely swing a club, much less finish an entire 18 holes. However, I had the time of my life at the course's driving range my first night there. When the sun goes down, the driving range transforms into a neon wonderland. Guests can come by and take a few swings at the driving range or a few swigs at the range's custom bar. Whatever strikes your fancy, they've got you covered.
Pimp your cash
Most casinos are pretty basic. You have your slots, your tables, your booze--all pretty standard stuff. What made the Hard Rock's casino stand out for me was their High Roller experience. Wednesday through Saturday, one lucky guy or girl is selected to don a boa made of money and fresh to death pimp hat, and is escorted by a team of gorgeous dancers down the length of the resort lobby to the casino where they kick off the night's festivities with a few rounds of shots and a brief stay in the casino's "money shower" booth. At least that's how it went down for one of my travel companions. Aside: He was only able to grab $30 in from the money shower.
Ride off into the sunset
Literally. You don't have to be in a sappy movie to ride off into the sunset with your beloved--or bestie...or local hottie. For $89 (per person) guests are offered the opportunity to go horseback riding on along the picturesque Caribbean shoreline.