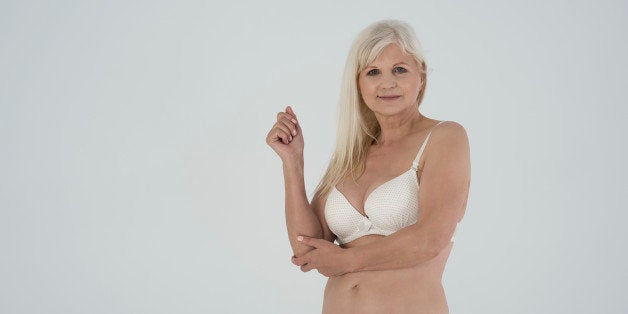 Just because you've reached a certain age, doesn't mean you have to give up wearing beautiful lingerie.
Take it from a woman who participated in her first boudoir shoot at the ripe young age of 59. Still, it can be a challenge to shop for and wear lingerie in your 50s and 60s.
You won't find many fashion models over 30 in advertisements, for instance. (Yes, there's a general lack of diversity in the industry, but for this article, I'll focus on age.) It's like I've crept past a certain "sell-by" date, and aged out of any sales demographic. I feel invisible when I walk into one of America's most famous lingerie chains. I don't exist as a customer.
What I find sexy in my 60s is not the same as in my 20s, either. First, I'm not dressing (or undressing) for anyone but myself. Second, I prefer more, not less, coverage. Third, I can now afford to pay for quality design, construction, and materials. Finally, I don't need guidance on fit. I know what I like. It's more a matter of finding the pieces that make me look and feel my best.
Don't get me wrong. I think you should wear whatever you want, regardless of age. But you might, like me, find some cuts more flattering than others. Or you may simply want to expand your lingerie horizons.
Here are five tips for how to wear lingerie in your 50s, 60s and beyond:
Up your panty game. Nothing makes me feel more put together, in charge of life, and on top of the world, than wearing a matching bra and panty set. It's like making the bed first thing in the morning. I'm ready for the day and can go out and conquer the world. Most brands give you multiple choices when it comes to knicker styles. You'll find everything from high-waisted undies to low-rise tangas and full bottom briefs. Just be sure to stock up on at least three pairs for every bra. Even a plain, basic bra pops when paired as a set.
Pay attention to details. Here's where bra styles make a difference. A cut-and-sewn cup gives more support for heavier, post-menopausal breasts. Some (but not all) plunge bras can push older boobs too close together, creating less attractive "creaseage." Balconnette and demi-bras keep everything lifted and separated, while not sacrificing sex appeal. Ballet and U-shaped backs smooth out bumps and lumps. Look for extra touches like lace overlays, satin finishes, and appliqued straps. You may want to look for straps set closer together, front close, or bras easily converted into a "racerback." All eliminate the hassle of straps falling off sloping shoulders.
Go bold. The beauty of wearing lingerie at our age is that we do it for ourselves. We can pick bright colors and patterns that appeal to our personal tastes. Wearing something outrageous underneath it all is empowering, especially when no one has a clue what grandma's got going on. It's my little secret.
Stay in your comfort zone. This tip isn't meant to limit choices. But as a more mature woman, I crave comfort. Sometimes too-strappy bra details dig into softer and more pliable skin, leaving unsightly marks. Look for triple wrapped underwires for added comfort and confidence. Or choose wider, but still pretty, padded straps. Bras engineered with side slings bring wobbly bits front and center--where most of us want them.
Think outside the bra. In addition to buying matching panties for every bra set, why not add other elements to your lingerie wardrobe? You can wear camisoles, half and full slips, and gorgeous lounge robes as either under or outer wear.
What's your view? Do you find it a challenge to wear lingerie in your 50s--or at any age? Why or why not?
Calling all HuffPost superfans!
Sign up for membership to become a founding member and help shape HuffPost's next chapter