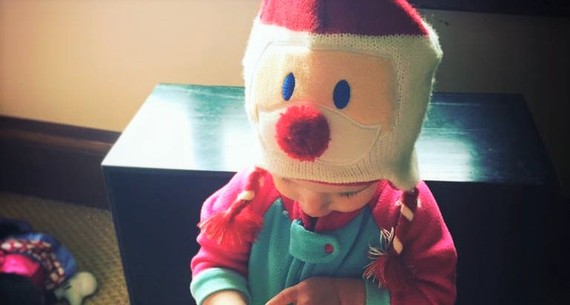 Why I'm breaking down and getting an Elf on the Shelf---and doing it my way:
My children are innately good.
But they test boundaries. A lot. Especially for me, their mom.
I wasn't sure how I felt about the whole "Elf on the Shelf" thing because, frankly, I don't feel like inviting a Christmas narc into my house, even if I have been behaviorally frustrated lately. This aspect of an otherwise cute custom just does not sit well with me.
Yet, each year as the holiday season rounds the corner, this ubiquitous elf is firmly nuzzled into modern childhood tradition. I asked my 5-year-old if she'd heard of it and she enthusiastically responded, "Yes!"
So I, with equal parts excitement and hesitancy, "adopted" an elf for our house.
My little girl was ecstatic. I'll be honest, I bought the elf in the sparkly tutu. I bought it for me, as much as for my children. (My daughter also loves the movie Elf, and I'll admit that I'm afraid she might be slightly disappointed when a tiny tutu-clad doll shows up instead of Will Ferrell.)
She is at that wondrous, if notoriously, tender age where Santa is still an absolutely amazing man who she sets cookies out for, who she talks about regularly this time of year, and excitedly reads books on, that she might better understand him and where he lives.
I told her that our elf was, in the words of a friend, her Santa "hotline." I explained that each day the elf spends time in our house and then flies to see Santa every night. In short, she has her very own Santa Claus go-between. I skipped over the part where the elf is supposed to go tattle on you if you've been bad.
I looked up pictures on Google search to get some clues as to where I could move our elf each day. Trust me, even if you don't have kids, you should do this search. (I won't spoil some of the hilarity.)
One idea that I think I'll do, since my girls watch me lift weights a few times each week, is put marshmallows on a toothpick and have the little lady bench pressing, or doing dumbbell curls. (I can see my daughter's smile now.)
I had a few friends offer that they, too, ignore the concept of the elf spying and telling Santa if the kids have been good or bad.
Actually, one friend has a naughty elf, who leaves messes and does silly shenanigans. Another offered that, way before our "Elf on a Shelf" craze hit, his parents did something similar in his own youth. He shared how the elf was his friend. (He also gave me the "hotline to Santa" concept.)
I had yet another friend offer that it was far too much work, which is completely fair, since I understand feeling overwhelmed as a parent--and then to add "one more thing." But I did this absolutely as much for my husband and me as I did for my kids.
I can already envision us sneaking around, after the kids have gone to bed, looking for something funny for the elf to do. We're early risers anyway, so, equally, it will be relatively simple for the girls to quickly peek around for where we've put her, when I'm making coffee and we're getting ready for school and work.
I did this, more, because even though Santa--for those who celebrate Christmas, of course--is special and classic, I wanted something new, something different, something to enliven my own recently overwhelmed heart.
I'm not here to sell Elves on Shelves to people, or to encourage the celebration of Christmas over another holiday, or even to say that I won't forget to move our elf one night (as I've commonly seen friends, who already participate, panic about at least once or twice come December). Instead, I'm reminding myself that the holidays are about magic, about fun and, for parents, about finding joy to share with our kids.
We can do the holidays "our" way.
That's the cool thing about talking with people about their own memories and holiday traditions: most families do have their spin on things, their own foods they make or tiny rituals that brought them closer as a family unit--and this is what I want for my little family of four.
Do you have a holiday tradition that you celebrated as a kid, or something that you do with your own children, that you would like to share? If so, I'd love to hear from you in comments.