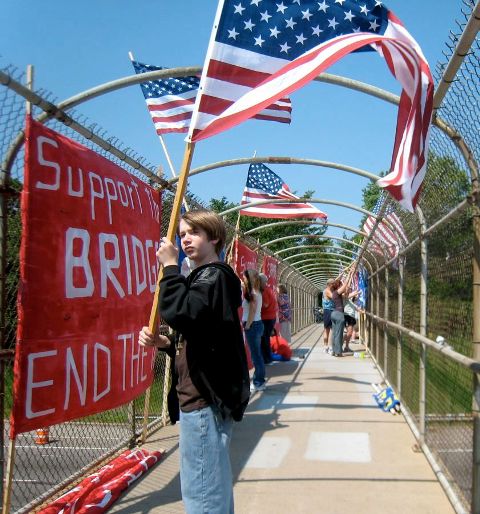 Finding ourselves in (rare) agreement today with George W. regarding his proclamation (below) and buoyed by the Supreme Court's recent restoration of our right to habeas corpus, we decided to hold our own special celebration for approximately 20,000 Minneapolis motorists in honor of Flag Day and National Flag Week.
A Proclamation by the President of the United States of America
The American flag has been our national symbol for 231 years, and it remains a beacon of freedom wherever it is flown. Since the Second Continental Congress adopted the Stars and Stripes as our flag in 1777, it has stood for freedom, justice, and the resolve of our Nation.

When Francis Scott Key saw the American flag flying over Fort McHenry in 1814, he believed that liberty would triumph. The flag that inspired Key to write our National Anthem still energizes and emboldens the American spirit today. As our Nation faces the challenges of a new era, Old Glory reminds us that liberty can prevail over oppression.
Since the first days of our Republic, Americans have flown the flag to show their pride and appreciation for the freedoms they enjoy in this great Nation. Every day, Americans pledge their allegiance to the flag of the United States, and our troops carry it before them as they defend the liberties for which it stands.

On Flag Day and during National Flag Week, we remember those in uniform whose courage and sacrifice inspire us here at home. We also remember the rich history of one of our oldest national symbols and reflect on our duty to carry our heritage of freedom into the future.

To commemorate the adoption of our flag, the Congress, by joint resolution approved August 3, 1949, as amended (63 Stat. 492), designated June 14 of each year as "Flag Day" and requested that the President issue an annual proclamation calling for its observance and for the display of the flag of the United States on all Federal Government buildings. The Congress also requested, by joint resolution approved June 9, 1966, as amended (80 Stat. 194), that the President issue annually a proclamation designating the week in which June 14 occurs as "National Flag Week" and calling upon all citizens of the United States to display the flag during that week.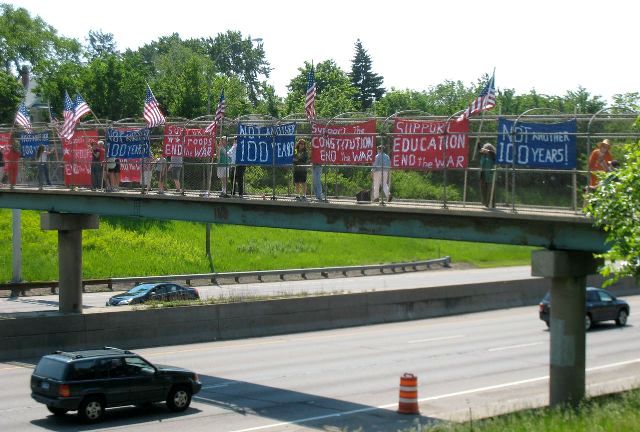 NOW, THEREFORE, I, GEORGE W. BUSH, President of the United States of America, do hereby proclaim June 14, 2008, as Flag Day and the week beginning June 8, 2008, as National Flag Week. I direct the appropriate officials to display the flag on all Federal Government buildings during that week, and I urge all Americans to observe Flag Day and National Flag Week by flying the Stars and Stripes from their homes and other appropriate places. I also call upon the people of the United States to observe with pride and all due ceremony those days from Flag Day through Independence Day, also set aside by the Congress (89 Stat. 211), as a time to honor America, to celebrate our heritage in public gatherings and activities, and to publicly recite the Pledge of Allegiance to the Flag of the United States of America.

IN WITNESS WHEREOF, I have hereunto set my hand this sixth day of June, in the year of our Lord two thousand eight, and of the Independence of the United States of America the two hundred and thirty-second. George W. Bush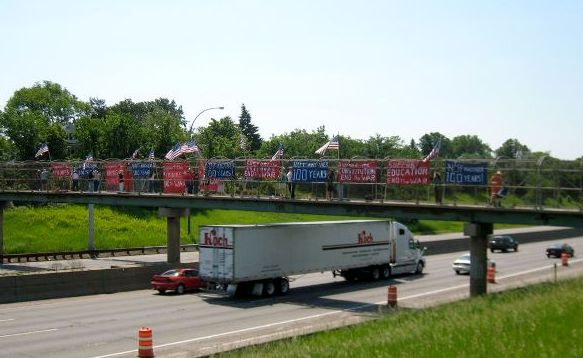 The enormously positive response received from trucks and cars driving below showed recognition of our group's true patriotism as well as motorists' overwhelming agreement with our red, white and blue messages, making for an especially memorable Flag Day for one and all!
Let's just hope some of that red, white and blue spirit remains for Presidential candidate John McCain's visit to Minneapolis later this week.