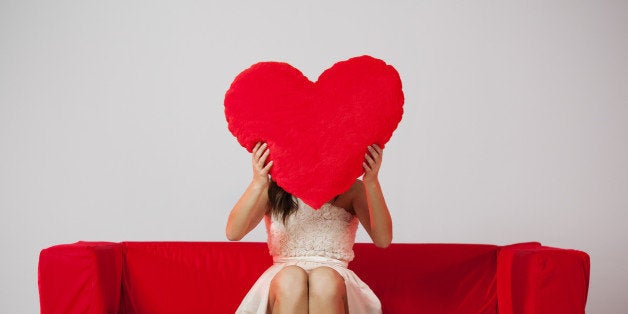 "I hate Valentine's Day!" my friend Andrea said when we had lunch last week. Andrea is caught in that horrid in-between place of not being married, but not yet divorced. She and her husband have been separated for two years and are still wrangling over their divorce agreement.
It's not surprising that celebrating the day of love is the last thing Andrea wants to do. And it's probably a familiar feeling for anyone who is newly separated or divorced.
"So just ignore it," I suggested. I reminded her of how we always counsel our single librarian friend to never ever watch It's A Wonderful Life at Christmas. "How can I?" she said. "My kids are full of plans to make valentines for their classmates. Last night my daughter made a horrible pink cake. And when I go out - to the supermarket, the drug store, even my bank! - there are pink hearts and chocolates in my face everywhere. I just want to throw up!"
"Don't do that," I said. We were after all in a pretty swanky restaurant. We then tossed around some ideas of how a newly divorced person might spend the fateful day. Here are a few of them:
Go on a date with yourself. Skip the dinner in a restaurant part . It may be too excruciating to sit alone amongst hordes of beaming hand-holding couples. Instead, stay home and order in some fabulous food. Cuddle up with a blanket and watch a movie - not a romcom! - and savor the pleasure of being by yourself. Rejoice in the fact that you can choose the movie and the food and not have to consider anyone else's opinion! This is a huge perk of being single.
Peruse online dating sites. You don't have to sign up. But it's comforting to see how many people are looking for love. It puts everything in perspective. And it lets you know there will be another relationship - if and when you want it.
Do an early spring clean. What a great time to get rid of any vestige of the departed ex. If you've been putting off throwing out that box of old clothes he or she left in the garage, this is the day to do it. There's nothing like a good purge.
Buy new bed linens. Creating a comfy new bed to lounge in, one that is all yours, can be very therapeutic. Splurge on the expensive sheet sets you've always shied away from. This is the time to embrace your singledom. You're worth it!
Cook yourself a splendid meal. Cooking can be very satisfying. Choose something creative that you've never made before. Indulge in ingredients that are new to your palate.
Go shopping. Buy yourself a great new outfit that represents the newly emerging you. Take some risks. And give yourself permission. Yes you can buy those slinky leather pants if you really want them.
Go to an art museum. Lose yourself in a place of beauty and creativity. While human love is not always eternal, great art lasts forever
Go out with a friend. Misery loves company, right? But you don't have to be miserable. Celebrate Valentines Day as a day of love and friendship. After all, spouses come and go. True friends last forever.
This blogger is an author and also has a psychotherapy practice in Los Angeles. To make an appointment with Christine, contact chris@talktherapynow.com