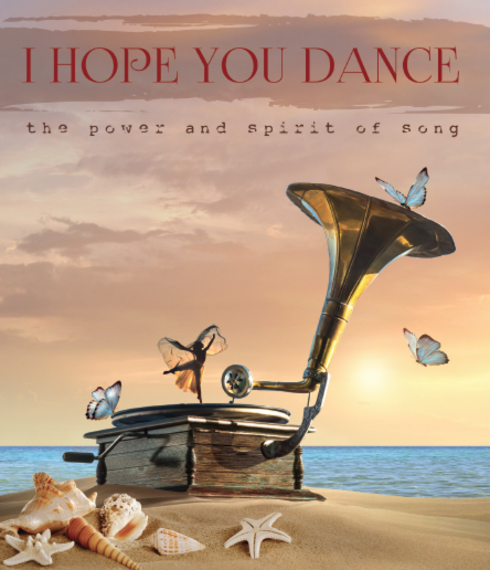 As father to five vibrant and very much alive children, it's mind-bending and gut-twisting to contemplate even for a nanosecond the grueling task of giving the go ahead to a medical team you have just barely met to take your brain dead daughter off life support. Your brain dead daughter who apparently committed suicide. Your brain dead daughter whose organs will, after your selfless blessing, rapidly find their way to other lives, to other families so they can do what this daughter can no longer do. Live. Breathe. Love. Hope.
And yet somehow, Bill Thomasson -- the father of now forever 18-year-old daughter Taylor -- navigates the journey of unfathomable loss with grace, dignity and strength. His poignant story is among those told in the Hallmark Movies & Mysteries Thanksgiving primetime special, I Hope You Dance: The Power and Spirit of Song. It's the story of a song that became an anthem, but even more so it's about real people who have overcome real odds. People whose lives have been dramatically altered by the Grammy Award winning #1 song.
It's a reminder of the power of music to connect and heal. It's no surprise that impromptu music has erupted outside the Bataclan Hall in Paris (most recently a student led chorus of "Hallelujah"). After all, music is healing. And it's the common denominator.
Not long ago I met Spencer Proffer, a highly regarded Los Angeles based music and media producer who has not only a lifetime of amazing experience, connections and access to content, but most strikingly he is a caring, genuine person. This was evident through the first project that he was kind enough to allow me to play a role with this multi-platform initiative. It's a project he has championed for many years and the timing couldn't be more right to unleash a media venture that uplifts and connects.
The power of music is clear to many, but when you see how music can actually save lives, heal hearts and bring peace and laughter, you truly realize the power of song. The stories in director John Scheinfeld's I Hope You Dance, The Power and Spirit of Song, feature musicians Brian Wilson, Vince Gill and Graham Nash, as well as commentary from Maya Angelou and Joel Osteen, along with stories of individuals whose lives were impacted by the song.
In a brief passage from the companion book, I Hope You Dance: The Power and Spirit of Song (edited by co-producer Judith A. Proffer) you get a sense of the song's scope:
"Dr. Maya Angelou, the late Pulitzer Prize-winning poet, cited "I Hope You Dance" as her favorite song and told Oprah Winfrey, "If I had a daughter -- and I feel that you are my daughter -- those are the words I would want to say to my daughter." Dr. Angelou sent a CD of the song to Oprah, who then invited Lee Ann Womack to perform the song on The Oprah Winfrey Show."
Womack would perform the song at Maya Angelou's memorial, and Angelou's participation in the film is among the final interviews before her death. The song's fan base is not limited to the Mayas and Oprahs of the world. If you search the words "I Hope You Dance" you'll find a maze of videos, numbering in the thousands. Posted by people who connect with the song in a meaningful way. People who listened to the song as a source of strength during chemo. Parents using the song as backdrop for a virtual scrapbook. It was an American Idol contestant favorite. It's been performed at countless weddings and memorials. Never could songwriters Tia Sillers and Mark D. Sanders have imagined the magnificent life of their jewel of a song when it was first released fifteen years ago. The special and book both give insight to the process of birthing such a special song.
Graham Nash, who wrote the soundtrack to many of our teenage years, describes in an excerpt from the book the process of creating music that connects and heals:
Music is a conveyor of ideas, and, to me, ideas are the most important form of creation. When I write music, I want to involve people's hearts and their minds, and I want to enable them to sing the melody of what I've written instantly. I'm a very simple songwriter. I wanted to write songs that were a little more profound and a little deeper -- music that provoked people to not just have a good time and shake their backsides to the music but to also think about what the lyrics meant. Music to me is all encompassing.
As I watched a preview screening of the Hallmark special at the Grammy Museum, my tears flowed as easily as laughter and I witnessed firsthand how one song can unite. It united my own emotions. It united the fortunate two hundred at the museum's Clive Davis Theatre who experienced the film together. A film that showed us how, through song, human emotion and hope can heal a person and unite a community. And, today, we need that more than ever.
Calling all HuffPost superfans!
Sign up for membership to become a founding member and help shape HuffPost's next chapter