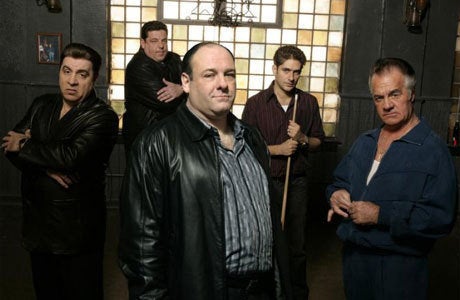 A number of years ago, a colleague and I debated in print about the relative merits of TV vs. movies. At the time, I was a movie chauvinist and believed that anything TV did well, it did accidentally. But, after splitting my time during the last five years between reviewing movies and TV, I've undergone a conversion.
I'm here to say that, as it stands, TV turns out more solid and consistent entertainment every week than the Hollywood movie studios put out between January and October most years.
In any given week, I see between two and six movies - and I'm lucky if there's one that I'm willing to recommend to other people. Or even one every two or three weeks.
But, in any given week, there's a minimum of one series a night - and often more - that I make an appointment to watch.
Not that the networks figure much in this equation. For the most part, the four majors (five if you count the CW - but who does, really?) are TV's answer to the major movie studios: purveyors of product, which fills the time between the commercials.
Sure, they come up with the occasional mind-tweaker (Lost, Life, The Mentalist) or solid comedy (30 Rock, The Office. The Big Bang Theory). Mostly, however, they're focused on assembly-line fare, from the endless CSI and Law & Order iterations to sitcoms such as Kath & Kim and - OMG, is According to Jim really still on the air? Or Ghost Whisperer?
And that's not to mention the contagious (and apparently incurable) virus of reality TV, which has permanently polluted the airwaves in a way that will never go away.
Yet TV has quantity on its side. There are so many hours in a day and so many networks looking to fill them that strong, engaging fare seems to be on the rise. Apparently some networks finally decided, hey, maybe we can draw an audience with programming that doesn't insult viewers' intelligence. It's no more of a risk than something stupid.
I'm not just talking about the uncensored series on pay-cable networks like HBO, Showtime and Starz, though there are several on each of those networks that qualify: from classic shows like The Sopranos, Sleeper Cell and The Larry Sanders Show, to current offerings such as Weeds, Big Love, Brotherhood or Curb Your Enthusiasm.
But the most compelling TV seems to be on cable networks like AMC, TNT and FX. FX, indeed, may be the most exciting network that's not a pay-cable entry: Rescue Me, Nip/Tuck, Damages. It's impossible to calculate how much those shows help improve my mood and my faith in the creative impulse each week, just by being on.
Indeed, my list of outstanding TV is too long to go into, so let's just talk about two series that are returning in the next week that absolutely raise the bar every time they hit the air: TNT's Saving Grace and AMC's Breaking Bad.
For the rest of this post, click here to reach my website, www.hollywoodandfine.com.
REAL LIFE. REAL NEWS. REAL VOICES.
Help us tell more of the stories that matter from voices that too often remain unheard.