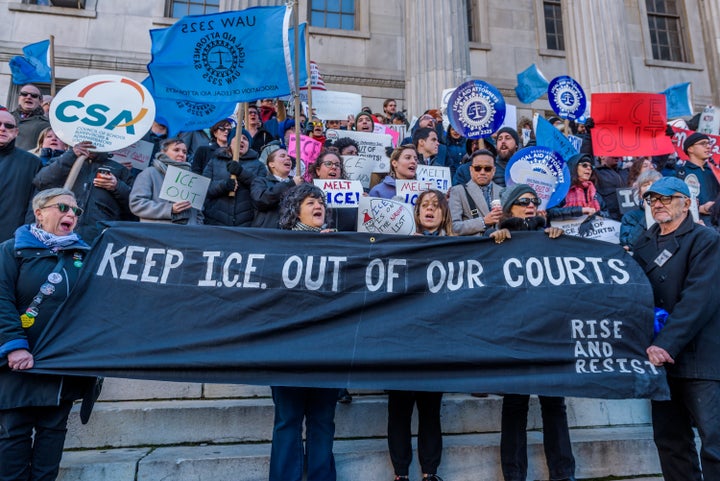 Lora Livingston, a district judge who handles civil and family court cases in Travis County, Texas, was in her chambers on a Friday last spring when a court staffer called her to tell her that an Immigration and Customs Enforcement agent was in the building.
After some confusion, the agent realized he had mistakenly gone looking for an undocumented immigrant in the civil-family courthouse instead of the criminal court, which is about 100 yards away. But by the time the family courts had resumed for the afternoon, the word about the agent's presence had spread. No one showed up for court.
"Our child protective services docket just crumbled," Livingston said. "He wasn't even looking for anyone in this building, but his mere presence created an atmosphere of anxiety and fear, and that led to the docket falling apart."
With the Trump administration continuing to crack down on undocumented immigrants across the country, a new survey of judges, prosecutors, law enforcement and advocates suggests immigrant victims are less willing to report crimes or go to court because they fear they'll be deported.
More than 750 people participated in the survey from the National Immigrant Women's Advocacy Project. It is the first to simultaneously seek out the perspectives of judges, police, prosecutors, victim advocates and attorneys on questions related to their interactions with immigrant crime victims.
• About a third of the 108 judges and court staff surveyed said someone's lack of immigration status was being used more often in 2017 than in 2016 by an opposing party in a protection order or custody case. Nearly a quarter said it was happening more often in divorce cases. Almost 40 percent said it was happening more often in criminal cases.
• About 40 percent of the 50 prosecutors who participated in the study said that in sexual assault and domestic violence cases, immigrant victims were less likely to work with prosecutors in 2017 than in previous years.
Some of these survey findings were published in a recent report by the ACLU.
Increased courthouse immigration enforcement, in particular, was an area of concern for court officials. Though immigration authorities had sometimes visited courthouses in the past, recent dramatic arrests at courthouses, in particular, have attracted widespread media attention.
Although these incidents have stoked fears around deportation within immigrant communities, it's unclear how Immigration and Customs Enforcement's courthouse practices have changed under the Trump administration because it does not track where arrests are made.
So the survey asked judges, and immigration attorneys and advocates to report the number of cases they have handled that involved courthouse enforcement in 2016 and 2017.
• The judges who responded to the survey reported an uptick in immigration enforcement in their courtrooms from 2016 to 2017, from a total of 19 cases to 28 cases.
• The 389 immigrant advocates and attorneys who responded to the survey said their clients had been involved in a total of 51 instances of courthouse immigration enforcement against victims, though they did not report an increase from 2016 to 2017. (Immigration enforcement at courthouses is generally considered fair game in criminal courts, and as of January, ICE said it avoided areas of the court not related to processing crimes.)
• Although the Violence Against Women Act of 2005 generally prohibits immigration enforcement at rape crisis centers, domestic violence shelters and other types of victim or family centers, advocates and lawyers reported an additional 87 cases of immigration enforcement that took place at these locations. (If immigration arrests are made in these places, officials need to provide proof that they did not rely upon perpetrator-provided information.)
• Advocates and lawyers said their clients had also been arrested at places the Department of Homeland Security considers "sensitive locations," such as schools, hospitals and places of worship. There were 23 incidents reported.
Last January, ICE issued a memo clarifying its position on courthouse enforcement. It said that, although courthouse enforcement would continue in places like criminal courts, ICE agents have been directed to avoid making arrests in places dedicated to noncriminal matters, such as courthouses where people go to seek domestic violence restraining orders or for child custody cases.
Sarah Rodriguez, an ICE spokesperson, said that the agency "will not make civil immigration arrests inside courthouses indiscriminately" and that arrests made in public places based on probable cause "is legally permissible."
"Courthouse arrests are often necessitated by the unwillingness of jurisdictions to cooperate with ICE in the transfer of custody of aliens from their prisons and jails," Rodriguez said in a statement. "Civil immigration enforcement actions taken inside courthouses can reduce safety risks to the public, targeted alien(s), and ICE officers and agents."
ICE pointed out that the arrests reported in the survey are unconfirmed and that other agencies, such as the Customs and Border Patrol, can make immigration-related arrests.
Leslye Orloff, the lead author of the survey report and a law professor at American University, said that these incidents of immigration enforcement against immigrant crime victims at courthouses and sensitive locations could indicate that in some cases authorities have violated federal statutes and Department of Homeland Security policies.
"Immigration officials were right in issuing its policy in 2018," Orloff said. "Along with federal laws, it should substantially make a difference in ending courthouse enforcement against immigrant crime victims and assuring that courthouses will once again be safe places where immigrant victims can turn to for help."
Livingston, the judge, said that the incident in her courtroom illustrated how anxieties around immigration enforcement affect the legal system's ability to process cases.
"We don't want to interfere with the Department of Homeland Security's ability to carry out their mandate, and we don't want them to interfere with our ability to carry out our mandate," she added. "When these important family court hearings don't happen or deadlines are missed or postponed, it wreaks havoc for the kids and it's difficult for us in moving forward in a child's best interest."
This article was produced by Reveal from The Center for Investigative Reporting, a nonprofit news organization based in the San Francisco Bay Area. Learn more at revealnews.org and subscribe to the Reveal podcast, produced with PRX, at revealnews.org/podcast.
Popular in the Community