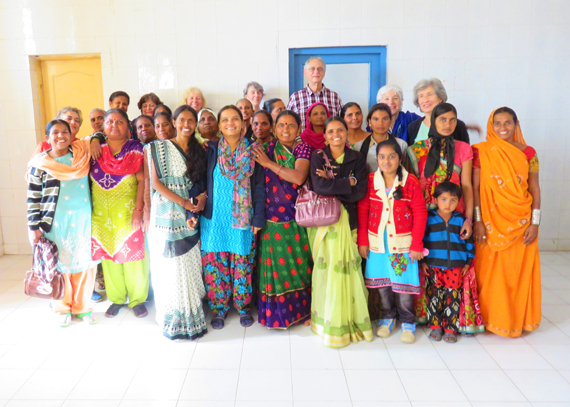 Today was the day our group had long anticipated. We finally experienced first-hand the work that Poonam Kathuria has implemented with the rural, village women of Gujarat. She had reported back to us frequently in 2013 about her efforts running her own Empowerment Trainings, but today we had the honor of meeting the women who have had breakthroughs out of doing this work. The three hour drive north to Radhanpur was greatly enriched as Poonam explained aspects of Indian culture we were not familiar with.
Getting out of the city was another traffic congestion scene, and I'm not sure I'll ever adjust to the insane, relentless maze of moving motorcycles, tuk tuks, and cars. It's a game of chicken on steroids and everyone is playing for broke! Once we got out of the worst congestion, we were grateful for a smooth, two lane highway most of the way, although at times we were holding onto our seats as the driver casually passed large over-stuffed trucks, cows, water buffalo, people on bikes and motorcycles, all not more than a few car lengths ahead of on-coming traffic.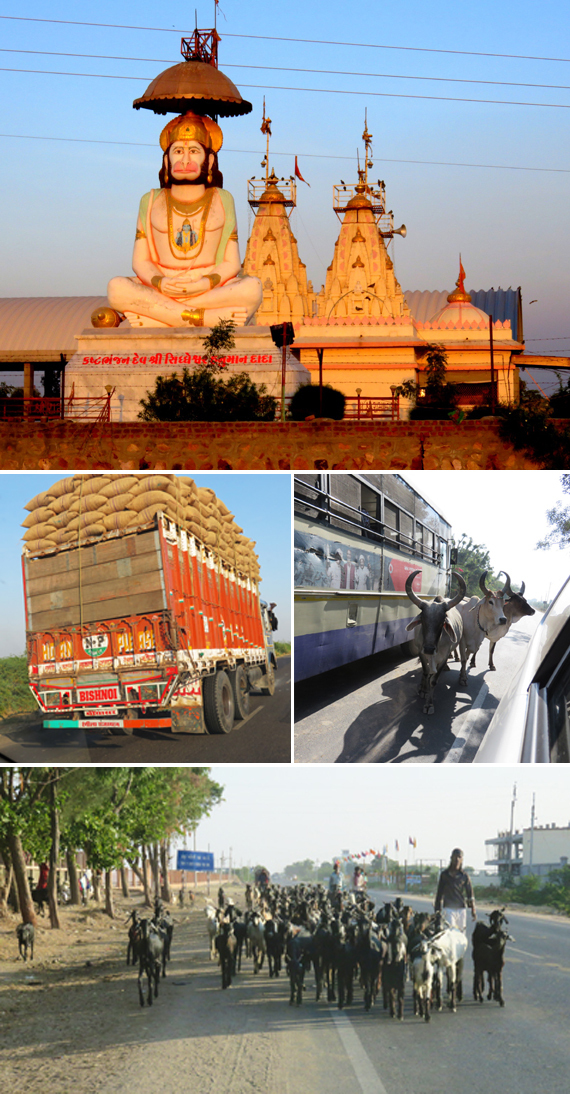 We did, however, survive the trip and I enjoyed taking pictures of numerous Hindu and Jain temples. We also saw a number of Jain sadhus walking along the roadside. Poonam explained that they have renounced all material possessions and walk from one temple to the next as they journey on their spiritual pilgrimage. She was disgusted by the rapid growth of "spiritual tourism resorts" (new temples built with adjoining hotels) that were cropping up all along this route. Ahmedabad appears to be an ever-expanding city similar to many large metropolitan areas in the U.S.
Half way there we had a "pit stop" at a small hotel and tea shop that was very entertaining. We appeared to be the celebrities and quite the objects of fascination for the locals (all men). At first we were a bit intimidated, as we waited for our Masala tea to be prepared, but Poonam reassured us that we were safe. I loved getting a few shots of the locals, and Ellen had a particularly good time sharing her pictures. These folks just love getting their picture taken!

We arrived in Radhanpur where Poonam's organization SWATI (Society for Women's Action and Training Initiative) has setup a support cell in a rural referral hospital that specifically works with survivors of violence against women. They cater to a rural population of about one hundred and fifty thousand. We and the hospital staff were served a delicious home-cooked lunch and afterwards I took a few shots of the "kitchen" where our meal had been prepared. Then it was "get down to business" -- we had much to learn from these women we had come to meet.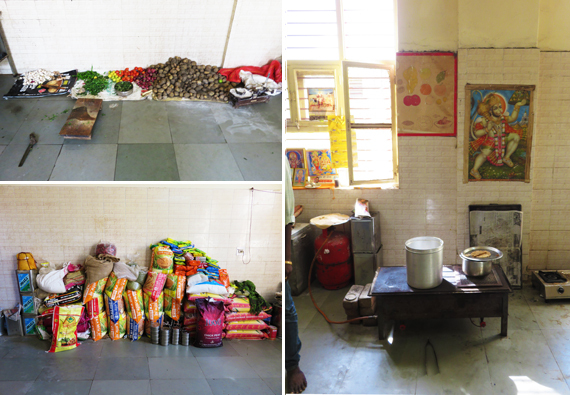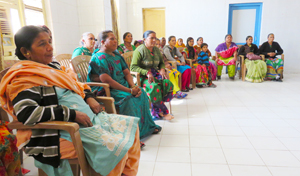 We walked into the room filled with 25 women and were met with bright, shining faces. They just beamed at us! I immediately felt overwhelmed with joy and wanted to reach out and hug each one of them, but respectfully bowed and we took our seats at the front of the room for introductions. As each one of us spoke, Poonam translated and they listened attentively. The biggest laugh all around the room happened when she translated Leonard's (the only man in our group) comment that what we really wanted to know was where they got those gorgeous saris!!!
Poonam's assistant Falguni, then gave a power point presentation about SWATI's history and the work they have been doing since 1994. These devoted people are really up to BIG stuff! In a nutshell their mission is "to promote the socio economic empowerment of women, build women's leadership at the grassroots level and help them gain control over resources in a rights perspective". To achieve this SWATI has organized women into large scale, block level collectives, consisting of numerous villages who work together furthering the developmental issues of women in their communities.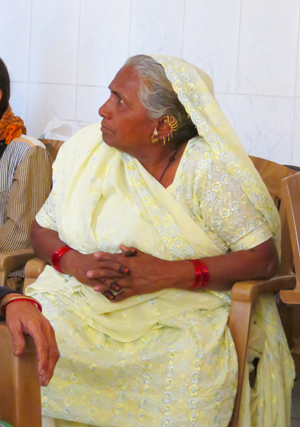 He explained the impact this work has had in transforming the lives of the 5,000+ women that are now part of the collective of rural village women, who have gone from a state of disempowerment and discrimination to one where many of them are leaders spearheading changes in their communities and their own personal lives. Almost all of the locally-based initiatives are lead by women who are trained and empowered to prevent domestic violence through counseling and legal aid. The support of the collective is also demonstrated by the fact that if a woman loses her husband, every member donates 5.00 rupees. This may seem like a small sum, but she will get the equivalent of 25,000 rupees (450 USD). Imagine the difference this can make when women understand their rights regarding property ownership, rights to education, and entitlements from the government? These women are now becoming village heads, sending their daughters to college, buying a piece of land and starting their own small businesses. I could now see that when we sponsored Poonam to do the Empowerment Institute, we were giving her powerful new skills to add to her already amazing skill set!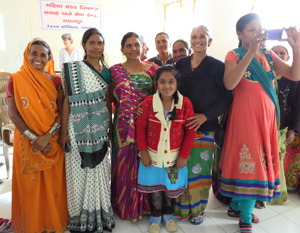 Next was the most heart-warming part of the afternoon: all the women in the room were survivors of domestic violence and graduates of Poonam's version of the Empowerment Institutes's teachings. She asked who would like to share their story about how their life has changed out of their involvement with this work. One woman shared that she got married when she was 16 and has been married for 19 years. In all that time her husband never gave her a birthday gift or acknowledged her birthday. After doing the Empowerment Institute she realized that she hadn't really been sharing herself with him and began to let him know she really cared about him. This year on her birthday he organized a family celebration for her and took her to the market and told her to pick out anything she wanted as a gift! She's now realized how important this work is, and wants to devote herself to helping other women have more of what they want in life.
One woman was a casual laborer and during the EW she decided that she could achieve her vision of prosperity by taking up tailoring, a skill she had learned as young girl. She bought a sewing machine and in her own words " the business is doing great". Another woman had moved on from being an agricultural laborer to share cropping (a system of profit sharing in agricultural produce). An older woman, Manjula, had long neglected her own important needs. She always put her family first, and any money she made was given over to them. During the EW she decided to reprioritize and start taking care of her self. She started by buying a new pair of sandals which she had been needing for months, replaced the broken frame of her glasses, and went on to buy a piece of land in her own name!
The culmination of the afternoon was when we all got up to get our picture taken. Everyone was hugging and laughing and wondering how to get this big group into one shot - but we did! Leonard camped it up by standing in the middle of the front row - towering over everyone - that got a big laugh! Then he found his place at the back of the room where you see him in the group shot. We all were deeply humbled and full of gratitude for this opportunity to be with these soulful, hard-working women. If you are inspired to donate to help keep this important work moving forward, click here for more details.
Mary Anne Erickson is an artist who has been documenting the demise of our roadside culture for over 30 years in paintings and photography. Her work can be seen at www.vanishingroadside.com.