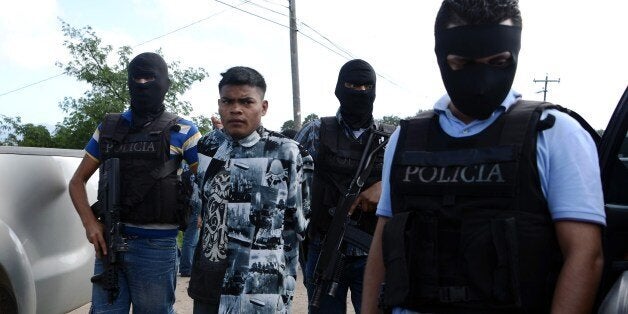 I am just back from one of the most dangerous countries on earth. Often in the headlines for its sky-high homicide rate-close to 90 homicides per 100,000 residents -- Honduras is a country where despair is measured by the lives lost to violence every day. Violence is so widespread that it can begin to blend in with the everyday rituals of life here. A trip to the market, a dinner with family, another funeral.
But talking to people and spending time in this beautiful country, I have realized that violence is only one part of the Honduran narrative. Look closer at the lives here, and you will see people who are striving for opportunity, who cherish family, who cling to the hope that tomorrow will be better. These are common dreams, whether you live in Tegucigalpa or Timbuktu.
Violence affects youth in Honduras in a dramatic way, particularly men. From January to June of this year, about half of the homicides were youth between 15 and 29, and over 90 percent were men. Youth are not only the main victims but also the main perpetrators. Yet we know that programs and policies that promote positive youth development can make a difference. In fact, over 40,000 at-risk young people in Honduras have already been enrolled in alternative education, work readiness, and life skills training programs thanks to a U.S. government-funded project known as Proyecto METAS.
In the last couple of years, I have spoken with many young people whose lives have changed as a result of this program. Our education and job training work in Honduras is responsible for so much more than a paycheck. It leads to hope, opportunity, and a better life.
Edwin Rivera is one example. Edwin grew up in "Los Pinos," an urban settlement of 10,000 with some of the highest levels of crime and violence in Tegucigalpa. He started work at age 10, getting up at 2 a.m. to help his mother make and sell corn tortillas before going to primary school. By the time he was old enough for secondary school, he had become an auxiliary mason, and had to transfer to an alternative education program so he could continue working. Like Edwin, many young people must trade in their education for employment out of necessity. Many more become involved in petty crime or gangs to make a living.
But here's where Edwin's story takes a different turn: he enrolled in Proyecto METAS, an intensive training program on basic labor competencies, and began learning real-world work skills. He recently completed the program as one of the most accomplished students in his class of 150. Now 18, he landed an office job and a good salary, two things beyond his dreams just a few months back. He calls his job "an amazing opportunity." His hope? To give back to the community and help other young people who need a hand.
Recent research indicates that youth who enroll in programs like METAS display traits that will serve them well: resilience, caring for others, and, in many cases, high levels of motivation. They have a desire to succeed, to rise above the violence of the streets, find decent work, go back to school and raise a family.
Young people need to grow up in an environment where they have positive learning and paths for livelihood opportunities. Community and faith-based organizations, education institutions, private sector businesses, families, and the government must all be involved in this effort. And where existing educational systems serve too few, too poorly, courses in work readiness skills and technical and vocational training can fill the gaps.
Edwin's personal journey is unique but his attitude is not. I have seen many young people in Honduras excited by the prospect of learning and earning money in an honest way. Youth -- and their parents -- see education and civic participation as a way to fight the violence that has dimmed so many bright lights. This is why youth development initiatives are so important. Where opportunity is available, young people make a positive choice: they leave their weapons at home, and pick up the tools to forge a better life.
REAL LIFE. REAL NEWS. REAL VOICES.
Help us tell more of the stories that matter from voices that too often remain unheard.