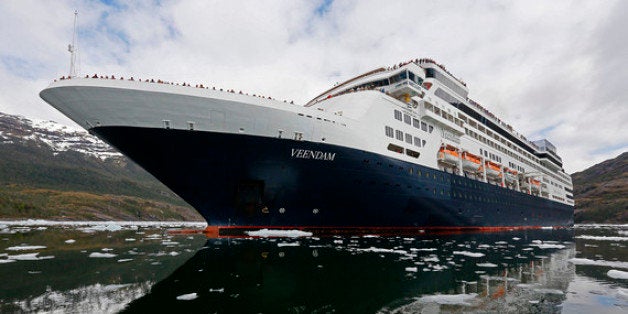 Quick, what comes to mind when you think of Patagonia? Probably snow-capped volcanoes, jagged granite peaks and massive glaciers. If you're an adventurous sort, like me, you might picture yourself trekking said peaks, maybe biking dusty Andean roads or rafting emerald coloured rivers. I had long wished to explore this vast region between Argentina and Chile, but not once in my daydreams did the journey involve a cruise ship. And yet that's exactly how I ended up in Patagonia last fall.
Though it had been some 15 years since I last read Bruce Chatwin's In Patagonia, I still recalled his description of "vicious sunsets in red and purple." In his book, which inspired a generation of backpackers to hit the proverbial road, Chatwin wrote of a place defined by isolation and idiosyncrasy. "Patagonia is the farthest place to which man walked from his place of origins," he wrote. "It is therefore a symbol of his restlessness." Chatwin thumbed and walked his way down to the ends of the earth, sleeping in the homes and sheds of strangers. I, on the other hand, boarded a 57,000-ton ship. With 1,350 strangers.
Every day, my cabin steward placed in the mailbox outside my door a printout of the day's activities. It provided information on the weather and port of call, the different dining options, and onboard activities. There was no shortage of things to do -- from cooking demonstrations in the culinary arts center to team trivia in the lounge, computer and digital photography lectures, bocce on the top deck, and bingo. Lots of bingo.
I did none of those things.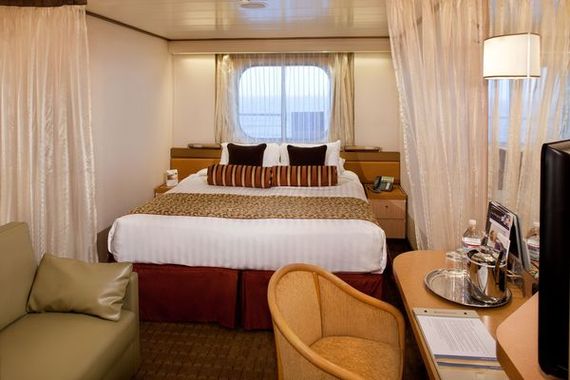 Instead, the first couple of sea days -- cruise-speak for you-better-find-something-to-do-because-you're-not-getting-off-this-ship day -- I walked, like Chatwin must have done, for miles. At least that's what it seemed like to me as I paced the ship's 10 decks. I joined herds of fit septuagenarians on their routine power walks around the teak Promenade Deck, where the wind blew with terrific force, in Chatwin's words, "stripping men to the raw." I joined ladies of a certain age for afternoon tea in the elegant Rotterdam Dining Room. I parked my butt on a leather Eames lounger chair in the Explorations Café and read the one and only book I had brought from home. (Note to self: If you ever cruise again, bring lots of books!) I drank a latte, and when that proved not strong enough, I drank gin and tonics. I stared at the ocean. Restless, indeed.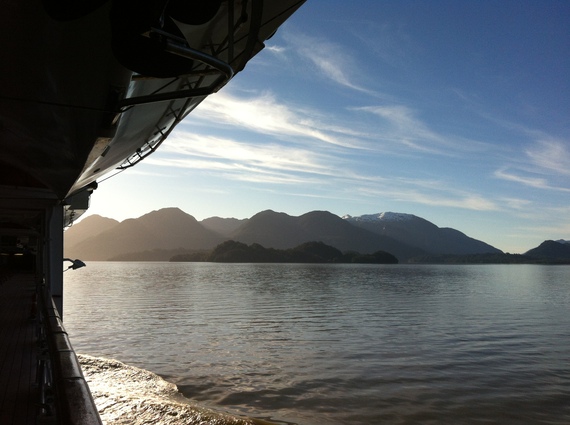 While it took Chatwin months to make his way up and down Patagonia, my 13-day voyage aboard Holland America's ms Veendam would take me from Chile's Valparaiso down the Pacific Ocean to the southernmost city in the world, around Cape Horn to the Atlantic Ocean and up the Argentine coast to Buenos Aires.
The ship finally arrived in Puerto Montt, gateway to Chile's scenic Lake District, and I signed up for a rafting adventure down the glacial Petrohué River. Donning a wet suit, helmet and orange life jacket, I finally saw with my own eyes the famed snowcapped volcanoes and, while splashing through icy blue class III and IV rapids, I caught a whiff of the surrounding eucalyptus-scented forests. By the end of the adventure, wet and chilled to the bone, I had become fast friends with the other rafters in the group -- a 58-year-old lawyer from Australia, two 40-something knitters from Maryland, and a couple of retired doctors from Canada. We were probably the most active passengers on the ship, so it came as no surprise when we kept running into each other in various ports where we'd signed up for similar high-adrenaline (by cruise standards, anyway) activities. I nicknamed us the Six Veendameers.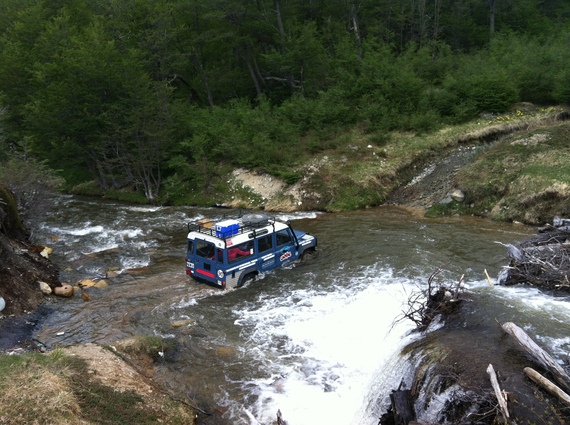 Back on the ship, I ate, drank and yes, I even played bingo with some of the most colorful characters I've ever met -- the kind of characters Chatwin might have written about had he ever sailed around Patagonia. On dry land, however, the Veendameers and I rode on horseback like gauchos, South America's version of a cowboy, in the outskirts of Chile's Puerto Chacabuco, and spotted dolphins playing a hundred yards from our kayak as we paddled across the choppy and windy Strait of Magellan. In Ushuaia, one of the highlights of the cruise, we explored an old lumberjack trail while bouncing around in 4x4 Toyota Cruisers. The excursion concluded at our guide's house, a cozy timber and corrugated metal abode decorated with handcrafted wood tables and benches layered in sheepskins and colorful cushions. We drank cheap Malbec and feasted on a traditional Argentine asado, a type of Latin barbecue where huge slabs of meat are cooked over an open fire. It was the sort of experience Chatwin might have relished. And one that I'll always remember.