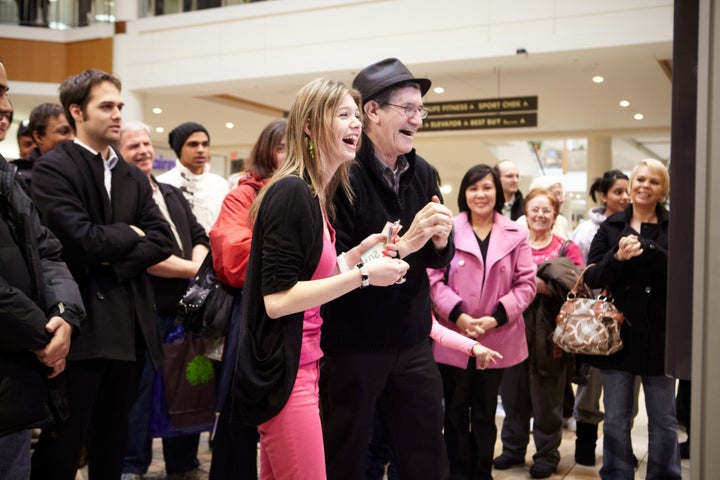 The mall is a place where you expect to spend cash, not win cash. A "magical" ATM certainly changes that perception.
Case in point: Bruce and Jessica Ruttan. The father-daughter duo just wanted to withdraw cash so they could feast on some burgers and fries; instead they found themselves vying for $10,000 on the Canadian game show "Instant Cash" at the Bramalea City Centre in Toronto.
On "Instant Cash," the talking ATM machine dispenses questions and dares. If you answer correctly and complete the dare in time, you win money. If you get it wrong, you lose everything. Contestants can walk away after every right answer, but if the grand prize is $10,000 and you have a large crowd of shoppers cheering you on (and helping with answers), would you pull out?
In the second half of the season 3 premiere, the Ruttans answered questions and took on the task of finding and delivering a goldfish (while wearing scuba gear) in three minutes flat. (Jessica 18, took an unfortunate dive -- seems like flippers aren't the easiest things to walk in on land). HuffPost TV interviewed the Ruttans about their experience on the show and what they plan to do with their winnings.
What went through your minds when the ATM started talking to you? Jessica Ruttan: I was shocked because the top part popped up and I was like 'What the heck is this?' I was kind of skeptical because my dad is always skeptical so we were unsure if it was really true.
Was it hard to get over the bump of the first question or did it keep getting harder? Bruce Ruttan: It definitely kept getting harder.
Jessica Ruttan: Yeah, some answers we knew, but for others we had to ask the people around us.
Were you overwhelmed by the large crowd that seemed to keep growing as you kept winning? Jessica Ruttan: It wasn't overwhelming at all. If they weren't there, we wouldn't have gotten some of the questions right, and we would have been done for. We had their support. They had no idea who we were and we had no idea who they were, but they helped us win money. They could have just stood there or given us the wrong answers but they were really helpful.
Bruce Ruttan: It somehow restores your faith in humanity.
At the $300 round, you two were asked to run to PJ's Pet Store and retrieve a goldfish in under three minutes -- while wearing scuba gear. Jessica, you fell. What happened? Jessica Ruttan: [Laughs] I knew this was going to come up. Obviously we don't walk in flippers everywhere we go so I decided to wear the flippers on top of my shoes first -- not a good idea. Then the audience actually helped us and told us to take off our shoes.
Did the show bring you closer together? Bruce Ruttan: [Laughs] No, we're always like that.
Jessica Ruttan: It made us even closer than before -- even though we've always been pretty close. I think working together to win some money helped us bond. Sometimes as father-daughter you get into arguments, but we had to work together and not argue over the answers and try to agree to win money.
In the beginning of the show you mentioned that you come from a big family. Bruce Ruttan: We do have a big family. There's me and I have six children. I also have custody of my eldest daughter's two children because she has ARND [brain damage] so she's unable to look after them. So, in all, it's me and eight children.
Jessica Ruttan: He does it all by himself! My mom doesn't live with us and my older sister can't really help that much so I call myself the surrogate mother. I'm always helping them, making sure they do their homework, making sure they're fed, bathed and making sure they get to places on time. I try and help him out.
For your final dare -- to win $10,000-- you had to find three people who spoke three different languages and make them say 'Show me the money!' Bruce Ruttan: We had to approach everybody we could and luckily the people were really friendly and helpful.
Jessica Ruttan: I remember this one specific guy. He spoke a different language and he didn't know any English at all. For him to not know who we were and still come to the machine and trust us really made me happy. For him to not think we were crazy for telling him all this -- especially since he had no idea what we were saying -- was amazing.
How did your family react when you told them you won $10,000? Bruce Ruttan: Everybody was very excited, for sure. The money is really going to help because Jessica is interested in being an actress. We have her in all these acting lessons, but one of the things she really needed was for her to have her teeth fixed. Most of the money went straight to the orthodontist [Laughs]. We're using the rest of the money for the down payment on a minivan. We need to find one the right size because we need 9 seats -- which is really hard to find.
It was a great time. It was such a surprise. I never walk past an ATM now without taking a double look at it.
"Instant Cash 3" airs on TVTropolis on Mondays at 10 p.m. ET.
REAL LIFE. REAL NEWS. REAL VOICES.
Help us tell more of the stories that matter from voices that too often remain unheard.