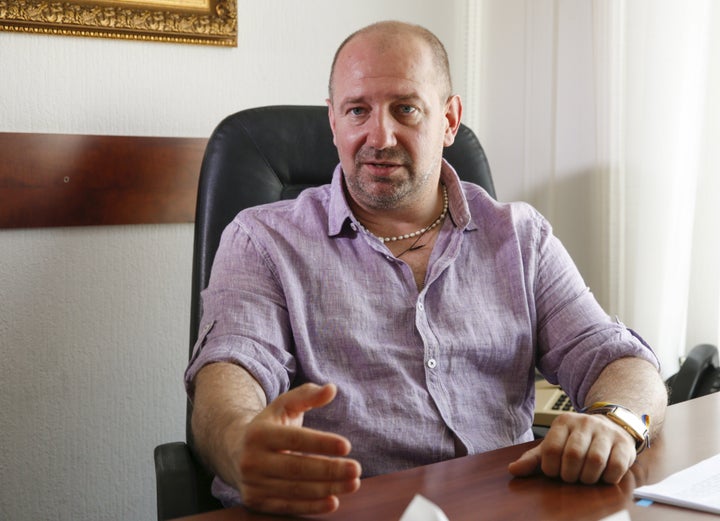 Serhiy Melnychuk is a non-partisan member of Ukraine's Verkhovna Rada parliament. Even though Melnychuk is now a political independent, he was elected in November 2014 as a representative of the Radical Party of Oleh Lyashko, a left-wing populist party which has considerable appeal in rural Ukraine. Melnychuk left the Radical Party of Oleh Lyashko in March 2015. Before entering politics, Melnychuk was a commander of the Aidar battalion, a volunteer unit of approximately 400 members, which fought in the war in Donbas from May to October 2014. Melnychuk agreed to an interview with me via Skype on September 4, 2017. The transcript of that interview is below:
Volunteer battalions, like the Aidar battalion, emerged as major military forces in Ukraine following the 2014 annexation of Crimea. As a former commander of the Aidar battalion, what do you think explains the effectiveness of volunteer battalions in fighting the Russian military in Donbas?
Serhiy Melnychuk: Volunteer battalions first emerged as a visible force in Ukrainian politics after the 2014 Euro-Maidan revolution, but the legal foundation for their existence was established in 2005, after the Orange Revolution. Therefore, the organizational capacity for volunteer battalions was present at the time of the Euro-Maidan revolution, allowing Ukrainian nationalists to take up arms against the Russians with relative ease. There were links and communications between volunteer battalions even before Russian aggression began in earnest. After the annexation of Crimea, volunteers in other regions of Ukraine moved to the front-line as they realized the seriousness of the threat posed by Russia to Ukraine. These volunteer battalions were effective in curbing Russian aggression, as Russia's assessment of the Ukraine conflict did not take into account the mentality and fortitude of Ukrainian nationalist resistance forces.
The Aidar battalion and other volunteer battalions in Ukraine, like the far-right Azov battalion, have been criticized by human rights organizations in both the West and Russia for human rights abuses. Allegations against these battalions include involvement in executions, torture of civilians and war crimes. How do you, as a former commander of the Aidar battalion, respond to these allegations?
Serhiy Melnychuk: The human rights abuses perpetrated by volunteer battalions are a product of what I describe as "Maidan syndrome." After the Euro-Maidan revolution, volunteer militias were created to defend Ukrainian sovereignty and promote nationalist causes. These volunteer militias gained support because the revolutionary spirit of Euro-Maidan gave way to a bourgeoisie turnover of power. However, some of these volunteer organizations were created with the principal purpose of perpetrating criminal activity in the name of these nationalist goals. These radical groups migrated from Euro-Maidan to the front. The Ukrainian resistance movement swiftly became divided between criminal elements and groups advancing the political ideals of the revolution. These divisions did not only affect the Aidar battalion; they were pervasive across the entirety of the Ukrainian military.
The Ukrainian government worked actively to discredit the Aidar battalion and other volunteer organizations, because the Aidar battalion was a political competitor to Ukrainian President Petro Poroshenko's government. Individuals from the Ukrainian security and intelligence services were responsible for this discreditation. The Ukrainian government's attempts to discredit the Aidar battalion were also strengthened by similar allegations from the Russian government. This kind of discreditation has existed for a long time in Ukraine. In the early twentieth century, Ukrainians fighting for the Soviet military were frequently double agents of the Ukrainian national army, and discreditations of this kind were common.
To counter these discreditations, it is important to emphasize that the Aidar battalion was a decentralized unit composed of numerous sub-divisions. The main subdivision of the Aidar battalion was based in Shchastya. Another subdivision, which was largely responsible for criminal activity, was based 100 kilometers away from the frontline, and this subdivision's guilt is apparent when one looks at the criminal cases launched against the Aidar battalion.
The Ukrainian government's provisions of special status and privileges to members of the criminal subdivision of the Aidar battalion that operated away from the front further demonstrates the complicity of Ukrainian officials in discrediting the Aidar battalion. One of the perpetrators, Valentin Liloholit, faced war crimes charges, but the Ukrainian government dropped these charges. Another notable perpetrator who gained immunity was Yevgeny Ptashnik, a colonel in the Ukrainian military.
Despite these exonerations, many veterans from Shchastya who fought for Ukraine against Russian aggression were not given special status or awards for their conduct by the Ukrainian government. I noticed the extent of this discreditation and biased handling of the Aidar battalion only upon entering politics, as I was too preoccupied with fighting in the front to address it while I was in the military.
Many Western and Russian media outlets have highlighted your connection to captured Ukrainian army pilot and fellow parliamentarian, Nadia Savchenko. What was the extent of your connection with Savchenko? And what are your thoughts on her political views, which have included calls for the creation of an authoritarian regime in Ukraine?
Serhiy Melnychuk: Nadia Savchenko fought with our unit, but I only met her 2 weeks before she was captured by the Russian military. Savchenko was involved in one Aidar battalion operation, which was aimed at freeing the city of Shchastya. Savchenko was a land fighter and also a military commander. Since her release, we have remained friends and we have a common vision on the future of Ukraine, but how we seek to implement this vision differs greatly.
Many Ukrainian nationalists, including members of the Radical Party of Oleh Lsyanko, have called for the resolution of the Ukraine conflict through the use of military force to recapture Crimea and Donbas from Russia. Do you believe a military solution to the Ukraine conflict is possible or do you advocate a diplomatic approach?
Serhiy Melnychuk: As an expert on this topic with extensive experience on the front-line, I do not believe that a military solution to the Ukraine conflict is possible. A diplomatic solution to the Ukraine conflict is possible, and it must include the United Kingdom, France, Russia, the United States and Ukraine. Amongst those powers, Ukraine, the United States and Russia need to hold trilateral dialogues to ensure that peace is restored in Eastern Ukraine. We need to establish a new format of negotiations that redresses the limitations left by the Budapest memorandum and abandons the Minsk II framework. We need to end the incremental approach advocated by Minsk II, which has not resolved the conflict, and forcefully push for security guarantees for Ukraine in a new diplomatic framework.
In addition, the Ukraine conflict can only be resolved by adopting a strategy for national consolidation. National consolidation is important because we need to build trust between different regions of Ukraine, which have been strained by the creation of the Donetsk People's Republic and ongoing war. This reconciliation process must begin at the society-level. For this reconciliation to be durable, we must create a new Ukrainian constitution, and this reconciliation strategy needs to be developed during diplomatic negotiations on the Ukraine conflict. We need to forget about the damaging memories of the war to unite as a country. War criminals need to be prosecuted through comprehensive criminal investigations, and these prosecutions need to target criminals from all parties.
Ukrainian President Petro Poroshenko has faced extensive criticism for the slow pace of political reform in Ukraine, particularly with regards to reducing corruption. Why do you think Poroshenko's reforms have failed to revitalize the Ukrainian economy, and how do you, as an opposition politician, seek to take Ukraine in a different political direction?
Serhiy Melnychuk: Petro Poroshenko has used his involvement in politics to benefit his business interests, and manipulate the political system in his favor. We need to create a new system of state administration and rebuild Ukraine's political system with a radically new vision, as the old system cannot be reformed. The first step in the process of transforming Ukrainian politics is writing a new constitution, and I, along with a group of like-minded politicians, have drafted a proposed new Ukrainian constitution in parliament. My vision allows Ukraine to be independent from both Russia and the West, as our current state of independence is fake independence.
You mention that Ukraine should be independent from both the West and Russia. What are the implications of this foreign policy doctrine for Ukraine's European Union (EU) and NATO membership aspirations?
Serhiy Melnychuk: I am against Ukraine's potential accession to NATO. I think that Ukraine should pursue common military objectives with NATO, like counter-terrorism. Ukraine's official position right now is to become a member of NATO, which violates the Budapest memorandum's calls for Ukrainian neutrality. We want to have some of the benefits associated with closer integration with Europe, like a visa free regime, but we should resist becoming part of the NATO security bloc. Instead, Ukraine can lead a new system of collective security, which will include all neutral countries.
Neutral countries have participated in NATO's Partnership for Peace and these countries can forge closer alignments with a neutral Ukraine. I also believe that Ukraine should encourage the US, Russia and other countries to cooperate on counter-terrorism, as terrorism is a problem that affects all countries. We can maintain good relations with NATO member countries, without being a member of NATO. Our foreign policy goals will also be advanced by reforms to the United Nations, which I think Ukraine should strongly support. UN reform would help resolve security crises like the post-2014 Ukraine crisis, as it give the UN new instruments to ameliorate these conflicts and improve humanitarian conditions in conflict zones.
Samuel Ramani is a DPhil candidate in International Relations at St. Antony's College, University of Oxford. He is also a journalist who contributes regularly to the Washington Post and The Diplomat. He can be followed on Twitter at samramani2 and on Facebook at Samuel Ramani.
Popular in the Community