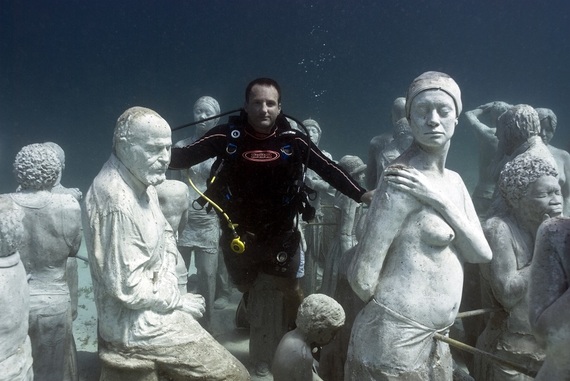 Jason deCaires Taylor (Dover, Kent County, United Kingdom, 1974) has devoted more than eighteen years to underwater life and its conservation along with his work as a sculptor and photographer. He is best known as the creator of MUSA (Museo Subacuático de Arte), the largest aquatic museum in the world, located near Cancun, Mexico, and he is currently working on the creation of the Museo Atlántico in Playa Blanca, Lanzarote. Made from pH-neutral cement, his sculptures transform into coral reefs as they are consumed by aquatic microorganisms, which helps to increase marine biomass and the reproduction of species.
Like nature, his art creates and destroys, and like life, it is in constant transformation. It is an art that accepts its own temporality and does not seek immortality. It has to die in the water to again become one with nature, and reach out into eternity.
Elena Cué: You have opened up a new avenue of artistic expression by shifting away from the conventional above-ground space to the below-water space, and change how we usually perceive the world. In your art, are you seeking or finding?
Jason deCaires Taylor: My aim has been to create an interface or bridge between an unknown marine world and our familiar earthly world, in a way that also conserves marine resources and offers a wider perspective through which to see our life in a greater context.
I think that art always involves searching, driven by a curiosity to discover something, and to see further. I am always surprised by nature when I dive. I go into the sea wanting to create questions through art, but then nature reveals itself and responds, often leading me to formulate new questions. I have no control over how that happens in there.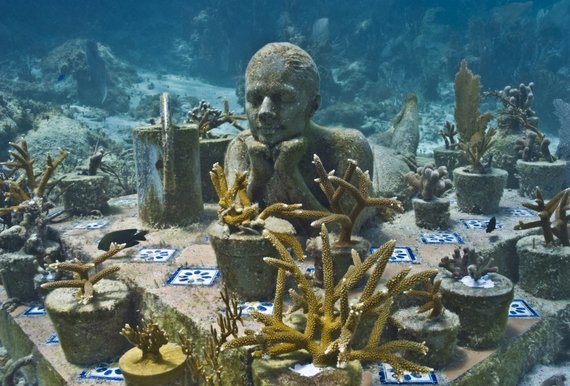 E.C: Your sculptures carry warnings of the harm done to our oceans and the excesses of modern society. Beyond its function as critique, what is the hidden mystery of your art, one that only you can know?
J.d.T: I love the idea that human evolution could originate from the sea, as if we could be able to return to that same beginning. I find that mysterious interchange between life and death unsettling. Art can generate those kinds of contradictions, for example, by submerging a civilization of humans made of concrete, with dead eyes, into the water to then watch how marine life invade them and weaves a mantle of life that resuscitates them from their earlier inert selves. It´s a sort of metamorphosis, similar to butterflies. The sculptures are like larvae that flourish under the effects of marine biomass. It reminds me of the beauty of ruins when they are consumed by vegetation. The allusion to the past reveals itself as both a sign of death and the seed of new life. I like the seductive power of decadence, but I am even more fascinated to witness nature's vivifying faculty. Against the vastness of the ocean, humanity seems fragile. And submerged in the water, all sense of temporality is lost. Perhaps the greatest mystery is this breach between space and time. Past, present and future mix and fuse into life and death.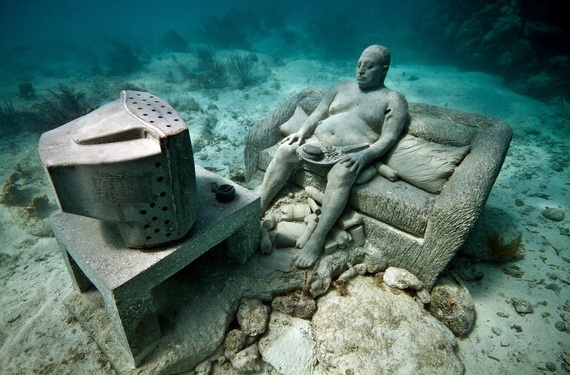 E.C: You were awarded the Pergamino prize by the Friends of the Phillipe Cousteau Anchor Museum for your extraordinary contribution to underwater life. Has the French marine explorer influenced you in any way?
J.d.C: Yes, he has. Perhaps the strongest way that Jacques Cousteau has influenced me is when he said -- and to me, this is the basis of his legacy -- that we have to protect what we love. I think that this is the root idea of my career as an artist, because a large part of my work is trying to make people love the ocean. And I think that all of us, or almost all of us, share a fear that we are not doing enough to protect our oceans. We don´t think of the ocean as a sacred space, though I think that we should. It´s strange that we don´t doubt the value of, for example, the Himalayas, or the Sagrada Familia or the Louvre. We consider them sacred and do what we can to conserve them. Museums have that almost saintly aura and we value them because they are places of preservation, conservation and education. They keep and care for the objects we consider valuable simply for what they are. That´s why when I built the first sculpture park in Cancun, I wanted it to be a museum; because I believe we owe it to the ocean to respect it as we would a sacred space. I think that both Cousteau explorers demonstrated that very same respect in their own work. Jean-Jacques Cousteau said "I am absolutely enraptured by the atmosphere of a wreck. A dead ship is the house of a tremendous amount of life -- fish and plants. The mixture of life and death is mysterious, even religious. There is the same sense of peace and mood that you feel on entering a cathedral."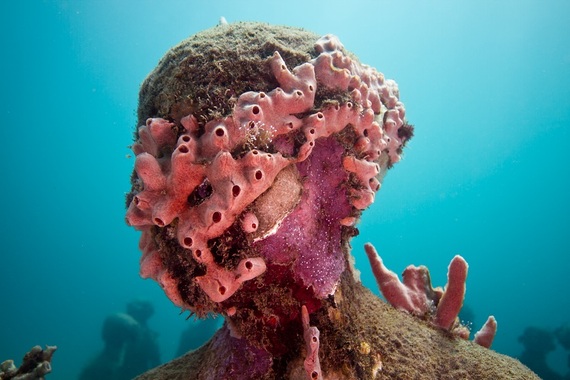 E.C: You are now immersed in the creation of a new aquatic museum, this time in Spain, specifically in Lanzarote. Can you tell us about it?
J.d.T: The Lanzarote project will be the first underwater museum of the Atlantic Ocean and Europe, hence its name, Museo Atlántico. This is a great challenge for me. As a biosphere reserve, and together with Cesar Manrique´s artistic legacy, Lanzarote is an essential reference in the three-part relationship between art, nature and sustainability. The island´s landscape, with its volcanoes and terrains of dark lava, is stunning and (post)apocalyptic. Like the seabed, it seems to occupy a no-place, or rather a no-time, because the imprint of volcanic eruptions centuries ago still invades the landscape with a harrowing beauty.
It is precisely this respect for the nature that surrounds us, and its importance, that the museum will draw attention to. The central part of the museum -- a botanical garden -- will pay tribute to the island´s flora, and several hundred human sculptures will all walk in the same direction, towards a doorway that separates two hypothetical worlds.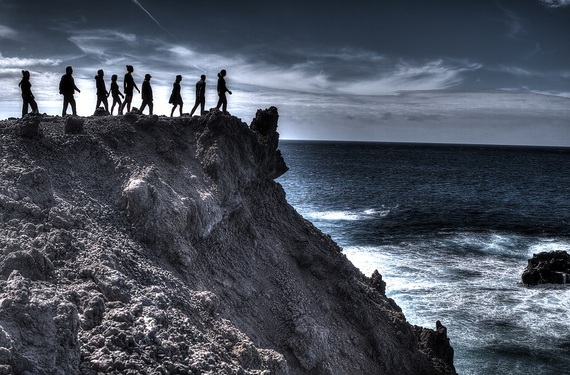 E.C: You use technique in a positive way, by having it serve nature. Can you tell us about this, and what means you use?
J.d.T: Working in the Atlantic Ocean is a unique challenge because it does not have the same characteristics as the Pacific Ocean. The water is cold, and there are no coral reefs here. However, the marine biomass here is very rich. The work we are doing in the Atlantic Ocean is aimed at increasing the number of fish, crustaceans and sponges and attracting microscopic life.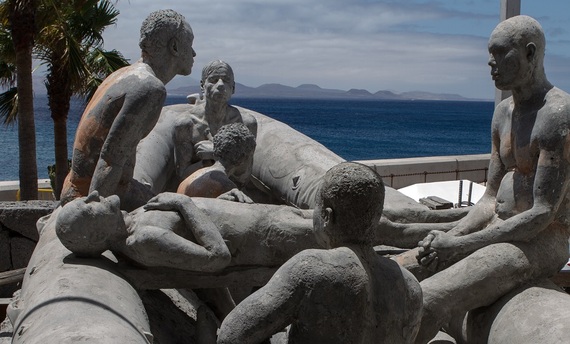 E.C: Your sculpture La patera connects opposing meanings of the sea: union and separation, destruction and creation... After so many years devoted to the sea, what does it mean to you?
J.d.T: The real name of this piece is in fact The Raft of Lampedusa. My initial idea was to address the problem of immigration through an interpretation of a painting, the Raft of the Medusa, painted by Géricault in 1819. This work became an icon of Romanticism because the artist chose to depict a controversial event of the day, which was the tragedy of the French frigate Medusa that took place while it was sailing to Senegal, on a mission to colonize recently-recuperated territories in Africa. The scale of the loss of life and the criminal negligence of those in command became a public scandal. More than one hundred people piled on to a raft, part of which went under water when it was loaded, and then went adrift. That's the scene the painting depicts.
The tragedy of the Medusa was, therefore, the consequence of an imperial act, to recover African colonies. The French government then gave up on its sailors, in the same way that our communities are relinquishing their humanitarian sentiment with the arrival of immigrants, mainly African, who embark under the most difficult of circumstances in the hopes of reaching one or other of the more accessible coasts of Europe, such as the Italian island of Lampedusa and the Canary Islands. The situation is critical here, because this is one of the main gateways to Europe. Due to its geographic proximity, so many of these boats arrive from Senegal. In the sculpture The Raft of Lampedusa, I've recreated the type of boat that has reached the coasts of Lanzarote and La Graciosa in the last ten years.
I believe that, in reality, we are all immigrants. It is part of the human condition to look beyond, and to try to prosper. But modern society is structured in such a way that what drives some to emigrate, and the conditions in which they do so, is nothing like how this happens in more developed countries. Here in Lanzarote the contrasts are so very clear. And at the same time, there is this heterogeneous mix of cultures that is strongly influenced by Spanish, English, African and South American cultures.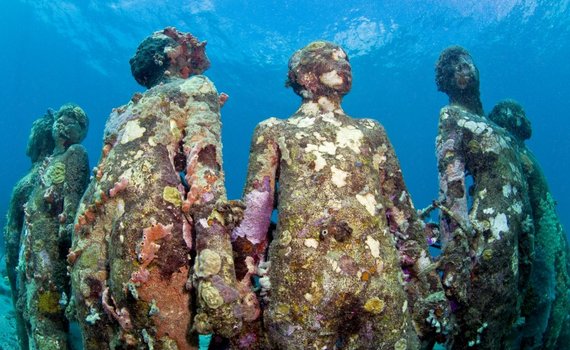 E.C: Do you think that the sea has become a kind of underwater cemetery?
J.d.T: No, quite the opposite. It is true that the health of the ocean is at risk, and with it the health of the planet. But I like to think that we are at the beginning of life, not at the end. It´s also true, though, that if we continue to ignore the pleas of the ocean, something more like a human cemetery will happen. This brings to mind another quote from Cousteau, who said "The sea, the great unifier, is man´s only hope. Now, as never before, the old phrase has a literal meaning: we are all in the same boat." So I think that it is everyone's responsibility to take care of our seas and our environment. And I try to project this message through my work.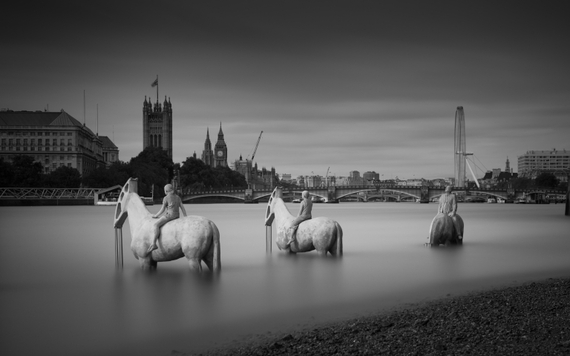 E.C: You have given birth to a new reality of knowledge by creating new worlds of experience that allow us to learn more about ourselves and nature. Thanks to underwater archaeology, we have a record of past civilizations. Do your sculptures intend to be a form of knowledge of our current culture?
J.d.T: Yes, I believe that through making sculpture you can do something like contemporary archaeology. It would be nice if in the future, maybe some hundreds of years from now, the sculptures would say something about this time through things like the clothes and accessories I have given them, for example, cameras. These have taken on a certain importance lately. While they are used to portray people, they also contextualize the society we live in, and reveal something about our conduct and social behavior. The installations we are currently working on bring out concepts such as automatism and individualization which, in my opinion, typify our contemporary society. These connotations become apparent when I decide, for example, to have the group of humans walk forward with their eyes closed, limiting their interaction, or when I decide that some should be engrossed in their digital devices while others are fixated on capturing the reality around them through cameras and selfies.
Just like the inhabitants of Pompeii were frozen in place with the eruption of the volcano, I try to petrify the common man in his everyday life. This helps me look at the society that we live and the kind of life we have from a more distanced perspective, as if I were looking at our human civilization from an extra-terrestrial point of view.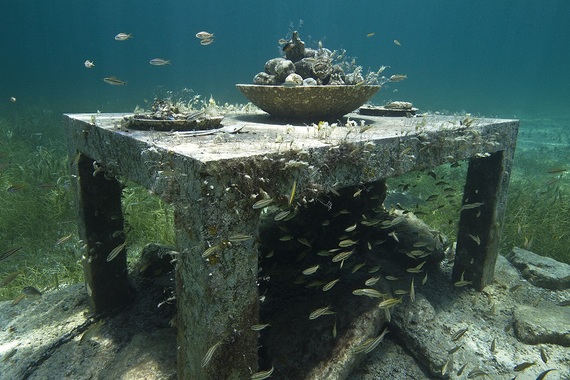 Related
Popular in the Community