By: Sathya Raghu V Mokkapati
Today, the government of India is investing in two initiatives to boost the economy: supporting the agricultural sector--which employs half of India's workforce--and bolstering startup technology companies. These two efforts may seem unrelated but there is real potential to transfer lessons from the startup culture to our agricultural sector.
One initiative to improve agriculture in India is an approach called Farmer Producer Companies (FPCs), which the government hopes will bring individual farmers together to empower them to operate with a business mindset. FPCs are farmer collectives which bring together the farmers into one umbrella organization to do what each farmer cannot do individually.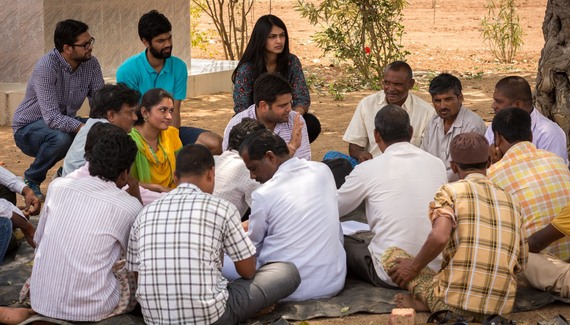 Take for example Rekha, a farmer from Telangana State of India, who produces Pigeon pea (Tur dal) every year on 2 acres. When she sells her produce, she can earn about Rs.70 per kg. But if she were to follow a simple, inexpensive process to split the dal, she could sell this produce for Rs.125 per kg.
Without FPCs, Rekha wouldn't be able to take advantage of this simple and profitable step. Alone, she is unlikely to know about how much more valuable the split dal are and, more importantly, she can't afford the machine to split the dal or know where to sell it once it is processed. Individual farmers also have to buy seeds, fertilizers, and other essential tools on the retail market at a high costs. But FPCs bring together 100 to 1000 smallholder farmers to help them get the benefits that a large commercial farm would receive.
Unfortunately, too often the full potential of these programs is not being realized. A recent study from the Institute of Livelihoods Research and Training found that many of these FPCs are missing both competent, business-minded leadership and transparency. Like any business, the managing team of these organizations should have competence in business disciplines like marketing, finance and production, to name a few. Too many board members and CEOs of these FPCs are political or family appointees and are unable to understand financial statements and monitor on their financial progress.
As a supporter of FPCs and a board member of the State Level Farmer Producer Company, I think the fundamental challenge we face is that too many FPCs today are working with a perennial grant-seeking mindset where there is complacency, and an assumption that there will always be people/organizations to give free money. There is little business mentality and organizations lack the vision to grow or the hunger to perform. They must listen to farmers more and start operating like businesses rather than grant-funded organizations.
So, what exactly can FPCs do like startups?
Startups have a hunger to innovate, which means they test out new approaches to increase efficiency. They have courage to think big and use tools like "lean methodology"--a rapid process of testing a tool or a way of farming as you are developing and refining it--and systems thinking that requires a big picture view of farming. They would encourage farmers to look beyond what is happening to the plant in front of them, but instead at what happens before planting, during growing and after harvesting when crops go to market.
In short, they should have the humility to understand things from the field as they are and audacity to imagine the way the can be.
This is where Prime Minister Modi's Startup India initiative, which is focused on supporting startup companies working in a variety of sectors, can help the agricultural sector. Lessons from the startup community must reach these collectives to improve their leadership, such as testing a product or service as soon as possible before investing in it fully and continuous learning and improvement from real-time feedback.
Prime Minister Modi and his advisors clearly understand what makes startups special, or they wouldn't have invested 100 billion rupee in the Startup India Initiative. For these FPCs to succeed they must aggressively innovate and pursue a common startup strategy known as "do-fail-learn-scale"--in which you try, learn from mistakes, improve your product and then implement the solution more widely.
These organizations need to run with the head of a capitalist, the heart of a socialist and hands of a farmer. They must focus on becoming sustainable businesses rather than charities. This will only be possible when the government invests in skill development for farmers. For example, the Startup India Initiative would be a good home for an FPC "incubator cell" that would provide a "Mini MBA" for leadership teams of FPCs. This should include teaching FPC leaders to make business plans, create competent leadership teams, and develop monitoring and evaluation systems, among other business skills.
We know FPCs can work when run properly. Look no farther than the success of AMUL (http://www.amul.com/m/organisation), which is an Indian dairy cooperative Gujarat, India. AMUL, and its leadership, is an example of a producer company which makes an annual revenue of $3.4Bn and positively impacts 3.37 million lives across 18500 villages. It has helped India emerge as the world's largest producer of milk.
A recent survey by the research organization Centre for the Study of Developing Societies (CSDS) showed that three out of four farmers would prefer to do some work other than farming. After all, for most Indian farmers, hard work isn't paying off. But without a robust agricultural sector, we won't be able to feed India, or the world. India's next generation is relying on our ability to disrupt agriculture. Strengthening the FPC system with the right resources and mentality is vital to our nation.
Sathya Raghu V Mokkapati is the Co-founder of Cosmos Green, an organization working to help small and marginal farmers rise out of poverty, CEO of Kheyti, on the board of the Telangana Rythu Producer Company, and a 2016 Aspen New Voices Fellow.
Popular in the Community