BEIRUT, Jan 1 (Reuters) - A video released late on Wednesday purported to show two Italian women held by militants in Syria, with one of them saying they are in danger of being killed.
The title of the video says the women are Italian workers and have been detained by al Qaeda's Syria wing Nusra Front, but websites and Twitter accounts used by the militant group did not mention the video, which did not include any logos of the group.
The video published on YouTube shows two young women sitting and dressed in black robes and veils. One holds a sign which gives the date as Dec. 17, 2014.
"We supplicate our government and its militaries to bring us back home before Christmas," the other woman says in English, appearing to read from a prepared statement.
"We are in big danger and we could be killed. The government and its militaries are responsible (for) our lives."
An Italian foreign ministry spokesman declined to comment. In August the ministry said two Italian aid workers had been kidnapped in Syria, without giving their names.
They had been working on humanitarian projects in the embattled northern city of Aleppo, the ministry said at the time, adding that all channels were being explored to obtain more information and secure their release.
It did not give details of their captors.
Nusra Front and the militant Islamic State group have held groups of Westerners hostage in Syria, which has descended into a splintered civil war.
Islamic State beheaded several male hostages including aid workers and journalists in 2014. Nusra Front released hostages last year, including a group of Greek Orthodox nuns in March and a U.S. writer in August. (Reporting by Sylvia Westall in Beirut, additional reporting by Steve Scherer in Rome and Omar Fahmy in Cairo; Editing by Peter Graff)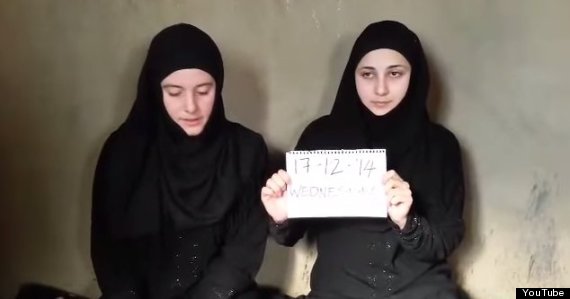 Still from the video released Wednesday.
Related
Popular in the Community