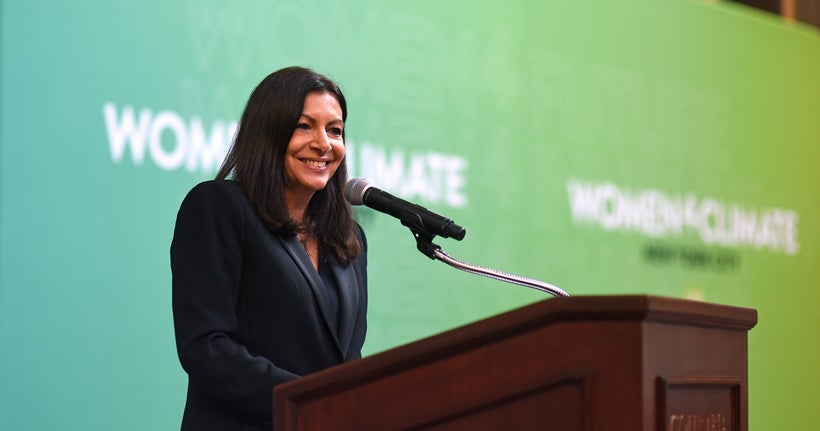 Mayor Anne Hidalgo Launches #Women4Climate to Empower Women to Achieve the COP21 Paris Agreement
The planet is in crisis. Global temperatures continue to rise while the President of the United States installs climate-change deniers in key leadership posts and strategically defunds the Environmental Protection Agency (EPA). While we ladies may raise our voices in objection, most of the time, men run the world they way they want to. For most of human history, that has meant building armies and institutions with very little concern for their effect on the planet. The Industrial Revolution gave way to a period where natural resources of all kinds served as a take-make-waste supply chain for corporations indifferent to their environmental footprint.
Thankfully, that's changing. The C40 Cities Climate Leadership Group (C40), an initiative of Bloomberg Philanthropies, convenes the leaders of more than 80 of the world's largest cities, which represent 650 million people and 25 percent of global GDP. Of those 86 cities, 15 are governed by female mayors, united in their commitment to literally save the world.
C40 believes that cities, often bastions of education and liberal resolve, have the power to work together to meet the climate compliance requirements of the COP21 Paris Agreement by 2020, before it's too late. In December 2016, C40 published a comprehensive report, Deadline 2020: How Cities Will Get the Job Done. The report describes how, working in five key sectors, C40 cities can join together to reduce greenhouse gas emissions and keep global temperatures from rising beyond 1.5 degrees Celsius. The report emphasizes smarter urban planning, transit emissions reduction, greater renewable energy production, infrastructure retrofitting to reduce energy demand, and improved waste management. By adopting such a comprehensive approach, C40 cities have the capacity to enable the world to reach these ambitious targets.
Last week, at the Low Library of Columbia University, Paris Mayor and C40 chair Anne Hidalgo and municipal C40 leaders from around the world convened to celebrate the launch of Women4Climate, an initiative that seeks to empower women around the world to become key leaders in the efforts to achieve the Paris Agreement. "We don't have time to waste for dealing with the scientific evidence," Mayor Hidalgo said, a rhetorical gesture at American climate deniers within the Trump Administration and elsewhere. Mayor Hidalgo explained that women around the world are often those most negatively affected by the consequences of climate change, but that, "Women are also the strongest when it comes to collectively changing the world."
The Women4Climate Initiative seeks to advance four key pillars of support for C40 and the COP21 Paris Agreement. The initiative will continue to produce research to better understand the relationship between gender, cities, and climate, and will convene events that highlight this thought leadership, contributing to greater global awareness of the role women can and will play in saving the planet from climate change. The initiative will also include a mentoring program, that will prepare young women with the skills, experience, and networks they need to become the next generation of environmental leaders. Lastly, the initiative will underwrite an annual challenge that will celebrate and reward the best sustainability innovations created by women.
The Women4Climate initiative, while still a bit light on the details of how and when these admirable programs will begin, emphasizes a point highlighted by Mayor Hidalgo in her opening remarks: "Climate change and women's rights are not questionable." Fifteen of the founding C40 mayors are women, and last week, they were emphatic about having their voices heard. Cape Town Mayor Patricia de Lille, Durban Mayor Zandile Gumede, and Caracas Mayor Helen Fernandez each represented their cities' climate initiatives on stage, along with Mexico City Mayor Miguel Angel Mancera.
"Signing the Paris Agreement was the easy part," said Mayor de Lille, who works to ensure that sustainability is integrated into every municipal department. Cape Town is facing the worst drought it has seen in 100 years, forcing the city to reinvent its water management system, which in 2015, earned it one of the C40 Cities Awards for Adaptation Implementation. Mayor de Lille has launched a green bond to underwrite this initiative and is using the requirements of retrofitting to create jobs.
The substance of the event went beyond the important role municipal leaders will play in achieving the Paris Agreement, reflecting on how the private sector must also champion sustainability within its supply chain. Event sponsors Johnson & Johnson and Suez, as well as L'Oreal, a founding member of the Women4Climate Initiative, all spoke from the stage about how their companies will support the role women can play in combating the effects of climate change.
"Our commitment to climate isn't about charity. It's about facing our world's challenges," said Alexandra Palt, the Chief Sustainability Officer at L'Oreal. Under her leadership L'Oreal has already reduced its carbon emissions by 67 percent, four years ahead of schedule. Ms. Palt highlighted the shea butter supply chain as an example of how women are affected by climate change at every stage of production, from harvest to sale. Taking a comprehensive view of how companies can reduce their energy consumption and environmental footprint, she echoed Mayor Hidalgo's emphatic urgency. "This is the time to double down on our efforts," Ms. Palt said, "and commit to doing even more."
Beyond the specific municipal and corporate initiatives underway to reduce carbon emissions and natural resource demands, the final panel discussed how women could elevate environmental policy and climate change as policy and campaign issues. Gisel Kordestani, the founder of Crowdpac, an open platform to help people raise money and get organized to run for office, highlighted how women voters and candidates can change the stakes for climate. "Women are 45 percent more likely to contribute to environmental programs than men," said Ms. Kordestani, and "women are 25 percent more likely to contribute to female candidates." Unfortunately, women are much less likely to run for office than men and must be asked an average of seven times before gaining the conviction to do so. For Ms. Kordestani, the answer is simple: ask more women to run for office more often, and sustainability and conservation will inevitably become more central campaign policy issues.
Perhaps the most promising and inspiring part of Wednesday's event was its unapologetic tone. In both the private and the public sector, men have been either unable or unwilling to exert the leadership needed to achieve the complex organizational changes needed to reduce both consumption and emissions to counteract the deeply negative impact climate change will soon have on life on earth. The populist rise of America's 45th President, and other conservative leaders in Western Europe and elsewhere underscores the point that national governments cannot be depended on to take the action needed to secure the planet's future. The mayors of C40, led by Mayor Hidalgo and a cohort of other exceptional women leaders, will not allow ignorance or incompetence to stand in their way. They are adamant in their conviction to do whatever it takes to save the planet, and to place the power of women at the center of the conversation, without regard for any bruising of male egos doing so may cause.
In closing, the C40 chair proclaimed women the "real makers of tomorrow," adding a simple yet urgent call to action for the climate leaders of the future. "Believe in your abilities," she said, "answer this call and build a better world starting today." With the inspiring example of women like Mayor Hidalgo, it is our collective responsibility to ensure that we do.
Calling all HuffPost superfans!
Sign up for membership to become a founding member and help shape HuffPost's next chapter
This post was published on the now-closed HuffPost Contributor platform. Contributors control their own work and posted freely to our site. If you need to flag this entry as abusive,
send us an email
.