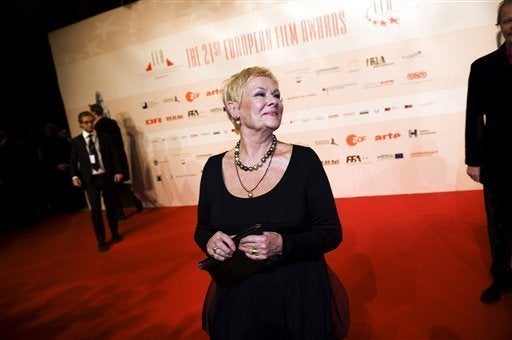 I voted for President Obama but I'm still a white fifty-six-year-old writer who might not be expected to "do" empathy with African-American folk gods. So why was I so fully invested in -- and enjoying every minute of -- the New York premiere of Trickster at the Gate?
This "black play" about African myth (and/or faith depending one your point of view) transposed to post-slavery (twentieth century) America is currently an off, off Broadway production staged in a spare rehearsal studio so minimalist that it might just as well be produced on the sidewalk. (At just $18 for the ticket who's complaining?)
The Yoruba God Esu Elegba (Amanda Bailey) has been sentenced to live the life of a mortal African-American woman in the 20th Century. We follow the incarnation of the Yoruba god from her youth to old age in a series of deftly devised flashbacks woven into a conversation with a young woman (Renee Threatte) who is Yoruba's only friend.The play -- by John Patrick Bray -- takes us from the Harlem Renaissance, to the mystical realms of African gods, to present day Louisiana.
Do gods die? If you believe you are a god are you a god? If the white man says your African god is dead and tells you to pray to St. Peter instead, does it still count? If there is a god, or gods, is he/she/it nice, or sometimes an implacable enemy? What happens when a god rents a room from you?
Having seen this production I left knowing two things:
First; I'd just seen a captivating cross-cultural (often funny) play that transcends (what some might dismiss as "trendy") race issues and enters into that place all art dwells: the core mystery of human spiritual experience. In Trickster that "core" is found in the borderland between spirituality and madness. Second; I just happen to be one of the lucky few to see the first play in New York starring the -- as of yet -- unknown actor Amanda Bailey. This young woman won't be unknown long.
Someday I'll tell my grandchildren that I was there when Ms. Bailey -- America's new and powerful answer to Judi Dench -- launched her career. Bailey 's role calls for her to transform from the young (and in love) god to a fetchingly vulnerable deity, from old and sly to suffering/lost, from godlike (yet all-too human) to wrestling with death and the beyond. Bailey does all this in the confines of a small production she transforms in a rage-filled, despairing and slyly playful manner worthy of John Gielgud playing Prospero.
Trickster at the Gate shines because of director Daniel Horrigan's tight understated direction and clever staging in the tiny confines. The play is good but the cast is great.
Dancers Valencia King and Sarita Louise Moore fill the room and provide an illusion of being twenty or more not a mere two! Renee Threatte the wonderful co-star brings a lovely grace note of understatement to the play. It doesn't hurt that Threatte is also so stunningly beautiful that it's almost distracting. Mr. Tyson Jennette (in a rather small role of Walter, a share-cropper) is terrific and so likable that I wished his part had been much bigger.
The play is produced by the At Hand Theatre Company, directed by Daniel Horrigan, starring Amanda Bailey, David Heron, Tyson Jennette, Chris Olson, and Renee Threatte.

Performances are Friday - Sunday evenings at 8pm, March 13 - 29, 2009 only!
Tickets, ($18) available at the door or by calling SmartTix at 212-868-4444 or by visiting www.smarttix.com.

The Ted Bardy Studio is located at 153 W. 27th Street, Suite 301 (between 6th & 7th Avenues) in Manhattan. (One block from the 1 Train Metro stop at 28th St.)
Frank Schaeffer is a writer and the author of Crazy for God: How I Grew Up as One of the Elect, Helped Found the Religious Right, and Lived to Take All (or Almost All) of It Back. Now in paperback.
Popular in the Community