Blah. That was consumers' evaluation of Jack in the Box's burger lineup in research it conducted last year. That's a scary opinion for a burger chain to hear, so Jack worked fast to change its burgers and its marketing. The results have been far more immediate and positive than the chain expected or can explain.
"We're just as astonished as you are," Chairman-CEO Len Comma told an analyst during today's quarterly earnings conference call. Comp sales for Jack company stores were up by 3.9 percent for the quarter that ended Jan. 18. Franchised stores' comp sales were up 4.6 percent. But there's more: The company says Q2 sales are even better. It's forecasting a 5-percent to 7-percent increase in same-store sales while admitting that that's conservative, because current sales are even better. Its Qdoba fast-casual brand saw a 14-percent system gain in comp sales, and it's trending higher too.
"We're in uncharted waters," Comma said of Jack in the Box's sales surge.
But Comma said Jack has responded to criticisms of its burgers and appears to be giving them what they want. "Consumers rated our burgers pretty poorly," he said. 'When we dug into the research, what we found was that consumers have favorites, like the Sourdough Jack. But what they don't say is, 'We love your entire line of burgers, and we believe you're selling us quality products.'"
Specifically, diners complained that Jack in the Box's beef patties were not juicy enough and that some ingredients could be changed to bring the flavor of the burgers to life, Comma said. "They also said they expect bold, craveable flavors from Jack in the Box, and we weren't doing enough of that."
Jack's sales were strong last year, but much of the growth came from breakfast and late-night (such as the Munchie Meals sold after 9 p.m.).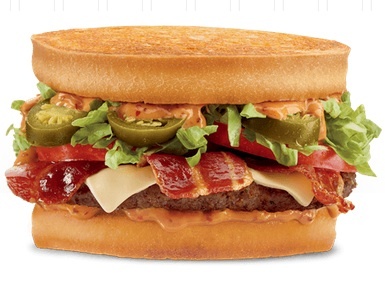 Introduced in November, the Spicy Sriracha Burger (above) began the turnaround. Bold flavors? It's loaded with them: hickory-smoked bacon, sliced jalapeños, Swiss-style cheese, shredded lettuce and sliced tomatoes with a new, spicy, creamy Sriracha sauce on toasted sourdough bread.
Advertising shifted from mascot Jack to close-ups of beautiful, juicy ingredients. "If you look at our food footage [in TV] or our outdoor or POP, the way we're displaying our food has changed," Comma said. "Our marketing group has made a change to point out specific ingredients. The [burger] may not be as neatly put together, but the juiciness [of the meat] or the texture of the bun or the freshness of the tomato comes across loud and clear. We're getting close up.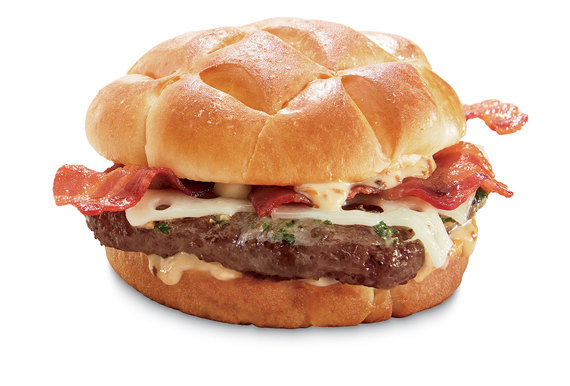 If the Spicy Sriracha Burger was a punch, the Buttery Jack Burgers (above) introduced last month are a knockout. Despite top-tier prices, sales of the $4.49 Classic Buttery Jack and $4.79 Bacon & Swiss Buttery Jack have more than exceeded expectations. The burgers have the highest mix on launch of any new item ever. Comma says Jack has "never had a product that performed better." They've only been on the menu for three weeks, he concedes, but sales started and stayed strong.
The bold flavors of the Spicy Sriracha Burger and the signaled high quality (patties are brushed with garlic butter) of the Buttery Jack Burgers "foreshadow where the entire menu will go, and it's exactly what consumers said they would respond to," said Comma.
Lunch and dinner will be the prime but not the only focus points. A value-price breakfast promotion is planned, as is a late-night sweepstakes. Jack will continue to appear in advertising, "but expect food to have more of a starring role," Comma added. As previously reported here, Jack in the Box has begun serving all burgers in baskets.
Burgers weren't the only things consumers criticized. Crewmembers' lack of friendliness was cited, leading the chain to launch a hospitality program for all restaurant employees.