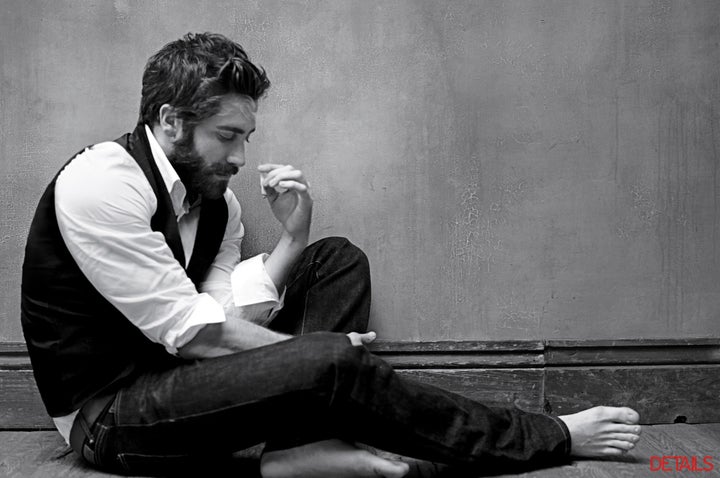 The F-word flies by fast, furious and often from cops and criminals in Jake Gyllenhaal's new movie End of Watch, now on its way to the Toronto Film Festival. At a special preview screening at Bryan Bantry's Goose Creek on Sunday night, the dreamy-eyed star prepared the audience for extreme violence, and for another F-word: friendship. With more edge than the typical police procedural, the film left viewers -- including hosts Jerry and Jessica Seinfeld, Gwyneth Paltrow, Ingrid Sischy and Sandra Brant, and many guests: Bruce Weber, Bob Balaban, Chris Martin, Donna Karan, Calvin Klein, Katie Lee, and Beth Ostrosky Stern -- getting over the movie's devastating end with champagne and dessert.
Everything is up close and personal, from scenes of what drug cartels do with their stash and those who cross them, to frantic users who want to silence their kids, to the families of these good cops both in the LAPD, and at home, to the front seat of the squad car where Gyllenhaal's Brian Taylor in shaved head, and his Mexican partner Michel Zavala (Michael Pena) muse about marriage, their lives and loves in a tight camera frame capturing every facial nuance, and signaling End of Watch as one of best buddy movies since Butch Cassidy and the Sundance Kid, if more gruesome.
On the job, both wear HD cameras, so their work answering calls and following their own crime-solving hunches is recorded. The result is jarringly real, the footage from surveillance cameras, gang members, and others part of the story, the camera as third-person omniscient narrator seeming to disappear. This makes for riveting filmmaking, giving the action an illusion of authenticity, and subjectivity. While much is owed to Michael Pena's fresh and biting script and direction, the actors added some bits too, said Gyllenhaal of the five months of preparation and 22 shooting days with much time spent driving around with South Central L.A.'s cops. For example, before Brian gets serious with his girlfriend Janet (an excellent Anna Kendrick), the guys adlibbed with Michael razzing him about marrying a Mexican girl like his wife, Gabby (a fine Natalie Martinez), who only wants babies. They laugh, cajole, and show bravery and loyalty, beyond what you may think necessary or prudent. Cody Horn and America Ferrera play another fierce and fragile cop team who should have a movie written around them.
The Hollywood Reporter and Samsung Galaxy SIII sponsored the Peggy Siegal Hamptons screening; each guest received a gift: an invitation for a free phone and to sample their new white glove service. To attend and promote his film, Gyllenhaal left the dress rehearsal for his American stage debut in Nick Payne's If There Is I Haven't Found It Yet, to begin previews in New York next week. Referring to his shiny full head of hair, he smiled wide, "It does grow back."
REAL LIFE. REAL NEWS. REAL VOICES.
Help us tell more of the stories that matter from voices that too often remain unheard.