Jameis Winston, quarterback of the Tampa Bay Buccaneers, recently stopped by a St. Petersburg, FL elementary school to give a speech to a classroom of third, fourth and fifth graders. While the meet and greet was undoubtedly meant to be light and heartwarming, Winston's 40-minute speech included some oddly gendered sentiments.
"All my boys stand up, all my ladies you can sit down," the 23-year-old football player told the room of students and parents this past Wednesday, Tampa Bay Times reports.
He proceeded to tell the young girls to be "silent" and "polite," while telling the boys to be "strong," and reminding them they can do anything they set their minds to:
But all my boys, stand up. We strong, right? We strong! We strong, right? All my boys, tell me one time: I can do anything I put my mind to. A lot of boys aren't supposed to be soft-spoken. You know what I'm saying? One day y'all are going to have a very deep voice like this (in deep voice). One day, you'll have a very, very deep voice.

...But the ladies ― they're supposed to be silent, polite, gentle. My men, my men supposed to be strong. I want y'all to tell me what the third rule of life is: I can do anything I put my mind to. Scream it!
According to Tampa Bay Times, many of the parents were visibly upset by Winston's comments.
"We've been working so hard with our students giving them hopes and dreams and helping them raise their expectations,'" Bonnie Volland, a speech language pathologist at the elementary school, told Tampa Bay Times. "In the beginning, it was so good because he was talking about, 'You can do it!' and really giving our students a positive message."
After Winston's speech was publicized, some pointed out that his comments felt especially problematic given that he was accused of sexual assault just five years ago.
In 2012, at Florida State University where he played football before entering the NFL in 2015, Winston was accused of raping a fellow student, Erica Kinsman. In a 2015 civil complaint, Kinsman sued Winston for "sexual battery, assault, false imprisonment, and intentional infliction of emotional distress arising out of forcible rape."
According to Kinsman's lawsuit, she met the football player on December 6, 2012 at a bar. Later that night, she went back to Winston's apartment with two of his teammates where she said he raped her while both of teammates watched, one of whom allegedly filmed the incident.
While Winston was never formally charged for the alleged rape, in January 2016 FSU paid Kinsman $950,000 as a settlement for a lawsuit she filed against the university that claimed they mishandled her case.
Many people on Twitter reacted negatively to the NFL player's comments, some taking issue with the fact that Winston was even allowed to speak at an elementary school given his past.
Although Winston did not apologize for his gendered comments, he told Tampa Bay Times that he used a "poor word choice."
"I was making an effort to interact with a young male in the audience who didn't seem to be paying attention, and I didn't want to single him out so I asked all the boys to stand up," Winston said. "During my talk, I used a poor word choice that may have overshadowed that positive message for some."
The Huffington Post reached out to the NFL but did not hear back by the time of publication.
Before You Go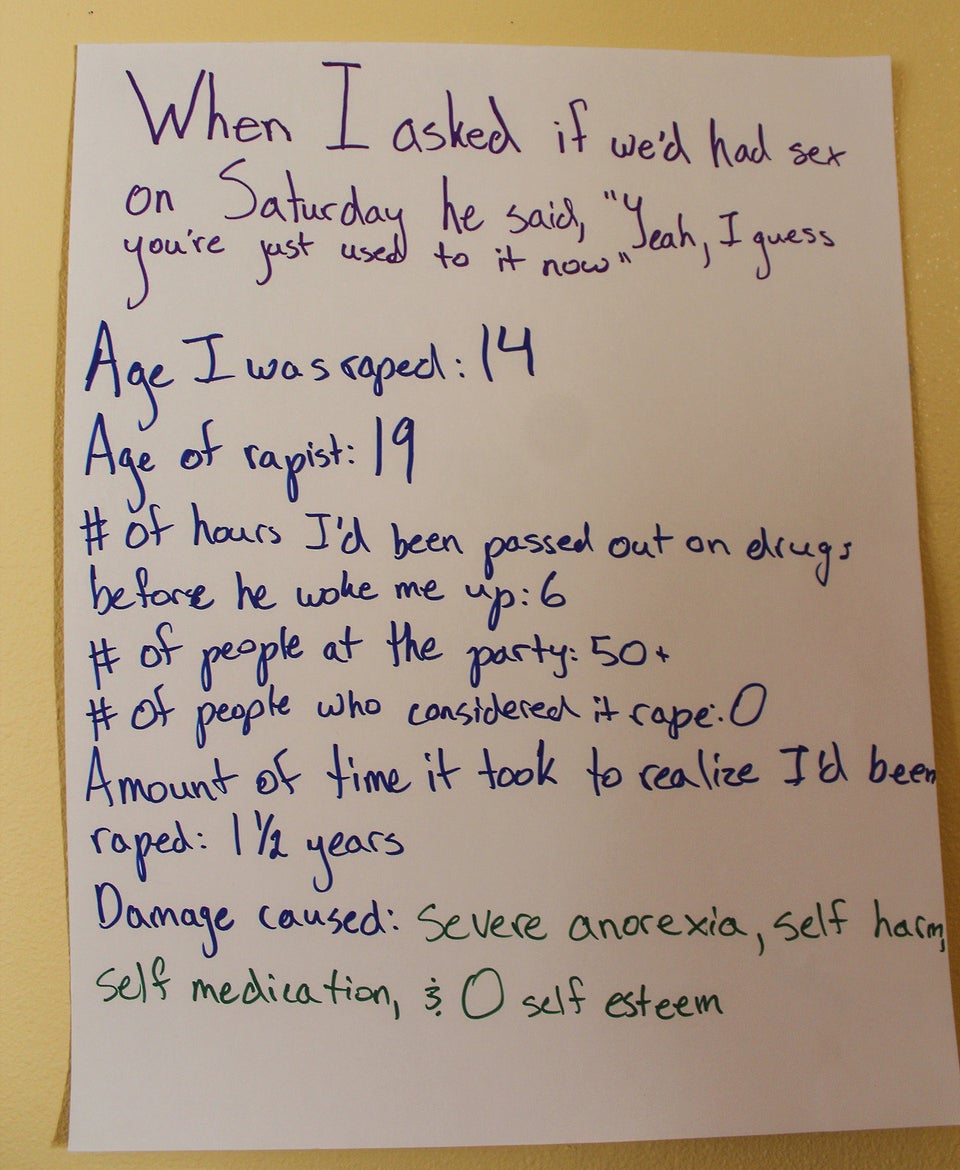 Images From 'Surviving In Numbers' -- A Project Highlighting Sexual Assault Survivors' Experiences
Popular in the Community