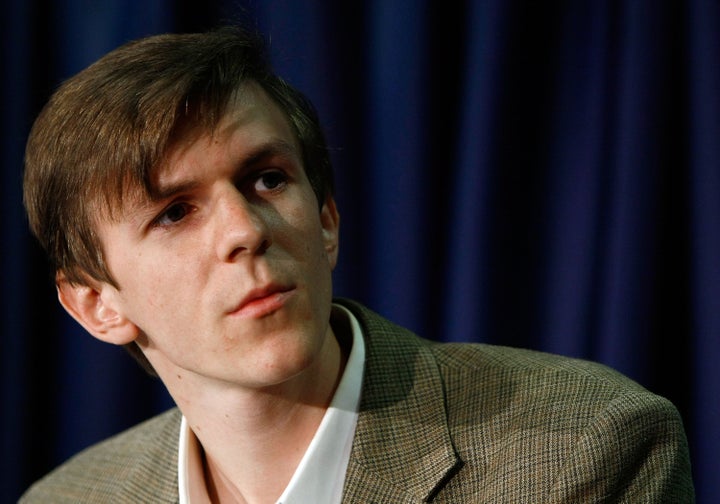 Conservative filmmaker James O'Keefe targets the alleged threat of voter fraud in his latest offering, a 10-minute video that features attempts by his cohort to demonstrate how easy it is to vote as a deceased person in this week's New Hampshire primary.
The undercover video by his group, Project Veritas, shows O'Keefe and his associate Spencer Meads visiting various polling stations around the Granite State, inquiring about getting ballots and giving the names of recently deceased voters. Because New Hampshire doesn't require voters to show identification, the poll workers appear prepared to oblige their requests.
In their efforts however, some experts say they have violated election laws at both the federal and state level that explicitly prohibit such attempts to acquire ballots for voters other than themselves. Legal scholars recently told Talking Points Memo that their actions could lead to some repercussions.
Hamline University law professor David Schultz told TPM that there's "no doubt" that O'Keefe's accomplices violated the law.

"In either case, if they were intentionally going in and trying to fraudulently obtain a ballot, they violated the law," Schultz said. "So right off the bat, what they did violated the law."

Election law expert Rick Hasen, who writes the Election Law Blog, joked in an email to TPM that O'Keefe's team should "next show how easy it is to rob a bank with a plastic gun."
While O'Keefe told the Daily Caller that "There's no misrepresentation in these videos if you watch them -- we didn't lie about who we were," Think Progress points out that this claim doesn't hold up during various exchanges documented in the video. O'Keefe admits that his partner was forced to flee a polling station after giving a volunteer a name that she recognized as belonging to a dead person. The incident was reported by the Boston Herald. Think Progress also notes that O'Keefe and his associates may have broken a New Hampshire law that requires both parties to consent to being recorded.
A federal prosecutor in the New Hampshire U.S. Attorney's Office has since told TPM that he is reviewing the content of the video.
Apart from the potential legal fallout, however, many have been quick to point out that O'Keefe falls woefully short in his attempt to expose what he described to the Daily Caller as an electoral system "severely comprised" by a lack of voter ID laws.
"It means nothing," Samuel Issacharoff, a professor of constitutional law at New York University Law School, told TPM. "Why would anybody want to do this? It proves that they don't update their dead voter information as quickly as they might, but so what? To pull this off on a large scale, you'd need coordination, and presumably somebody would have heard about it."
According to a 2007 report by the Brennan Center for Justice, allegations of voter fraud of the type O'Keefe is seeking to highlight are often over-hyped and easily sensationalized, while actual instances are "more rare than death by lightning."
The Huffington Post's Trymaine Lee reported Tuesday on complications mounting from previous threats by New Hampshire's legislature to pass voter ID laws. While Gov. John Lynch (D) had rejected such bills, some experts worried that false and misleading reports would discourage some voters from going to the polls.
Watch the video from Project Veritas:
Popular in the Community