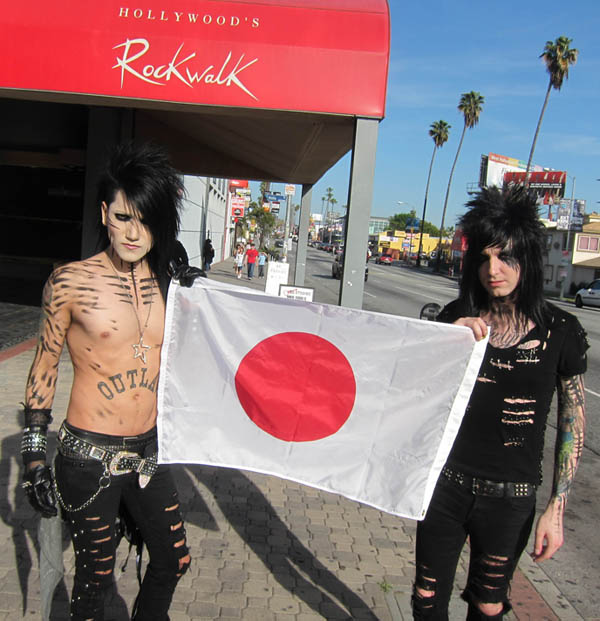 Ashley Purdy and Jake Pitts of Black Veil Brides, outside the Hollywood Guitar Center. Photo by La Carmina.
Makeup-smeared Hollywood band Black Veil Brides landed in Japan for the first time last Wednesday (two days before the earthquake). The Visual-metal rockers were amped to experience the culture and perform in Tokyo and Osaka.
Their plans were ripped apart by the 9.0 earthquake, which hit while the group was in soundcheck. Vocalist Andy Six Tweeted it was the "most terrifying experience of my life."
Bassist Ashley Purdy shares the band's story, emphasizing the warmth they encountered from the moment they stepped off the plane. Black Veil Brides urges people to help Japan, and donate to well-vetted organizations like Doctors Without Borders.
How was your arrival at Narita?
This was Black Veil Brides' very first tour in Japan. I was particularly excited because we have lots of fans here, and I can't enough of Japanese culture and Visual Kei bands.
When we got to the terminal, we saw people waving. We stopped and asked each other, "Are they here for us?" It turned out that fans had been waiting several hours for us to arrive. Of course, we took photos and signed autographs. We got in a van, and when it reached the hotel, fans had gathered here as well.
It was a long flight and the band was exhausted. But we wanted to hang out with our fans. So we checked in and came right back down, to have drinks with them at a Shibuya rock bar.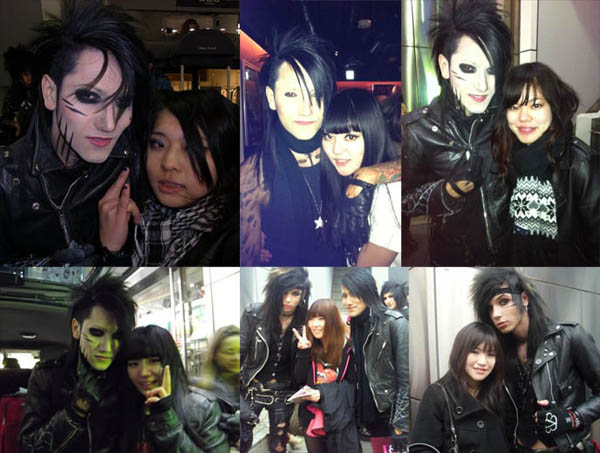 Ashley Purdy and Andy Six (bottom right) with Japanese fans. Photo courtesy Black Veil Brides and fans.
What were your first impressions of Tokyo?
From the start, it was a great experience all around. Everyone was so polite, so kind. It was surprisingly easy to communicate - lots of people could speak English at least half way. To me, it was the cleanest city I had ever experienced. Everything seemed manicured. I kept thinking, where's all the dust and dirt?
I had a bit of free time, so I asked my translators to take me around. We sang karaoke; it was neat to order sake and party in a private room. I went to a ton of alternative clothing shops in Harajuku, and the more upscale designers in Omotesando. I loved the sales girls, with their perfect hair and cute dresses with stockings and heels, and how they welcome you with high voices.
Our first concert at Shibuya-O-EAST went off without a hitch. There were a thousand people there. At first, it felt like a library: the crowd was polite and silent. But we started playing and they got wild and crazy, chanting along to our songs.
Tell me about the earthquake.
The next day, we were scheduled to play Astro Hall in Harajuku. We were in the basement around 3pm, getting ready for soundcheck, when everything started moving. Our Japanese crew and sound guys said, "Don't worry, this happens all the time." We weren't worried either; we're from LA and used to small earthquakes now and then.
But then it started shaking harder, and stuff was getting knocked over. That's when we realized this was serious.
The band and production staff ran upstairs to get outside. It was insane: we could hardly walk; I was stumbling all over. When we got outdoors, I looked across the street at the Forever 21 and H&M buildings - and they were swaying back and forth like trees. Through the glass windows, I could see merchandise falling off the shelves.
People around us were crying. They were trying to make it to an open area while everything around them was crumbling.
The earthquake lasted a long, long time. A minute passed, and I kept thinking, when is this going to stop? None of us knew what to do. We just kept bracing ourselves. It's hard to talk about what happened, to describe how it felt to someone who hadn't lived through it.
What did you do after the quake stopped?
We tried to contact family and friends, but all communication was down. It took us a while before we could send a mass email to the people close to us, letting them know we were ok.
There were huge aftershocks soon after, major earthquakes in and of themselves. They were around the same magnitude as the one that devastated Northridge, California.
The production people told us we shouldn't perform that evening. Pretty much every concert in Tokyo was canceled. But we were set up and ready to go, and there were fans waiting outside. So we decided to go on with the show, and played for the 40 or so people who turned up.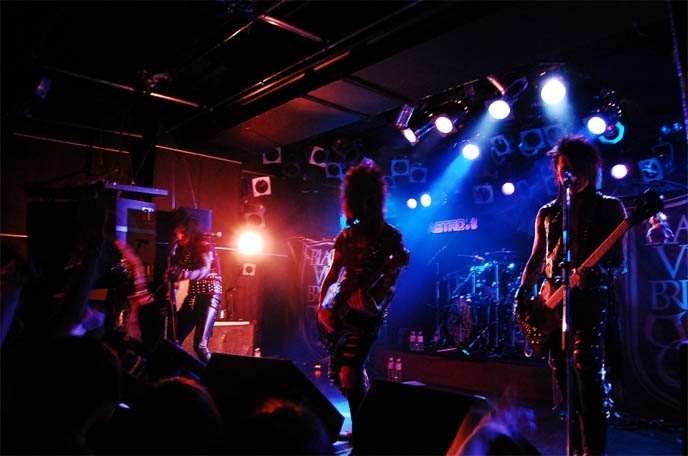 The band playing after the earthquake
The aftershocks rumbled through the night, putting everyone on edge. We didn't get any sleep. The next day, we found out all our shows were canceled due to immense structural damage. We were told we had to fly out ASAP, for our safety.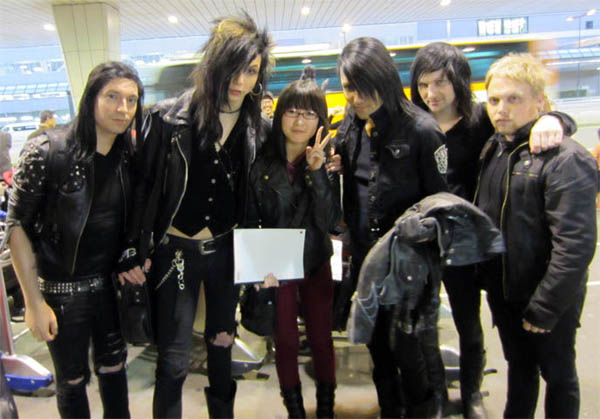 The group and tour manager Jon Syverson, waiting at Narita Airport. Photo courtesy Black Veil Brides and fans.
Did you have troubles getting out of Japan?
There were mad transportation problems because of the train stoppages and power outages. It took one of our promoters five hours to get into the city, and she lives thirty minutes away. And it took us two or three times the normal time to drive to Narita airport.
It was insanity at Narita. Everyone was trying to get out. Big line-ups and cancelled flights. Everywhere, people were huddled in sleeping bags provided by the airport. We arrived around 9am, and our flight to Los Angeles didn't leave until 4pm.
What is Black Veil Brides going to do now?
We're soldiering on, and getting ready for our AP tour. But the earthquake is an experience I can't shake, and the band wants to get the word out on the need for relief. I also want to go back to Japan as soon as it's safe, to spend more time experiencing the culture.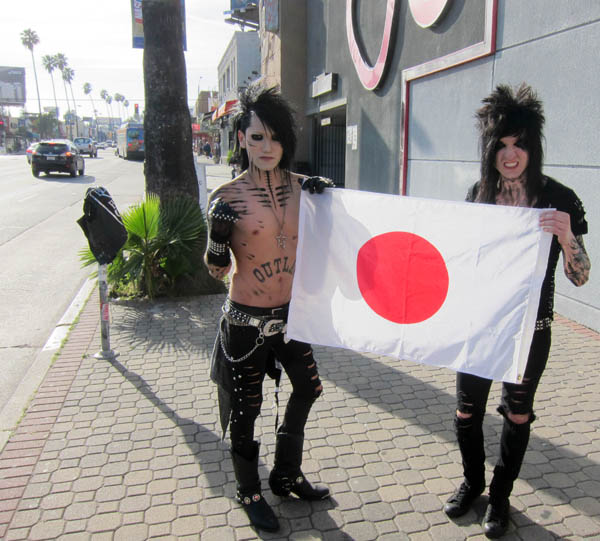 The band rallies for Japan, days after the earthquake. Photo by La Carmina.
How can people help Japan recover?
I saw The Huffington Post has a page about what various organizations are doing to help, and how people can donate. I urge everyone to give directly to an experienced relief organization like Doctors Without Borders, which has already deployed medical teams to the hardest hit areas. Let's all do whatever we can to help.