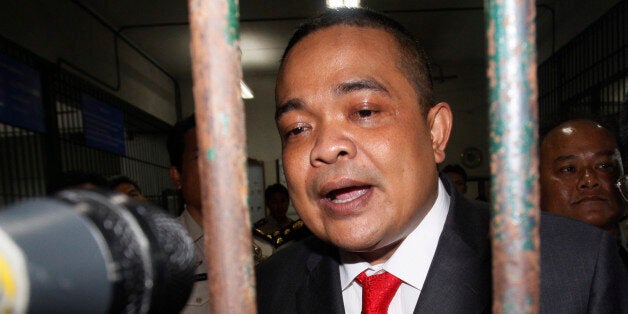 BANGKOK, Jan 28 (Reuters) - A Thai court on Wednesday handed a two-year jail term to a leader of the "red shirt" opposition movement for defaming a former prime minister, a move the group says is proof of the junta's ambition to crush its opponents.
Thailand's Criminal Court found Jatuporn Prompan, chairman of the United Front for Democracy Against Dictatorship (UDD), or red shirt group, guilty of insulting former Prime Minister Abhisit Vejjajiva in two speeches in October 2009.
The ruling comes just days after ousted Prime Minister Yingluck Shinawatra, whose government was backed by the red shirts before a May coup by the military, was banned from politics for five years.
Yingluck was removed from office for abuse of power in May, days before the coup, which the army said was necessary to end months of unrest.
The ban is the latest twist in 10 years of turbulent politics that have pitted Yingluck and her brother Thaksin, himself a former prime minister, against the royalist-military establishment that sees the Shinawatras as a threat and reviles their populist policies.
Red shirt leader Jatuporn has been in legal hot water before and has faced a number of court cases, including for slander.
"On October 11 the accused went on stage at Democracy Monument and spoke about Abhisit, and on October 17, he spoke again outside Government House," a court official told Reuters.
"After reviewing the evidence the court found his words against Mr. Abhisit to be untrue."
Jatuporn was granted bail of 200,000 baht ($6,000). His lawyer, Wiyat Chatmontree, said he would appeal the ruling.
The sentence was emblematic of the junta's ambition to root out Thaksin's influence, said a red shirt member, who asked not to be identified for fear of repercussions.
"The junta's supporters want it to eradicate the Shinawatra clan from politics and that is exactly what they are doing."
Thailand has been bitterly split between supporters of the Shinawatras in the agricultural north and northeast and the Bangkok-based royalist-military establishment, which sees Thaksin, a telecoms billionaire turned politician, as a threat.
Abhisit, head of the conservative, pro-establishment Democrat Party, faced popular opposition in 2010, after tens of thousands of red shirt activists demanding fresh elections took to the streets of the Thai capital, accusing his government of being elitist and army-backed.
His former deputy, Suthep Thaugsuban, led street protests in 2013 and 2014, backed by Bangkok's middle classes, that helped lead to Yingluck's ouster. (Reporting by Aukkarapon Niyomyat; Writing by Amy Sawitta Lefevre; Editing by Clarence Fernandez)
Calling all HuffPost superfans!
Sign up for membership to become a founding member and help shape HuffPost's next chapter
BEFORE YOU GO
PHOTO GALLERY
Anti-Coup Protests in Thailand