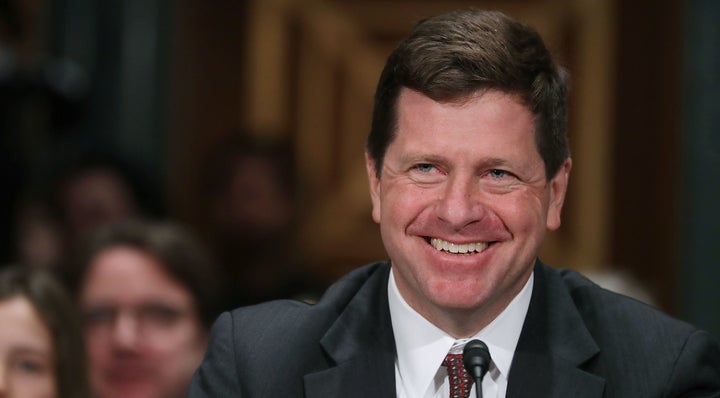 WASHINGTON ― The Senate on Monday cleared the way to confirm Jay Clayton as chairman of the Securities and Exchange Commission, making a Wall Street power lawyer one of the nation's top financial regulators.
By a vote of 60 to 36, the Senate voted to proceed to a final vote for Clayton, which he is all but certain to clear. Clayton, a partner at the elite corporate law firm Sullivan & Cromwell, is also one of several top Trump appointees with a Goldman Sachs background, having served as the megabank's bailout attorney in 2008. Trump's top economic advisor, Gary Cohn, White House chief strategist Steve Bannon and Treasury Secretary Steven Mnuchin all enjoyed lucrative careers at Goldman.
Clayton appeared skeptical of government regulations during his confirmation hearing before the Senate Banking Committee, repeatedly suggesting that an overly aggressive SEC was hurting "capital formation" and preventing small businesses from selling stock to the general public. The SEC has authority over important bank regulations, insider trading cases and the enforcement of foreign bribery prohibitions, among many other responsibilities.
Clayton's legal career included work on behalf of British megabank Barclays and the bailed-out auto finance giant Ally Bank. He helped at least two other large financial institutions reach fraud settlements with the federal government over mortgage-related claims, according to his Sullivan & Cromwell biography. Clayton also made a name for himself as a critic of the Foreign Corrupt Practices Act, a law that bars U.S. companies from bribing foreign political officials to win business abroad. Nearly all of Clayton's Wall Street biography was deleted from the Sullivan & Cromwell website after Trump nominated him to chair the SEC, but the text can be read here.
Senate Republicans voted in lockstep to behind Clayton, and were joined by 10 Democrats, including Sens. Michael Bennet (D-Colo.), Tom Carper (D-Del.), Maggie Hassan (D-N.H.), Joe Manchin (D-W.Va.), Heidi Heitkamp (D-N.D.), Claire McCaskill (D-Mo.), Bill Nelson (D-Fla.), Jeanne Shaheen (D-N.H.), Jon Tester (D-Mont.) and Mark Warner (D-Va). The Democratic support marked a departure from Mnuchin's confirmation, which was opposed by every Democrat except Manchin.
Trump made a slate of promises about Wall Street during the 2016 campaign, including vows to both break up big banks and to repeal the 2010 Dodd-Frank financial reform law. As president, however, Trump has pursued a big bank-friendly deregulation agenda and proposed steep tax cuts for the ultra-wealthy.
CORRECTION: An earlier version of this article stated that Clayton had been confirmed. He has cleared the final procedural hurdle prior to confirmation. The article also misidentified Sen. Michael Bennet as representing Utah. He is a senator from Colorado.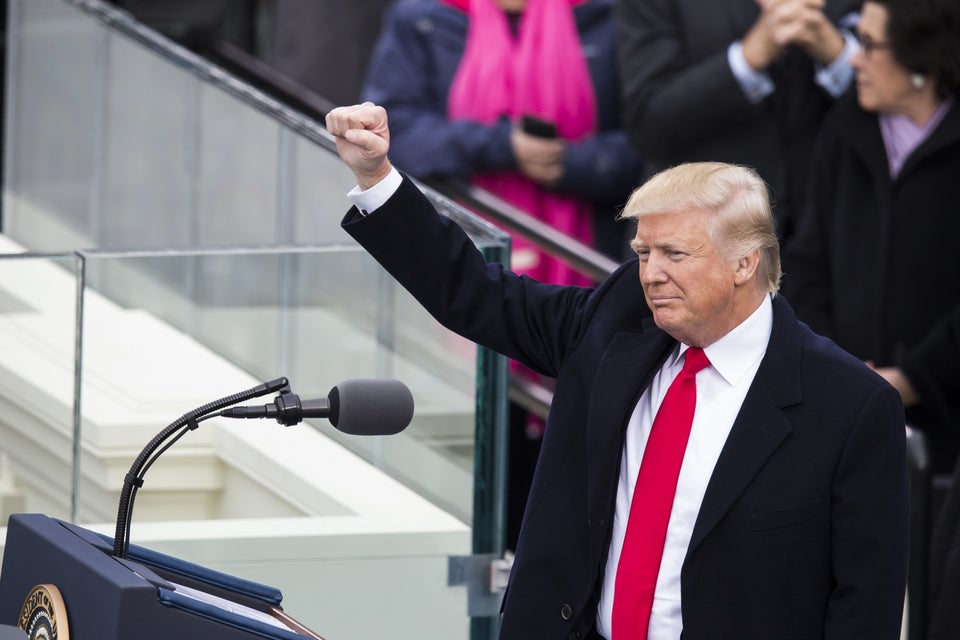 Best Photos From Trump's First 100 Days