Fans of the "Bachelor" franchise have been agog over the controversial twist introduced into the upcoming season of "The Bachelorette": Two of the women who competed on the last season of "The Bachelor," Britt Nilsson and Kaitlyn Bristowe, were cast as co-Bachelorettes. Which means, during the premiere, one Bachelorette will be chosen by popular vote among the 25 contestants.
Though "The Bachelorette," in 10 previous seasons, has never pitted two ladies against each other, there are a couple people out there who can truly understand what Britt and Kaitlyn are enduring. In 2004, for the sixth season of "The Bachelor," two Bachelors were forced to compete for the votes of their contestants.
Byron Velvick, a laid-back pro fisherman, ended up as the last Bachelor standing, but Jay Overbye, a New York real estate broker, managed to win hearts across the nation during his one-episode stint.
While he has been able, in the decade since his time on the show, to reassume his normal life, build his business and even (yes!) find love, Overbye graciously revisited his time as a contender during a conversation on HuffPost's new "Bachelorette" recap podcast, Here To Make Friends.
"I got a call from [ABC], and they said 'Hey, we have great news for you! You are chosen as the Bachelor!'" he recalled. "They were congratulating me, and they said, 'Just so you know, there's going to be another Bachelor.'" Overbye admits his initial reaction was less than enthusiastic. "I was like, 'Wait a second, that's not fair! I just went through this whole process as the one guy!'"
Overbye brought a positive attitude to the newly competitive twist, though he ultimately walked away after losing the vote by, he says, just one rose. Now, some years older and wiser, he says he's grateful for the "Bachelor" experience. "Everything that you go through helps direct you to where you ultimately are," he says, referring to his fiancée, who he's been with for six years. "What's amazing is that we have such a connection, such depth ... but on the surface you would say, wow, they're totally different. You have to be open-minded."
This brings Overbye to some crucial words of advice for the current Bachelorettes: "It sounds like such an adage, but you really have to open your heart."
Overbye also offered a tip violated by at least one contestant each season, warning, "You've gotta be careful with your alcohol." Truth.
In just a few days, we'll all see whether the two ladies, and their 25 bachelors, embraced this bit of wisdom -- the two-day premiere kicks off on Monday, May 18.
Check out HuffPost's new "Bachelorette"-themed podcast, "Here To Make Friends"!
Before You Go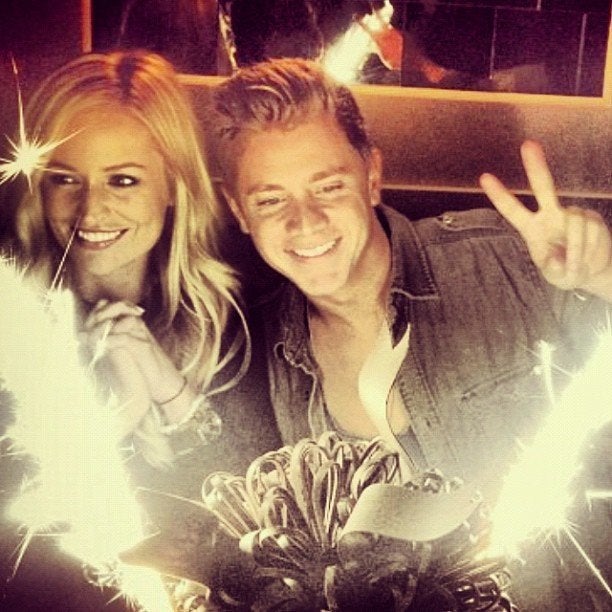 Emily Maynard and Jef Holm
Popular in the Community