Jazz pianist-composer Jason Moran returns to the Kimmel Center for a one night only concert March 29 with The Bandwagon, his trio with bassist Tarus Mateen and drummer Nasheet Waits. Moran was nominated for an Oscar for his score for the movie Selma. Moran is not only a prolific composer and is renowned as a pianist for both his technical artistry and vibrant improvisational skill.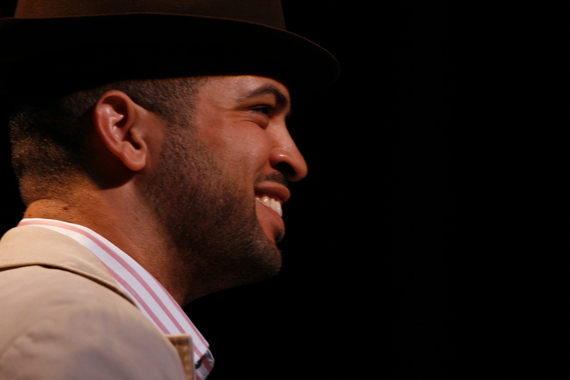 Composer-pianist Jason Moran (photo Christian Sahm)
In a phone interview last week, Moran said the trio will be playing some material from his 2010 recording 'Ten' considered a defining modern jazz classic, but that at The Bandwagon concerts, the band leaves the play list open. "My band is always treading new ground. We always have a mixed bag. We just made some new music," Moran assured. "And we're still playing a lot of Fats Waller music."

Moran's 2014 recording All Rise: A Joyful Elegy for Fats Waller, featuring vocalist Meshell Ndegeocello, is a vibrant re-working of Waller's most famous Waller tunes 'The Joint is Jumpin', Ain't Misbehavin', Ain't Nobody's Business,' just to name a few.
"My band is always treading new ground. We always have a mixed bag. We just made some new music. I wrote some new compositions and recently we've been doing different versions of the music I composed for the movie Selma. The concert will probably focus around some of those histories and how they come together in some songs," Moran said.
Of the influence of Fats Waller he noted, "As a musician Fats is the epitome of pianism. There is so much to his playing- facility, clarity and technique. Those qualities speak out to all pianists. And as a performer, he was such an old school entertainer. He can sing and play and very much a visual performer."
"Such a casual singer, but someone who comments on where America is in the 30s and 40s," Moran added, "Those are rare people they don't come that frequently in music. He had a forthrightness about his talent and he was a concerned citizen responding to his times. He left us too soon at age 39."
Waller may not have been given his full due as a jazz composer, but Moran says that "whether he's given his due or not, everybody plays his songs. But his songs are played by musicians all over the world. I always think of him so differently from, say Duke Ellington, because Ellington wasn't singing. Fats relationship to stardom was more prominent.
"Also he was a real student of James Johnson and Willy 'the Lion' Smith. These older pianists living in Harlem who gave him the keys and said 'Now you run with it.' And important thing to remember about his legacy as beautiful and amazing as he is, he credited his skill level to those teachers," Moran notes.
"On All Rise, I knew that I couldn't sing on it.... Believe me, I can't sing in public," he joked, " I needed someone to address his lyrics with a lot of freedom, as a starting point, just how I as a composer think of his music. They aren't set in stone. Michelle was perfect because of how she interprets and delivers lyrics. She can change the inflection or stress of one word and can change an entire mood or meaning. And she pulls that out of some of these songs. You never heard 'Ain't Nobody's Business' sound like this," he said.
Moran is also the current Artistic Director of Jazz at Kennedy Center, a position held by premier jazz pianist Billy Taylor who died in 2010. Moran is part of the new generation of jazz artists who are working to preserve the legacy, while exploring new territory in jazz. He has several initiatives for Kennedy Center programming. "The goal is to have the people flooding the place for jazz, not just the same people but different audiences. It's a struggle at all of arts institutions across the country. We have to continue to build audiences."
Calling all HuffPost superfans!
Sign up for membership to become a founding member and help shape HuffPost's next chapter