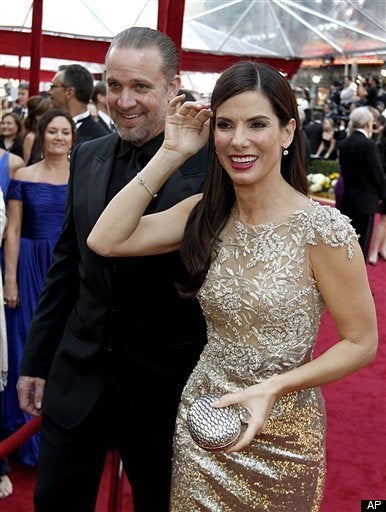 Jesse James ex-wife Janine Lindemulder, the tattooed former porn star mother of his daughter Sunny, tells the new In Touch he is a "chronic cheater" and Us Weekly reports his adultery was a known fact.
Lindemulder is currently in a half-way house in Oregon and has lost custody of her child, but in the wake of last week's Michelle McGee bombshell the ex's claims landed the cover story.
She says they sexted after he was with Bullock and he cheated weeks into their own marriage, as detailed below.
"This [Michelle McGee] is just the first person who has gone public," one source tells Us Weekly. Adds another, "This is not an isolated incident. When Sandra is away, he gets bored."

In fact, James' infidelity has been an open secret among employees at his West Coast Choppers bike shop in Long Beach, Calif.

"Everybody knew," one source tells Us Weekly.
From In Touch's press release:
In an exclusive interview with In Touch, Jesse's ex-wife Janine Lindemulder describes, in her opinion, an immature, selfish man who has never been faithful to any woman he's been with -- including Sandra. "He's a chronic cheater," Janine claims to In Touch. "I feel sorry for Sandra because she was so in love with Jesse that she was blind and gullible. She once said, 'I finally have a man who has my back.' And all I could think was, 'No. You have this man who does it behind your back.'"

According to the former porn star, she first learned Jesse -- who had not commented by press time -- was unfaithful to her just weeks into their marriage, when he accidentally sent her a text message intended for a lover And though Janine tried to ignore his bad behavior at first, it continued throughout the marriage -- and then after, including the time when he was dating Sandra. "I remember at one point, about six months after he started dating Sandra, when he asked me to come by the shop," she recalls. "I told him, 'No way.' Later, he texted me, 'Thank God you didn't come by, because we would have been bad.'" In fact, she and Jesse were "bad" on one occasion while he was dating Sandra, when he cajoled her into having phone sex with him. "His famous line was, 'Tell me something nice,'" Janine recalls. "He would say he'd had a rough day and wanted you to tell him something nice... It was hard to say no to the guy."

Janine says she was "shocked" to hear Jesse and Sandra, 45, had gotten married in July 2005 -- but that was nothing compared to the call she received from him at her Oregon home, just two weeks after he and Sandra had said their vows. "He said, 'I want to come up to Oregon. I think I made a huge mistake.'"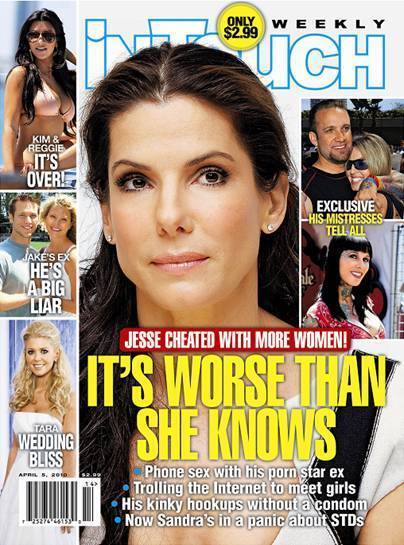 Popular in the Community