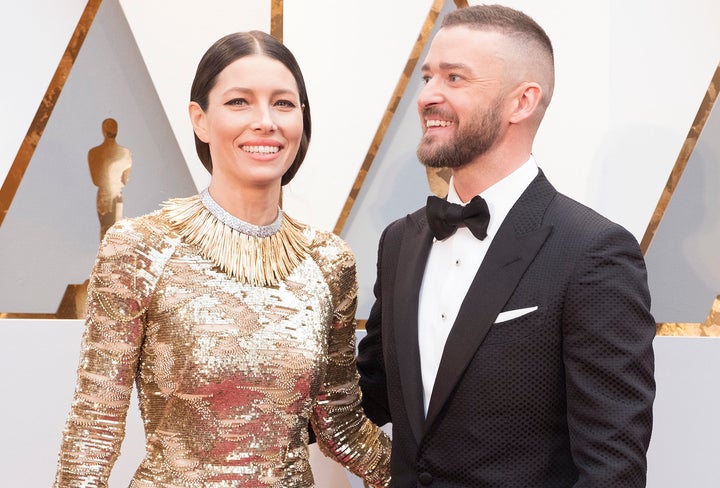 Since welcoming their first child, Jessica Biel and Justin Timberlake have been known to speak some parenting truths, ranging from hilarious to emotional.
The celebrity partners have kept it real in interviews and on social media when it comes to their 2-year-old son, Silas, whether that means summing up "mom life" or capturing the "scary" parts of fatherhood.
Here are 14 times Biel and Timberlake encompassed the many sides of parenting.
When she realized how much her life had changed after having a kid:
"You think you're a selfless person, and then you realize you're not. These little people come around, and they require so much, and your schedule is really not your own, nor is it important anymore, and it's very clear that it's your life now revolving around this dude."
When he did the same:
When she joked about being a "human vacuum cleaner" at the end of meals:
"That is what happens when you are a mom or a dad. You make food, they eat what they eat, and you literally ― as they are running off trying to grab something ― you are shoveling the last few bites off of their plate. And that is your lunch ... that is your lunch."
When he joked about the dirtier sides of parenting:
When she ate in the shower, capturing the chaotic life of a parent:
"This is just mom life," she said about her Instagram post of her empty plate in the shower. "I don't know if anybody else does this. I do not have time for anything. I'm feeding him in the morning, trying to get ready and I realize I haven't eaten. I just take it into the shower."
When he shared how amazing it is to share something he loves with his kid:
When she summed up kids:
When he summed up what it really means to be a parent:
When she described one of her favorite parts of motherhood:
"Just a gummy mouth, no teeth, just a big smile, happy that you're alive and you're just looking at him. That's probably the most magical ... but you quickly move on from it because there is a dirty diaper in your palm."
When he talked about his fears about fatherhood:
"Fatherhood is super scary. Because you don't know what the hell you're doing. But you figure things out as you go. It does give your life a different meaning, and lights you up in a way that you never imagined."
When she admitted during a Reddit Ask Me Anything session that she hides vegetables in her kid's food:
"YES, hide 'em! I hide vegetables in eggs, quiche, stews, soups, smoothies ... I hide vegetables everywhere I possibly can."
When he made a funny comment on Instagram about the "fate" of fathers at a play class:
″#DadLife," he captioned the photo.
When she shared on Reddit how she truly felt about being a mom:
"Honestly, I didn't grow up dreaming about having kids and having a family. I was so focused on my career and so focused on my selfish existence ... but I think meeting my husband inspired me. One day I just woke up and knew it's what I wanted to do and it's been the hardest, greatest thing ever and I wouldn't give it up for the world."
When he explained how much he loved being a father: