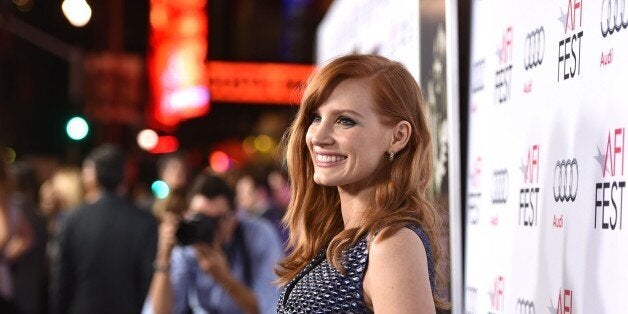 Jessica Chastain really loves movies.
"I think if I wasn't an actor, I would be an entertainment journalist," Chastain said during a recent interview at New York's Waldorf Astoria Hotel. The actress, an Oscar nominee who has starred in four movies this year, recalled a story about how when she first went to the Cannes Film Festival in 2011, she expected to see a lot of great movies. But when she didn't have time, changes were made to how she schedules out her film festival commitments.
"Now I say I will go, but they need to give me time to go see other people's films," Chastain said. "I saw 'Mommy' at Cannes this year, and from that I'm now working with Xavier Dolan."
The 25-year-old Dolan is one of the world's fast-rising talents, and his next film, "The Death and Life of John F. Donovan," stars Chastain as a tabloid editor with a heart of stone. "I thought, 'People in the U.S. don't know about this guy and he's so talented, and I'm going to do everything I can to help him out,'" Chastain said of her interest in Dolan. "It also helps me, because I'm excited to work with this artist."
Working with artists is another thing Chastain loves. Her recent list of directors includes Liv Ullmann ("Miss Julie"), Ned Benson ("The Disappearance of Eleanor Rigby"), Christopher Nolan ("Interstellar") and J.C. Chandor ("A Most Violent Year"). It's Chandor's film that has Chastain's attention at the moment. Following a much publicized tug-of-war between her press commitments to Nolan's "Interstellar" and "A Most Violent Year," Chastain has focused on promoting her work in the New York-set drama. In a year of great Chastain performances, it might be her best: She plays Anna Morales in Chandor's film, the wife to a heating oil czar named Abel (Oscar Isaac). Anna's been described as a Lady MacBeth type, but Chastain prefers comparison to another famous figure: former vice president Dick Cheney. "He was my inspiration for the character," she said.
Like Cheney, Anna works behind the curtain, watching with consternation as Abel tries to take their legitimate business to the next level in an increasingly criminal climate.
"She has this Freudian thing where she loves her dad [a former mob boss]. He's the most powerful man in the room, and she wants to be with a man who is the most powerful man in the room," Chastain said of Anna. "When Abel starts doing things that her father wouldn't do -- when they start to get attacked and he's handling it in a way that she thinks shows weakness -- that's when she starts to really step forward. She thinks her husband is absolutely her king. But she'll do these things where she'll lift him up and celebrate him as her king, and then the next second emasculate him. She's not even aware she's doing it."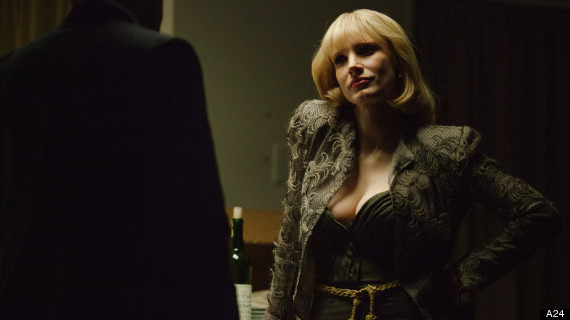 It's a flashy role for Chastain, both in screen action (she shoots a deer with a handgun at one point) and wardrobe. Wearing low-cut gowns and a blonde wig straight out of "Scarface," Chastain transforms herself in a way that she hasn't since her Oscar-nominated turn in "The Help."
"Anna has the long nails because there's something predatory about her. She's a woman who does not bathe her children or do housework. I wanted to make that clear," Chastain said. "She is a girl from Bayside, Brooklyn. She thinks she doesn't have an accent, she thinks with all this money she can wear these expensive clothes, but there's still something about her that is the edge of where she came from."
Chastain came from Sacramento, but studied at Juilliard with Isaac, whom she recommended for the role in "A Most Violent Year" after Javier Bardem dropped out ("Jessica gets a casting director credit for it," Chandor joked in an earlier interview with HuffPost Entertainment). Since her breakout 2011 -- which included not just "The Help," but also "The Tree of Life" and three other films -- Chastain has been one of Hollywood's busiest stars. (She's currently filming "The Martian" with director Ridley Scott and star Matt Damon.) But she still manages to find time to engage with fans on Twitter, often posting about real-world issues such as race, diversity and Hollywood's problems with both.
"I'm so vocal about it because I'm an audience member, and I want to see more voices out there," Chastain said, before citing Dolan as an example of someone who "creates films about the voiceless." She also brought up Chris Rock's recent editorial in The Hollywood Reporter, which took Hollywood to task for a lack of screen representation for black woman and Mexicans, among many other groups. "Everyone thinks this is ridiculous. Everyone is saying there is not enough diversity in the industry," Chastain said. "Which makes this an exciting time right now. Because it's definitely a point of conversation. When everyone is talking about it, things have to change."
Chastain's schedule remains busy -- in addition to Scott and Dolan, Chastain also recently worked with Guillermo Del Toro -- but, so far, she does not have a franchise film on the docket. But Chastain's name has come up in conversation as a popular choice to play Captain Marvel for Marvel, and while the superhero was not broached during this interview, she did weigh in on the genre.
"I was talking to friends about superheroes, and someone actually said, 'Female superhero characters fail at the box office.' I said, 'A female character where her sole power is her sex and her sexual attraction is not an interesting thing to watch. If a woman is there posing and trying to be sexy, no one is interested in that,'" Chastain said. "If you look at Sigourney Weaver in 'Aliens,' Jennifer Lawrence in 'Hunger Games' -- they are superheroes. They're not selling their sex. They make a ton of money because they're smart women. I'm telling these people to make a character like that. So instead of look at me in this tight outfit, she's a badass."
"A Most Violent Year" is out in limited release on Dec. 31.
Calling all HuffPost superfans!
Sign up for membership to become a founding member and help shape HuffPost's next chapter
BEFORE YOU GO
PHOTO GALLERY
"A Most Violent Year" Photos