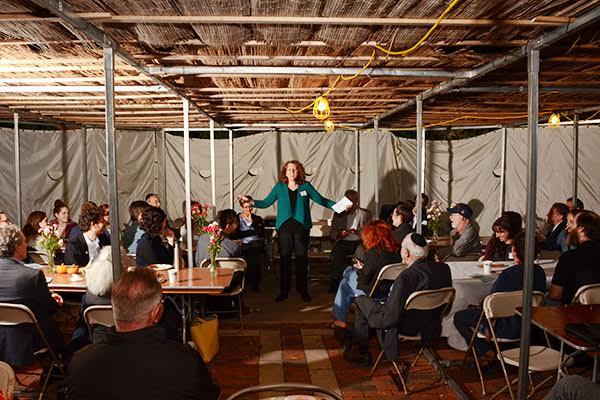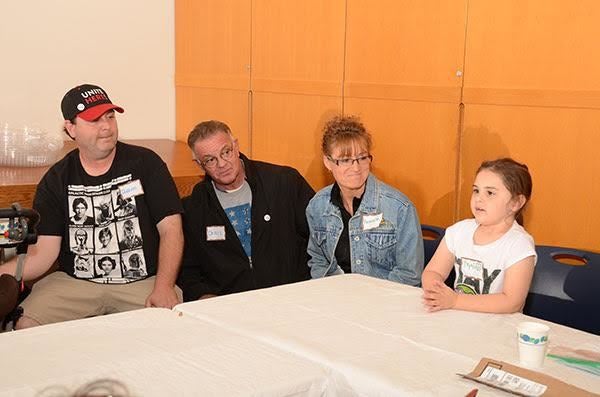 On October 5, Harvard University's 750 dining hall workers walked off the job. They had voted last month to authorize a strike if ongoing contract negotiations — between their union, UNITE HERE Local 26, and the school administration — did not succeed.
Their demands? An increase in annual minimum pay from $30,000 to $35,000, and no changes to their health insurance plans.
"Dwelling in the sukkah symbolizes the vulnerability that we all face in life and in the world," said NEJLC Director Marya Axner. "When we come together in the sukkah, we realize that our greatest power does not come from the protection of sturdy walls, but from the solidarity of human compassion, strength, and justice that are the essence of being godly," she said.
Axner said workers can do well one day and be out on the street the next, and can lack protections from such economic upheaval. "The sukkah symbolizes the economic uncertainty under which we do our work at the JLC," she said.
The evening featured Glatt Kosher food and a roster of community and religious leaders who spoke about economic justice and workers' rights in Massachusetts.
"It's not the walls that protect us, it is the values that we share," said Rabbi Barbara Penzner of Temple Hillel B'nai Torah in West Roxbury, who is Co-Chair of NEJLC. She cited the Nuns on the Bus, whose 2016 tour "Mend the Gaps" calls for government officials and candidates to address economic inequality in the U.S.
"May we have a sense of solidarity with their various causes, and particularly the dining workers at Harvard," Penzner said.
The strike, the first at the university since a one-day strike in 1983, has included daily drums-and-chanting pickets through Harvard Square and interruptions of University meetings and events. Brian Lang and Michael Kramer, president and lead negotiator of UNITE HERE Local 26, which represents workers in the hospitality industries, were among 11 arrested at a recent rally that blocked traffic in the Square.
The Cambridge and Boston City Councils, Senator Elizabeth Warren, actor Ben Stiller, comedian Keegan-Michael Key and several student groups are among supporters who have appeared in solidarity at picket lines.
Harvard University Dining Services workers' hourly pay of $22 is above the norm at both area college dining halls and non-academia food service sites. But they are not compensated for winter or summer breaks, nor can they claim unemployment. Harvard officials, in a letter sent last week to students and faculty, referred to Bureau of Labor Statistics that depict HUDS insurance rates as low for the industry. The university, also countering that overtime often yields annual pay over the desired $35,000, offered weekly summer stipends of $150 to $250 (the union deems this too low, and proposes $450).
A strike fund is paying HUDS workers $200 per week, and online fundraising campaigns have been launched. Non-union workers are currently filling in at open dining halls.
At Hillel, Rabbi Toba Spitzer of Congregation Dorshei Tzedek of Newton stressed the Judaic reponsibility to care for those who feed us. "In the book of Leviticus, we are told that the Israelites are instructed to live in sukkot as a remembrance of the time of wandering in the wilderness – a time when, according to the prophets, the Israelites lived in deep connection both to G-d and to one another," she said.
"Building on this tradition, Reconstructionist Judaism founder Mordecai M. Kaplan taught that the sukkah, and the Sukkot holiday, represent an ideal of social cooperation, a reminder of a society not divided into haves and have nots, workers and bosses, an ideal of equality."
Kaplan, Spitzer said, wrote: "The sukkah becomes the symbol of protest against the injustices and inequities of current civilization, and of the need of upholding the standards of righteousness which that civilization should seek to achieve."
JLC Co-Chair and labor attorney Don Siegel said that like Spitzer, he went to Harvard, and was saddened to witness the current impasse. "When you see events like this work stoppage, you're reminded of how vulnerable these workers are to the work variances of their employers," he said.
"This is outrageous, especially in the environment we're in during this election," said Mark Ehrlich, Executive Secretary-Treasurer of the New England Council of Carpenters. "The largest problem we have is economic inequality," he said, noting that the hollowing out of the middle class correlates with the track of the labor movement.
Harvard University has an endowment of approximately $35 billion and is the wealthiest academic institution in the world.
Brian Lang, President of UNITE HERE, Local 26 and Harvard University Dining Service (HUDS) workers, lamented the actions of the esteemed university. "Its administration has moved toward being a financial institution that does a little education on the side," he said. "This is a struggle for the soul of this institution."
HUDS worker Aaron Ducket attended the JLC event with his two young daughters, one in a carriage. "We never thought we were going to become millionaires," he said. "I simply want to provide for my children," he added, tearing up as he described harsh University treatment levied against their advocates. "They let them sit for hours during negotiations, and their proposals never changed," he said.
Anabella Pappas, a dining hall worker of 35 years, said they were far more than food servers for the students. She relayed an anecdote to the audience about the entire crew reminding a forgetful student to get to his classes and complete his assignments. "And during a norovirus outbreak years ago, food service workers went to their dorms with food," she said.
"We've got to be healthy to take care of our students, but we can't afford the insurance, and we can't collect when we're laid off for the summer," she said.
5-year-old Maggie Ducket made her appeal. "We need health care, and the workers need it," she said. "And so do the people they are married to," she added with a giggle over this far-off adult situation. "We need food; it's expensive for us," she said to cheering listeners. "But we can't do that if Harvard doesn't give us enough money."
Jeremy Thompson, Director of Higher Education Field Services for Service Employees International Union (SEIU) Local 509, read a statement of solidarity with the workers, and spoke about Brandeis University's successful 2015 negotiations with part-time and adjunct professors.
"Food is an actual labor of love," said Pappas' husband Chris, who said that meeting her had been the best thing about his job. "It's not just an act of eating, but a social occasion," he said. "It's a joyous event." He also mentioned how well the workers got to know the students. "And now, the students have come out to support us," he said.
Axner said that Sukkot seemed a perfect time for to hold a community event for labor leaders, legislators, Jewish leaders, and student advocates for the rights of workers. "The Sukkot holiday reminds us of the impermanence of our lives, as we spend time outside in the flimsy Sukkah, a hut that is open to the elements on all sides," said Penzner. "When we stand with the workers of the Harvard Dining service, we remind them that we are witnesses to their plight, and champions of their cause."
As a donation box was passed around for all the strikers, Penzner, the recipient of awards for social activism that has included an effort to stop a local pipeline, repeated Pappas' comment on dining being a joyous occasion. "Eating in a sukkah is joyous," she said. "We want to bring that to you, joy."
"May this sukkah in which we sit today be a symbol of protest against injustice, and a reminder of the righteousness which Harvard workers are struggling for, as well as workers around Massachusetts and through the U.S."
Susie Davidson tweets at SusieDavidsonMA.