The Duggar family's devout Christian lifestyle was the subject of the TLC series "19 Kids and Counting" and the spin-off "Counting On" until scandal forced them off the air for good in 2021.
After years of processing her past, Jill Duggar, one of the grown-up Duggar children, is now looking back at the "red flags" she should have recognized while growing up as an independent Christian Baptist.
"Counting the Cost," which Duggar co-wrote with her husband, Derick Dillard, promises to reveal "the secrets, manipulation, and intimidation behind the show that remained hidden from their fans."
As the book's description explains, "For as long as they could, Jill and Derick tried to be obedient family members — they weren't willing to rock the boat. But now they're raising a family of their own, and they're done with the secrets."
"Thanks to time, tears, therapy, and blessings from God, they have the strength to share their journey," the description continues. "Theirs is a remarkable story of the power of the truth and is a moving example of how to find healing through honesty."
During their time on TV, audiences were introduced to the Duggars' larger-than-life household and strict traditional values.
A follower of the now-disgraced Institute in Basic Life Principles, family patriarch Jim Bob Duggar preached the power of female subservience, modest dressing, big families and independent education.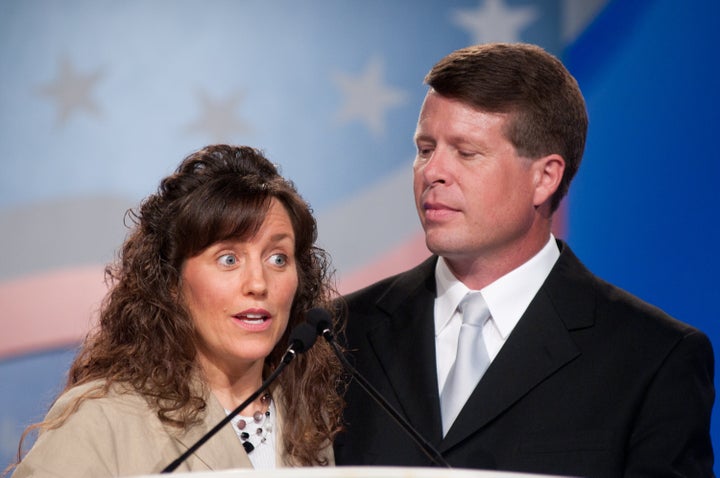 The family's pious image was shattered in 2015 when son Josh Duggar admitted to molesting four of his sisters and the family babysitter.
The Duggars still continued to appear on TV until 2021, when Josh Duggar was arrested for possessing child sexual abuse material. Last May, he was sentenced to 12 years in prison.
On Instagram, Jill Duggar and her husband said the book "is meant to reflect a story that has been difficult, yet hopeful."
"The challenges we have faced, including lack of respect for boundaries, greed, manipulation, and betrayal, are not that much different than what many people in our audience have faced," the pair wrote. "However, 15+ years of reality television, undergirded by secrecy and lies, is tantamount to pouring gasoline on the fire of our struggle."
Jill Duggar was one of the family members who participated in the Amazon Prime series. As she explains in the trailer, "There's a story that's going to be told, and I would rather be the one telling it."
Popular in the Community