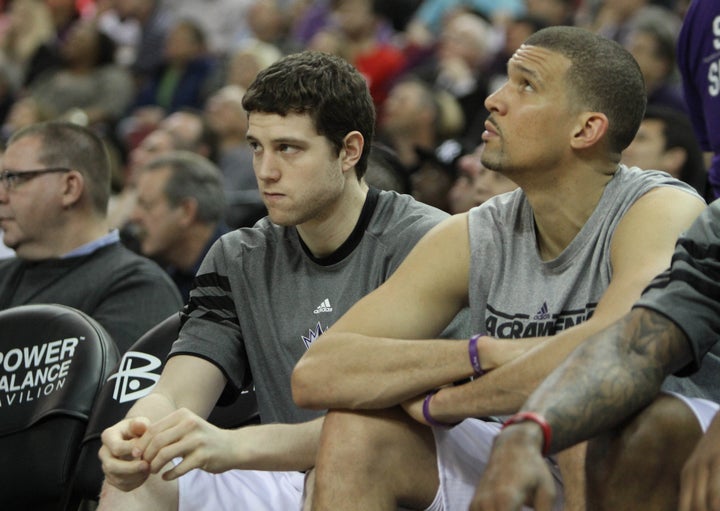 Before Jimmer Fredette even stepped on an NBA floor, he entered his rookie season with the media buzz of a No. 1 overall pick. With his impeccable shooting touch and unlimited range, "the Jimmer" was supposed to be the savior for a Sacramento Kings franchise in peril and utter disarray.
Fredette -- who was selected 10th in June's draft -- has instead endured a poor rookie year. His minutes have evaporated because of fellow rookie point guard Isaiah Thomas, the last pick in the draft, who has outplayed his counterpart across the board, winning consecutive Western Conference Rookie of the Month honors.
As Fredette's rookie year comes to a conclusion, the increasingly relevant question is whether his incredible collegiate success -- he led the nation in scoring and was the Wooden National Player of the Year -- will ultimately translate into professional success.
Or is the 23-year-old merely another Adam Morrison -- a terrific college scorer whose skills fail to transfer to the pro game? Like Jimmer, Morrison made 37.6 percent of his field goals and hit 33.7 percent of his 3-point attempts during his rookie season in Charlotte.
With a fairly limited sample size to judge from -- Fredette has played just 18.5 minutes per game -- the answer thus far has been a resounding "no." In shooting just 38.5 percent from the floor, he is remarkably inefficient as a lead guard. This is only compounded by his meager count of 1.8 assists per game. At 6 feet 2 inches tall, Fredette lacks the prototypical size of an NBA shooting guard, whose average height hovers around 6 foot 5. He is listed as a point guard, but in some ways, this is more by default than playing style.
During his four seasons at Brigham Young, Fredette never averaged more than 4.7 assists per game. In fairness, the main reason for that was because he simply had to score on a team that lacked other scoring personnel. But while he doesn't have to be a pass-first point guard to have a productive career, not having the threat instantly morphs him into a reserve role.
Ask at any NBA front office and you will hear that Fredette's one definable NBA skill lies in his shooting. In both transition and coming off screens -- two areas where shooters typically excel -- he has struggled, however. According to Synergy Sports Technology, he ranks in the 42nd percentile of the league in transition efficiency, shooting just 46.5 percent from the floor. In non-ball screen scenarios, Fredette's ranking drops to the 16th percentile; he is shooting a putrid 30 percent. Much of the time, he appears off-balance, either fading left or right or sometimes just fading away.
In college, Jimmer was able to use his dynamic 3-point shooting ability to set up his entire offensive arsenal, most of which came from his high usage rate on the ball. As a senior, he came off screens away from the basketball just 6.2 percent of the time, per Synergy. Defenders feared his long-range pull-up bombing and were thus forced to guard him out to 30 feet. Using a mixture of up-fakes, herky-jerky misdirection and his basketball acumen, Fredette could then utilize his mid-range pull-up game along with the floater. He was also given the green light to fire whenever he wanted.
Now playing against much longer and far more physical NBA defenders on a team that features the ball-stopping Tyreke Evans and Marcus Thornton, he has not been able to do that.
As things currently stand, Fredette is the third-string point guard on a 19-38 Sacramento team; interim coach Keith Smart recently benched him for 48 minutes five times in a six-week span. Jimmer is shooting 36.7 percent on 3-point attempts, undoubtedly a good number, but for him, not nearly good enough.
His true shooting percentage -- the shooting percentage when free throws and 3-pointers are considered -- is under 50 percent, ranking him 43rd out of all NBA point guards. And because he doesn't have the blazing speed or sudden burst of most point guards, shooting the ball consistently well is not an option, but rather an absolute necessity.
At this stage, it remains much too early to deem Fredette a bust. But with his wavering shooting stroke and inability to attack gaps -- he attempts just one shot in the paint per game -- his future seems to be eerily similar to that of the Kings, which is now rife with uncertainty and full of speculation.
Email me at jordan.schultz@huffingtonpost.com or ask me questions about anything sports-related @206Child.
Plus, check out my new HuffPost sports blog, The Schultz Report, for a fresh and daily outlook on all things sports and listen to my radio spot on 1280 The Zone Friday nights at 6:10. Also, tune in at 6:30 ET right afterward, on Memphis 56 Sports Radio, right here.
Related
Popular in the Community