Jimmer Fredette's four-year tenure at BYU was filled with enough superlatives to create one's very own thesaurus. As a senior, he led the nation in scoring while earning every major National Player of the Year honor, including the prestigious Wooden and Naismith Awards. Fredette, who was once a marginally recruited shooting guard from upstate New York, became the subject of "Jimmermania," a nationwide craze that struck college basketball like a jolt of lightning. But when Milwaukee nabbed him with the 10th overall pick in the 2011 NBA Draft and traded him to Sacramento, Fredette subsequently landed in basketball purgatory. Sacramento was once a hoops hotbed with a rabid fan base and an organization used to winning. But when Fredette arrived, the Kings were in a state of peril, mired in a constant arena rift between the Maloofs -- the owners at the time -- and the city. Fredette, who started in a mere seven games with the Kings throughout his 2 1/2 years in the league, was never able to rediscover the same offensive magic he had in college.
Lottery picks -- fair or unfair -- are not given the same time to develop that other guys are. They are supposed to contribute right away, and when they don't, are fast labeled as busts and underachievers. Just look at Anthony Bennett, the top pick in last June's draft, or Fredette's teammate in Sacramento, Thomas Robinson, the fifth pick in 2012. To say that about Jimmer however, would be unfair.
Fredette is not to be mistaken as an elite athlete or defender, especially at 6-foot-2. His role in college was clearly defined as a scorer first, but also as a fine ball-handler and willing facilitator. And as his BYU coach Dave Rose said recently, Fredette needed the ball to score. What went wrong with Sacramento was not Fredette playing poorly -- he shot 42 percent from 3 last season and is shooting over 49 percent this year -- but rather that he was never used properly. He endured limited and sporadic playing time on a losing team that lacked any sort of identity. He has never played more than 18.6 minutes per game for three different coaches, all of whom seemed to ask him to do different things from different positions.
According to Synergy Sports Technology, nearly half of his offensive possessions with the Kings this season resulted in pick-and-roll, where it might surprise you to learn he ranked in the 84th percentile for efficiency. In spot-up opportunities, he converted 56 percent, good enough for the 99th percentile. As a collegian, Fredette found great success in the pick-and-roll game and from having a green light to shoot in transition, where he made a remarkable 54 percent of his attempts as a senior, per Synergy. And yet, despite his pick-and-roll success at both levels, he's been given very few opportunities to run it as a pro, and just as few in transition.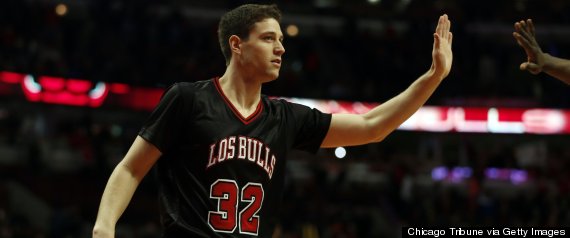 Fredette is a rare talent who cannot be confined to the constraints of a motionless NBA offense. The Kings tried to jam the ball into the post with DeMarcus Cousins, but he is not a classic inside-outside guy because of his struggles passing the ball out of double-teams. At times, Fredette found himself buried in the corner waiting for a kick-out pass that never came. And, even when he was able to score the ball, Fredette never seemed to endear himself enough to earn consistent minutes.
In case you have not yet seen, Fredette was recently bought out by the Kings and signed with Chicago. In car terms, that's like going from a Geo Metro to a Maserati. The Bulls are a first-class organization with a first-class head coach. As starting swingman Jimmy Butler told HuffPost last summer about head coach Tom Thibodeau, "he taught me that nothing is given to you."
"I think that he's more than just a shooter," Thibodeau told ESPN of Fredette. "I think what he can do in the pick-and-roll can be very effective. He's very good with the ball."
Maybe Jimmer won't find success with the Bulls, and maybe he will. But Thibodeau will surely define a role for the 25-year-old in a way that was never established throughout his stint with the Kings. Nevertheless, it would be foolish to give up on Jimmer Fredette just yet.
Email me at jordan.schultz@huffingtonpost.com or ask me questions about anything sports-related at @Schultz_Report and follow me on Instagram @Schultz_Report. Also, be sure and catch my NBC Sports Radio show, Kup and Schultz, which airs Sunday mornings from 9-12 ET, right here.
Related
Popular in the Community