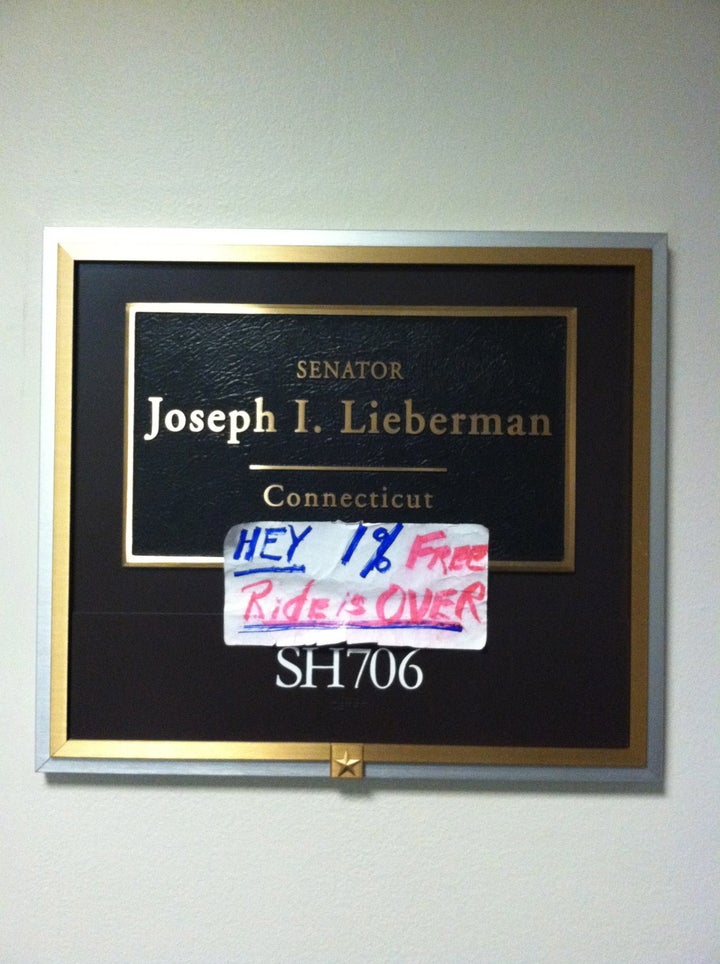 WASHINGTON -- About a dozen Occupy protesters who drove through the night from Connecticut and spent hours camped out in front of Sen. Joe Lieberman's Capitol Hill office got what they came for: a meeting with their senator to press him on extending unemployment insurance and creating jobs.
Not that they were happy with what he had to say.
The group had been waiting in a Hart Building hallway, across the street from the Capitol, for a few hours on Tuesday when a Lieberman aide came out and said the senator was rearranging his schedule to meet with them for 10 minutes.
The protesters, whose ages ranged from early 20s to late 50s, were part of the Connecticut Citizen Action Group, which is aligning itself with the Occupy movement and its protest of economic and social inequality. The group is in Washington for the week as part of the larger "Take Back the Capitol" demonstration, involving thousands of Occupy protesters flooding the city to urge lawmakers to put the interests of struggling Americans before those of the wealthy.
"We're sleeping out in tents, in church halls, basically anywhere we can find. We all have sleeping bags," said Kevin Malicki, a 22-year-old unemployed college graduate who sat outside Lieberman's office.
"It's like an Occupy. I mean, we are with Occupy," he said.
The group headed into Lieberman's office with a handful of talking points: urge their senator to pass an extension of unemployment insurance before it expires at the end of the year, to make sure the wealthiest 1 percent of Americans "pay their fair share," and to push for passage of President Barack Obama's $447 billion American Jobs Act.
When they emerged 15 minutes later and reviewed how the meeting went, the group's unofficial spokesman said he wasn't happy. "We never got an answer to our question on the American Jobs Act. They would not commit to that -- at all," said John Murphy, political director for the Connecticut Citizen Action Group.
The jobs bill may have already failed to pass in an earlier Senate vote, but that doesn't mean people should stop fighting for it, Murphy said. "If everyone thinks things are dead, they're dead. Unless they're doing something about it."
"Yeah, but you know how Lieberman is and the fact that he doesn't stand with us," said another in the group.
"Never trust the party switchers," warned a third protester.
After the meeting, a Lieberman spokesperson said via email, "The Senator enjoys meeting with constituents and getting feedback in DC and CT no matter what the topic is."
The group also lamented that Lieberman seemed to brush aside their calls to provide heating assistance to low-income families. Still, they said they were pleased he reiterated his support for extending unemployment insurance.
Before landing the Lieberman meeting, the protesters had run into some resistance. When they first reached his office, staffers told them they didn't have an appointment so they couldn't see the senator, but they were welcome to meet with his legislative director. The protesters declined and said they would wait for Lieberman.
"We don't want to meet with the help. We are the help," said Karen French, 55, who worked for a moving company and drove a tractor-trailer for 18 years until being laid off in the wake of the housing market crash. She recently ran out of unemployment insurance.
"I've paid all my taxes, worked all my life and paid into the system, now I'm one of the 99%, people that are struggling just to stay afloat. Isn't that why we pay into the system to get help when we need it?" French wrote in a letter she brought to give to Lieberman.
The senator's staff also told the protesters that they could move into a conference room in Lieberman's office -- a move the group thought was designed to keep them out of the public's view. They demurred, saying they preferred the hallway. A police officer came by shortly after and said that people weren't allowed to sit in the hall but they could stand.
"They said it's a public safety issue to sit, so now we're standing," Murphy observed after the officer left. "Soon they'll come out and tell us to hop on our left foot."
During the hours of waiting, the protesters amused themselves by taping first on the front desk in Lieberman's office, and then over his name plate outside the office, a sign that read, "HEY 1% Free Ride Is Over."
At one point, their other senator, Connecticut Democrat Richard Blumenthal, happened to walked by. He stopped, shook hands with several protesters who gushed about his record in support of the needy, posed for photographs and was generally treated like a hero. His office, right around the corner, was noticeably vacant of protesters.
Blumenthal said that had he known the group was coming, he would have "brought you lunch."
"There's still time," one protester said to laughs.
Sen. Jeff Bingaman (D-N.M.) also gave a quick vote of support as he passed by, although at first he said he had no idea who they were or what they were doing in the hallway.

"Whatever's fair, it's fine with me," Bingaman said as he slipped through a door and disappeared.

REAL LIFE. REAL NEWS. REAL VOICES.
Help us tell more of the stories that matter from voices that too often remain unheard.