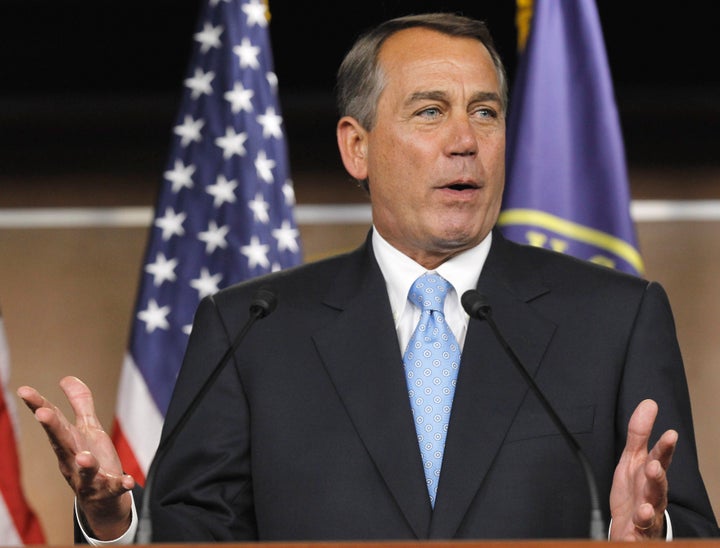 WASHINGTON - A bipartisan group of lawmakers seeking a special congressional delegation to attend the 10th anniversary of the 9/11 attacks got a quick "Yes" from House Minority Leader Nancy Pelosi (D-Calif.) Thursday, but Speaker John Boehner (R-Ohio) wanted to mull the idea over.
New York Democratic Reps. Carolyn Maloney and Jerry Nadler and Republican Rep. Peter King broached the idea in a letter to both party leaders, saying a formal Congressional visit "would send a strong message to the nation and to the world that, 10 years later, we remain unified."
Pelosi spokesman Drew Hammill was quick to tell The Huffington Post, "Leader Pelosi supports this request."
Pelosi was also seen handing Boehner a copy of the legislators' letter, apparently to ensure he was on board, a witness said.
It would seem extremely unlikely that Boehner would oppose such an idea, especially after the GOP was hammered last year for obstructing the 9/11 Health and Compensation Act. Jon Stewart's "Daily Show" turned the measure into a week-long cause-celebre, prompting even Fox News to take pot shots at the GOP.
But Michael Steel, a spokesman for Boehner, explained the Speaker was not going to make a snap decision.
"We'll certainly take a look at the request," Steel said.
A Congressional delegation, or "CODEL," is often assembled for official fact-finding missions, but they are also used to show special respect in certain cases, such as marking the passing of world leaders and other momentous events.
The New York lawmakers say New York City Mayor Michael Bloomberg and Gov. Andrew Cuomo are already on board.
"We plan on scheduling tours of the 9/11 Museum and Ground Zero, and inviting Members [of Congress] to participate in the official ceremonies along with 9/11 families, responders and survivors," the legislators wrote. "We look forward to working with you and your staff as we plan this commemoration."
Popular in the Community