The city's transformation from crime capital to urban Disneyland is one of America's great success stories, but a less encouraging narrative has accompanied it. As a new report shows, arrests for petty offenses like turnstile-jumping and pot possession have shot up since 1980, disproportionately affecting young black and Latino men.
The report, released Tuesday by John Jay College of Criminal Justice in Manhattan, shows that the nation's largest police force has been arresting more people for misdemeanors, a category that includes low-level crimes, from prostitution to minor drug offenses to dancing in the subway.
Since 1980, the percentage of New Yorkers arrested for misdemeanors has tripled, according to the study. The number of blacks arrested for misdemeanors nearly doubled to 104,659 in 2013, from 56,152 in 1990. Latinos saw the number rise even more dramatically, to 78,733 from 30,885. Police arrested 28,996 whites for misdemeanors in 2013, compared with 21,815 in 1990.
The authors -- Jeremy Travis, president of John Jay College for Criminal Justice, and Preeti Chauhan, a professor of psychology -- analyzed data from the New York Police Department, the New York State Division of Criminal Justice Services and the U.S. Census. They looked not only at New York City, but also at Buffalo, Rochester, and other urban centers in New York state, and found similar patterns in those cities as well.
Travis and Chauhan don't offer an explanation for the spike, noting in the introduction to their report that they hope their study will prompt a discussion on "the appropriate place for low level arrests in the operations of the criminal justice system."
Robert Gangi, director of the Police Reform Organizing Project, an advocacy group aimed at exposing unjust police practices, was more forthright. "The findings highlight what we see as the stark racial biases that are endemic to police practices in New York City," he said.
Misdemeanor arrest rates in New York City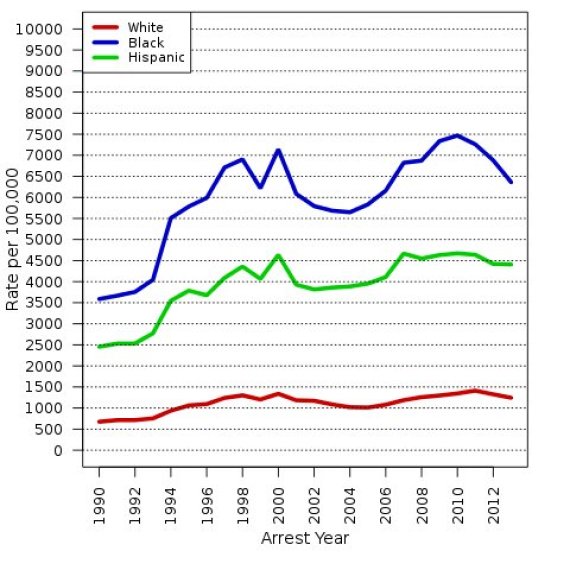 Concern about racially biased police practices is hardly limited to New York. The death of Michael Brown, an unarmed black teenager in Ferguson, Missouri, sparked a national outcry over the issue last summer. On Monday, the Organization of American States held a hearing on racially biased policing in the U.S. at its Washington headquarters.
In New York, civil rights advocates have long criticized the police for stopping and frisking disproportionate numbers of black and Latino people. Mayor Bill de Blasio took office in January after promising to reform the practice.
But the new mayor appointed as the police commissioner William J. Bratton, known for his hard-nosed approach to minor offenses. That strategy came under intense scrutiny last summer, after the police grabbed Staten Island grandfather Eric Garner in a chokehold while attempting to arrest him for selling untaxed cigarettes. Garner died soon after. Critics say Bratton's "broken windows" strategy lands hard on low-income people and people of color.
The Police Reform Organizing Project released its own study on low-level arrests on Tuesday. Its researchers attended court hearings throughout New York in person, where they took notes on the race of the defendants and the seriousness of their charges. On Sept. 19, for example, they noted that 46 of the 47 defendants at Brooklyn's Criminal Court were people of color. The common charges included marijuana possession, carrying an open alcohol container, and driving with a suspended license.

The police department's press office didn't respond to a request for comment. In the past, Bratton has defended broken windows policing by saying officers can deter serious crimes by cracking down hard on minor ones. During his first term as New York's police commissioner, in the mid-'90s, Bratton made the theory famous and subsequently took credit for the city's turnaround.
REAL LIFE. REAL NEWS. REAL VOICES.
Help us tell more of the stories that matter from voices that too often remain unheard.
BEFORE YOU GO
PHOTO GALLERY
U.S. State Capitol Buildings