WASHINGTON -- Secretary of State John Kerry suggested on Thursday that the United States would play a greater role in alleviating the increasingly high-profile Syrian refugee crisis, which the United Nations believes to be the worst refugee dilemma in 25 years.
"We could do a lot more to protect those people," Kerry told The Huffington Post's Sam Stein.
Speaking from the State Department, Kerry acknowledged that while America has donated over $4 billion in humanitarian assistance to help Syrians, the situation in their war-ravaged country and in neighboring states remains dire for millions.
Kerry did not suggest that the U.S. should be taking in more refugees. Rather, he indicated that any increased American effort would focus on working with existing refugee camps in other countries.
"I'm not talking about taking [in refugees] on a permanent basis," Kerry said. "We have huge refugee camps in Jordan, in Lebanon. They're spread more in the population. In Turkey, we have refugee camps. It may be that we have to set up some sort of refugee camp structure for the time being in order to deal with it."
This month, the United States announced it will accept up to 8,000 Syrian refugees in 2016. The U.S. has taken in 1,500 refugees since the beginning of the Syrian civil war in 2011. Germany, by contrast, moved last month to accept up to 800,000 Syrians by suspending European Union regulations on sharing the refugee influx.
Kerry said that he had seen -- and was moved by -- a photograph of a dead Syrian child refugee that appeared on front pages around the world this week. The photo, which shows the body of a 3-year-old Syrian boy washed ashore in Turkey after a failed attempt to sail to Europe, has prompted calls for greater international attention to a crisis that has left an estimated 4.1 million Syrians displaced.
Note: The following image may be upsetting to some readers.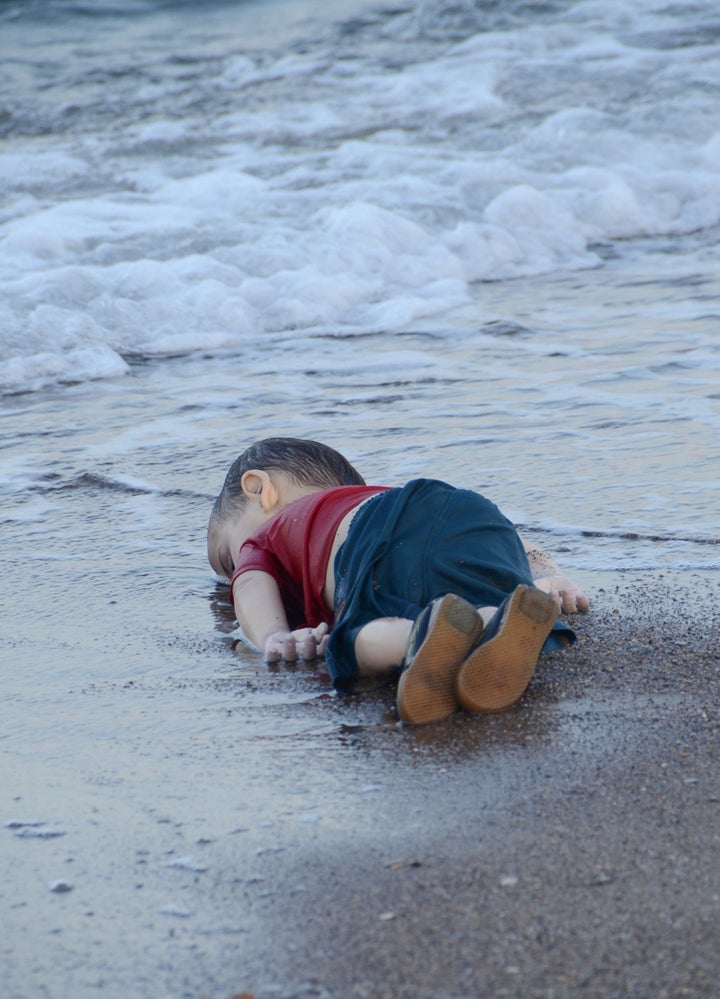 "It's such a disturbing and provocative picture, in so many ways," Kerry said. "I have a grandchild that age. That's what you think about."
The refugee crisis in Syria is a product of the conflict that has been raging since President Bashar Assad's autocratic government sparked a civil war by attacking peaceful protests in March 2011. The U.N. estimates that 12.2 million Syrians in total -- more than half of the country's pre-crisis population -- need humanitarian aid.
The U.S. response to the situation has included funding for the U.N.'s World Food Program, which feeds 4 million Syrians within the country and 1.6 million refugees each month. It has also included funding for nongovernmental organizations that address various concerns for the refugees, among them health care, mental health, education and gaining employment skills.
To read the full interview, click here.
Video production by Marielle Olentine, Jon Strauss and Samuel Wilkes.
Support HuffPost
The Stakes Have Never Been Higher
Popular in the Community