The cover of Jose Antonio Vargas' new memoir is hard to forget and impossible to miss: It's a thunderously loud yellow that looks like sunshine, and very intentionally so.
Vargas ― a journalist, activist and author who's often referred to as "America's most famous undocumented immigrant" ― explained to HuffPost that, as a Filipino immigrant, he demanded that color. It's a hue that has been historically associated with Asians, often negatively. But its symbolism is unmistakable.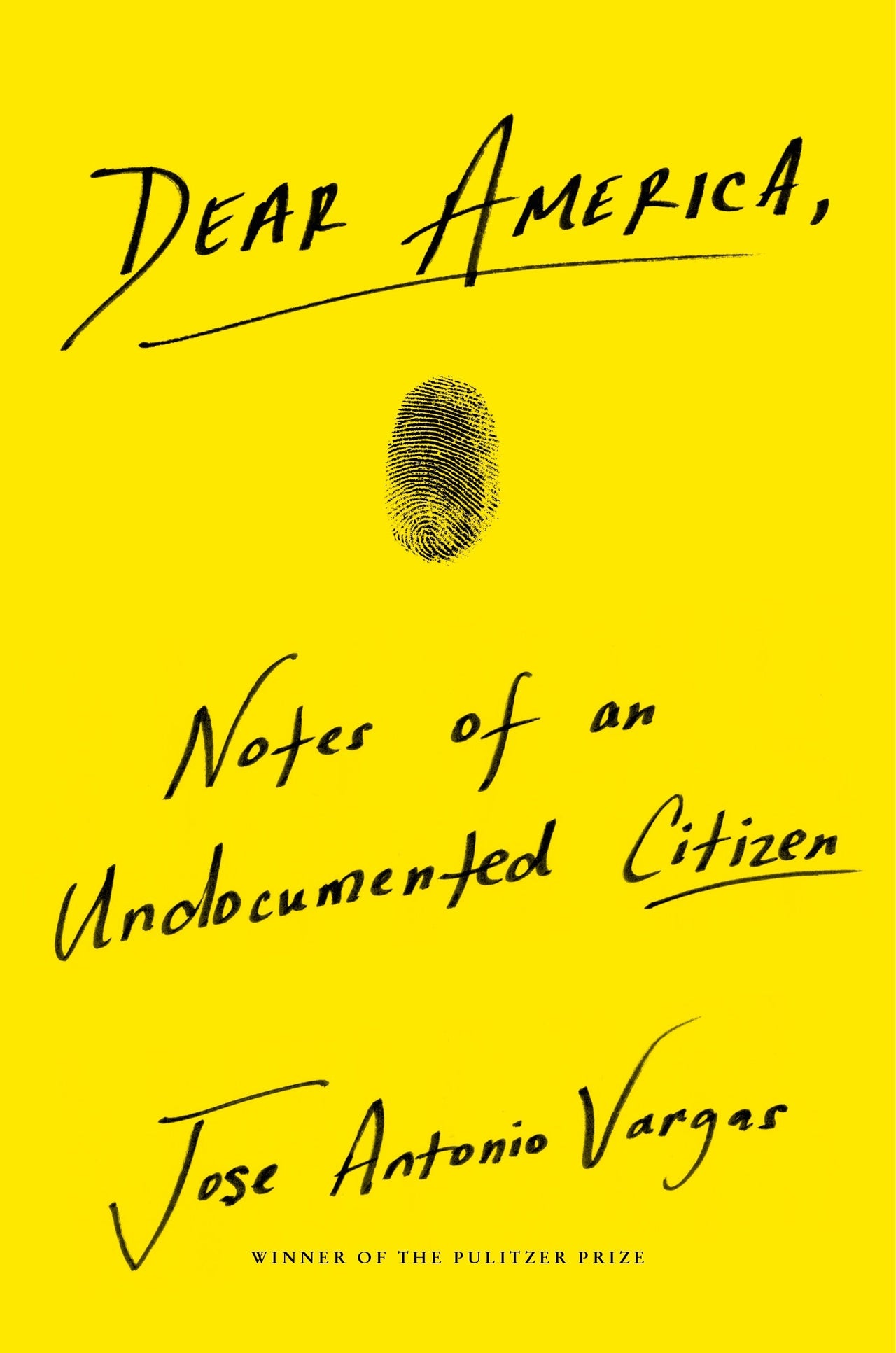 In the U.S., dialogue about immigration mostly focuses on the Latinx experience. And when it comes to American diversity and identity, debate centers on blackness and whiteness.
Those discussions are absolutely crucial, Vargas says. But the experiences of the sizable, ever-growing U.S. Asian population are often treated as a nuisance to acknowledge at best, or erased from the conversation at worst, the 37-year-old told HuffPost.
"The conversation about identity in this country has been very black and white," Vargas said. "When it comes to issues of identity and immigration, it hasn't been very nuanced."
Other undocumented immigrants have even told Vargas that he doesn't fit into their movement because of his race and his level of fame, he said.
"To be considered part of this immigrant rights movement that is very Latinx ― and then [be told] 'Oh, you're not one of us' ... The book is born out of a very lonely place."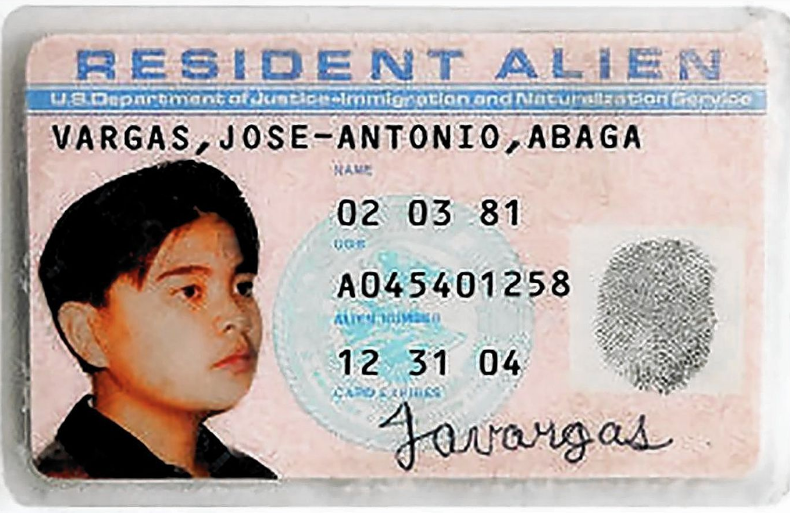 Vargas' Dear America, Notes of an Undocumented Citizen came out last month, and he has been promoting it around the country since then. Writing the memoir was a journey in itself, he revealed.
The author said he was forced to unearth old, sometimes painful memories that he'd compartmentalized and buried as a means of survival. So many of these details revolve around his family, his heritage, his Filipino-ness.
Vargas' mother sent him to the U.S. from the Philippines when he was 12 years old, and he began living with his grandparents in Mountain View, California. He said he spent his formative years in a balancing act, tip-toeing the line between his Filipino heritage and his yearning to fit into American society. It's a struggle familiar to anyone from an immigrant household, and particularly to Asian-Americans who have grappled with the effects of the perpetual foreigner stereotype.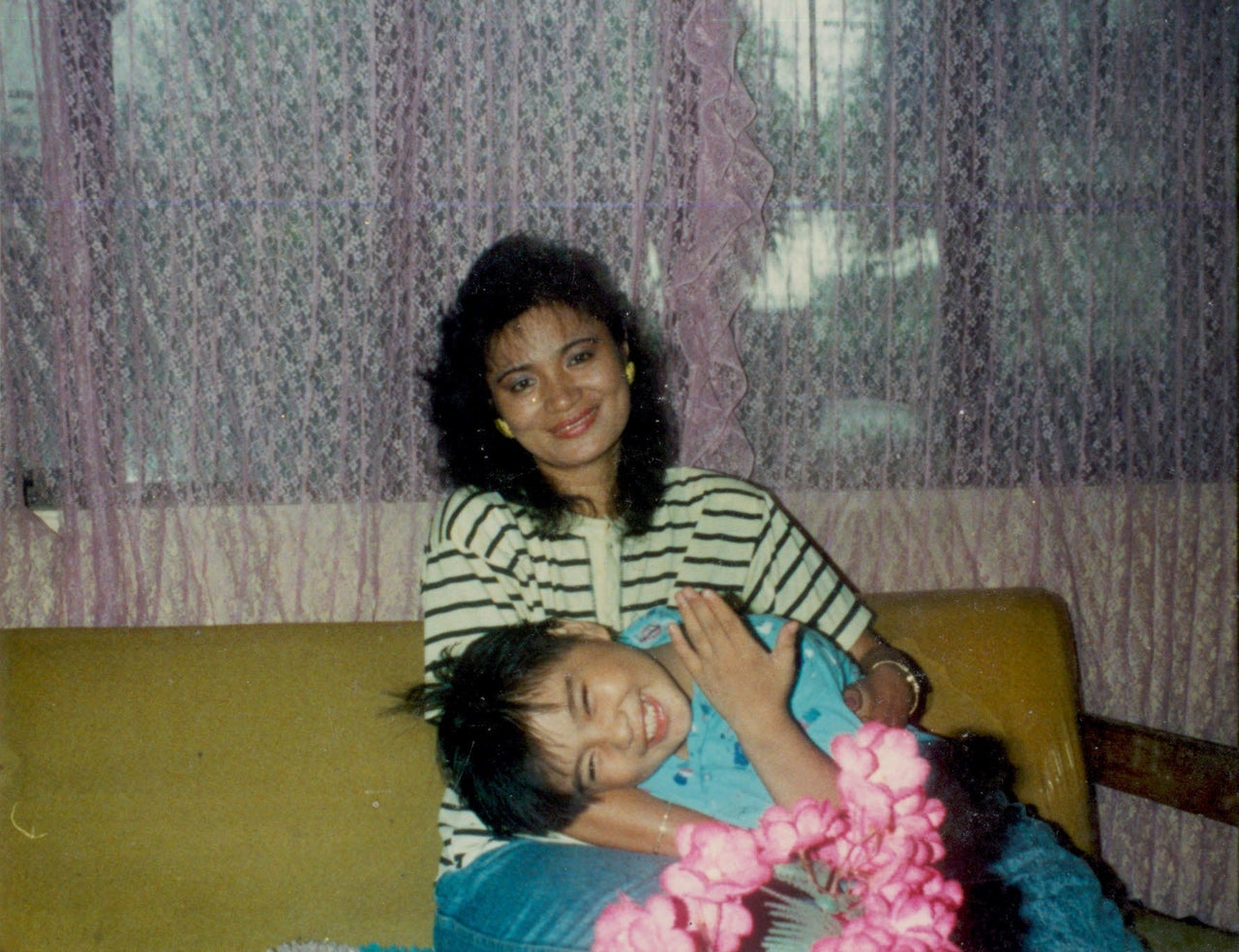 After attempting to get his driver's permit at 16, Vargas said he discovered that the green card his grandparents provided him was counterfeit. He felt even more confusion about his identity. Being undocumented made him experience a sort of "psychological homelessness," he said.
Throughout the course of the book, Vargas touches on how his family, particularly his grandparents, Lolo and Lola, affected his connection to his culture and molded his identity. He recounts his grandfather's shame and loss of face, a source of preoccupation in nearly every Asian culture, when Vargas discovered at 16 that he was undocumented. He describes the separate lives he lived while bouncing between his biological Filipino family and his "white family" ― white Americans who'd helped him achieve his personal "American Dream." He writes about how he adopted Western culture not only to rebel but also to establish independence from his Filipino family.
It's apparent from the start that every facet of Vargas' story is somehow connected to his heritage. And so many of his struggles ― the shame, the intense loneliness ― reverberate throughout Asian America.
Contrary to what's reflected in the mainstream media, the Asian undocumented population is far from negligible. There are an estimated 1.7 million undocumented Asian-Americans living in the U.S., and they make up more than 15 percent of the total undocumented population, according to AAPI Data. Perhaps even more surprising is that within a 15-year period ― from 2000 to 2015 ― the group's unauthorized population more than tripled, making Asian-Americans the fasting growing undocumented group in the country.
Moreover, the first major U.S. law that explicitly banned an entire ethnic group from entering the country was the discriminatory Chinese Exclusion Act, which put a 10-year moratorium on Chinese laborers' immigration to the U.S.
"The history of legalization and citizenship in this country cannot be separated from the history of racism in this country and how it relates to Asian people," Vargas said.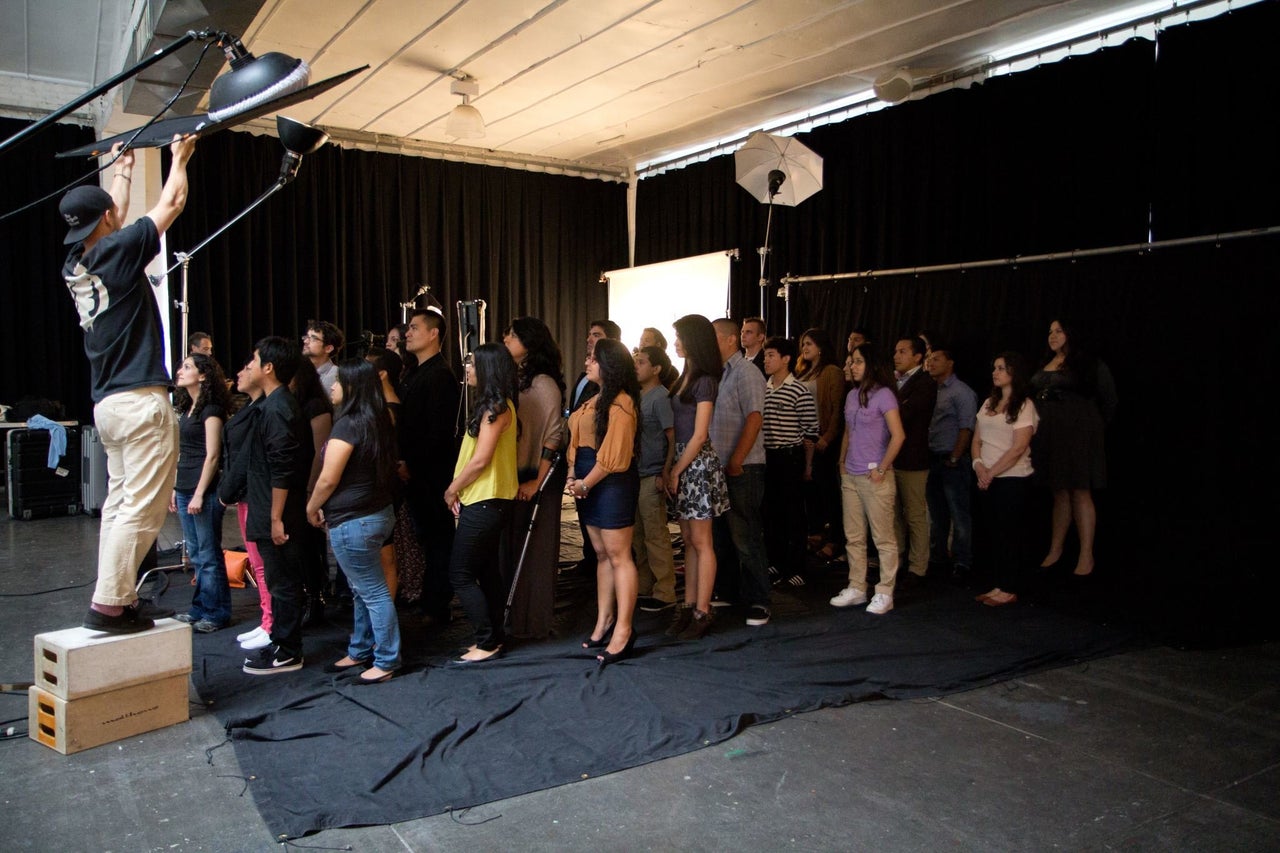 But the voices of Asian-American immigrants and their children have long been marginalized. Even the numerous articles and interviews about his book either completely ignore Vargas' Asian identity or mention it as an aside.
"The Asian part of this is not being recognized," Vargas told HuffPost.
Halfway through his memoir, Vargas describes an encounter that perfectly captures the erasure of the Asian-American experience. Ahead of "Meet The Press" host Chuck Todd's interview with then-presidential candidate Donald Trump, Vargas said he reached out to provide Todd with statistics on the Asian undocumented population. Vargas writes that he "urged [Todd] to ask Trump how building a wall on the southern border would protect Americans from undocumented Asians who flew here and overstayed their visas."
During the interview, however, "Todd never did ask my question, perhaps because it did not fit the narrative," Vargas said. "Maybe he just ran out of time."
It's a scary prospect to expose the Asian-American community as a large stakeholder in conversations about undocumented immigration: No immigrant group wants to draw too much attention to itself and become a law enforcement target. However, when undocumented Asian-Americans aren't part of the debate, they lose out on crucial support and information, immigration scholar and professor of sociology at Columbia University Jennifer Lee told HuffPost.
"Policies and resources aimed to help undocumented immigrants are largely targeted to Latino immigrants," she said. "Often, the resources are delivered in Spanish, which excludes Asian undocumented immigrants."
Moreover, the fear of losing face further limits Asians' access to resources, Lee said.
"There's also a greater stigma and shame among Asian immigrants who are undocumented because they perceive themselves to be outliers, so they're also less likely to ask for the help that they need," Lee explained. "This makes Asian undocumented immigrants doubly disadvantaged: They lack resources, but also feel shame in their status and are less likely to seek resources compared to Latino undocumented immigrants."
"There's a greater stigma and shame among Asian immigrants who are undocumented because they perceive themselves to be outliers, so they're also less likely to ask for the help that they need."
Vargas also feels that shame stems from the absence of Asian-Americans in narratives about undocumented immigrants' experiences.
In his conversation with HuffPost, he brought up a particularly moving encounter he had with a Korean-American family after he appeared on Time magazine's 2012 "We Are Americans" cover. Vargas is in the center, surrounded by other undocumented immigrants of various races and ethnicities ― Asian, black, Latinx, and white.
"A couple of months after [the magazine ran], I went to this lady for dry-cleaning and I started noticing that she wasn't charging me. So I go to her and I said, 'Hey, I noticed you're not charging my credit card,'" Vargas recalled. "And she pulls the Time magazine cover from under the register and then she goes, 'We're the same. We have no papers.'"
The author added that the woman's son came out from the back of the store and told Vargas he'd qualified for DACA. The family had barely ever talked about their status, he said.
Highlighting these stories is crucial for another reason, Vargas says: honoring the generations that came before us. Many immigrant stories, including those of Asian immigrants, involve sacrifice and loss ― the tradeoff for giving loved ones a chance for a better life. While Vargas was deeply affected by the absence of his mother, he eventually realized that she had lost her own mother to borders and oceans.
"My grandmother couldn't even talk to me about it because she didn't have the language to do so. You just have to swallow it," he said.
"All of our grandparents who moved here and couldn't speak the language and weren't accepted and treated as foreigners. What do we owe them and what can we say now?" Vargas asked. "That is a very important task, especially for Asian writers ― anyone of Asian descent who tells stories. Our stories."
Popular in the Community