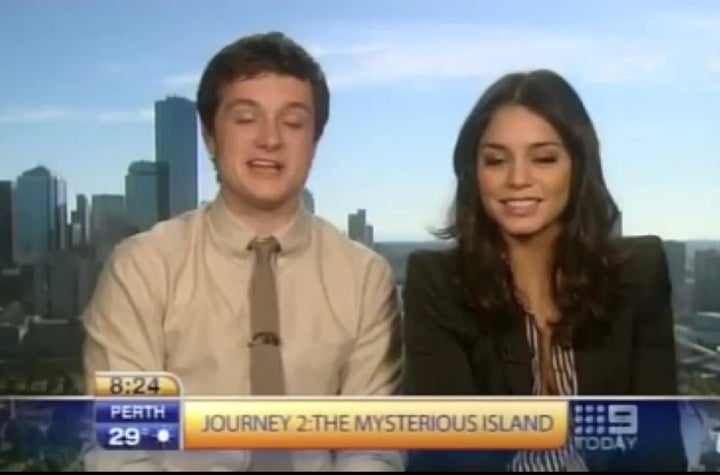 The Hunger Games isn't the only movie actor Josh Hutcherson is promoting right now: The 19-year-old is currently in Australia with co-star Vanessa Hudgens for the premiere of their movie Journey 2: The Mysterious Island. The two stars made some time to do an interview with a Brisbane morning show while they were down under... and that's when things got awkward.
It was rumored that the young actors dated while on the set of the movie in July, but Vanessa Hudgens' current relationship with actor Austin Butler has been a high-profile (and PDA-plagued) news item for some time now.
So, when the interviewer asked how long Hutcherson and Hudgens had been going out, the surprised exes shared an awkward moment on screen.
"We're not… We were at one point, but she broke my heart. No, I'm just kidding. That was a while ago. We're really good friends now."
Watch the cringe-worthy Q&A go down in the video below at the 3:20 mark.
On the plus, Josh has been doing a ton of non-awkward interviews lately for his highly anticipated role as Peeta in The Hunger Games. Watch AOL's exclusive interview with the star, along with Liam Hemsworth, talking about its comparison to Twilight here.
So, tell us: Will you be seeing Journey 2: The Mysterious Island -- or will you hold out for The Hunger Games to see Josh in action? Sound off in the comments or tweet us @huffpostteen.
Popular in the Community