Joy Garnett is an interdisciplinary artist and writer who lives in Brooklyn, NY. She is represented by Winkleman Gallery, New York.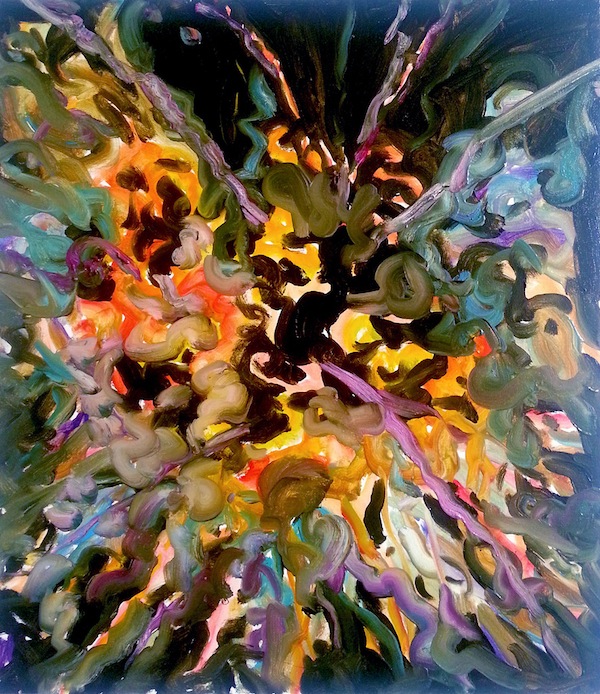 Joy Garnett: Facture (2012). Oil on canvas. 30 x 26 inches. Courtesy of the artist and Winkleman Gallery, NY
Can you talk about your choice of materials? I remember reading about how you finish paintings in one session. Is that speed of working important? Given the subject matter, it might well be a metalogue, like painting at the speed of light or at least the speed of the bomb's glare.
I like the idea of a metalogue. I like to work fast, after longish stretches of digesting and internalization. I paint with oils because they have a particularly good light-refractive quality, and there is something about the way colors mix that is unique to oils. I use a 'wet into wet' technique, that is, I work only while the paint is wet, dealing with the different layers and colors while they are still 'live.' I do complete each painting in one go. With small canvases I tend to work in series, sometimes doing two or three at a time. I suppose this way of working emphasizes the performative aspect of painting, where each work is produced in and comes out of a particular moment. Once I've stopped, it's done, I don't revise. I also work with sumi ink on paper. I really prefer wet media, and have been working towards an economy of means with wet media for years.
There is another body of work that I've been developing more recently, since about 2008, which I've dubbed 'Social Media Performance.' So yes, the performative aspects of making art have been on my mind. These social media projects are distinct from one another, and come out of real-life situations. Usually they develop in the space of conflict between the virtual and the material. They are often participatory and take place in real-time; they entail a combination of smartphone photography, social networks (Twitter, Tumblr, Flickr, etc), and eventually, sometimes, I produce images and installations that are part documentation, part independent art object. All of these projects are archived online, which satisfies an archiving compulsion I have.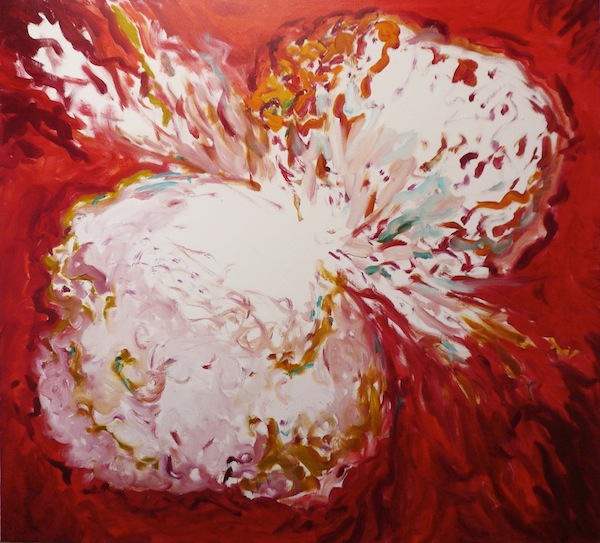 Joy Garnett: Pink Bomb (2011). Oil on canvas. 54 x 60 inches. Courtesy of the artist and Winkleman Gallery, NY
Your work is based on found images culled from the Internet. Is there anything you want to say about how you came to work in this way, the process of it, and or any other aspect of it?
The relationship between painting and the technical, electronic image is what interests me. The paintings are paradoxical in that they are at once a depiction of something -- usually a real life event -- and a depiction of their source image, which is a kind of framing device for the event. The paintings, therefore, are at once contemplative and critical, expressionist and theoretical. My research almost always has to do with images in the current media, their attempt at representation or their power to manipulate the viewer. I seem to always end up with images of post-apocalypse or impending disaster -- there's a surfeit of them -- and my paintings have been referred to as pointing to or manifesting the 'apocalyptic sublime.'
Because the post-photographic electronic image is what drives the dominant narratives of our age, my feeling is that at this juncture, painting offers itself up as a strangely apt strategic counterpoint: a tool for intervention. Painting, even when fast, is slow, since it is tied to the human body. My thoughts about this have developed over time, influenced by my readings of French essayist Paul Virilio, who has become a person I both admire and like to argue with. He writes about what he calls the 'pollution of distances' whereby we, as human beings, are losing touch with the poetics of our innate slowness, a seemingly trivial thread in our collective history that has to do with how we deal with inefficiency: gradual or obstructed delivery conduits, endless waiting, distraction, impatience. These are important, if not essential, human responses to obstruction. They are more important than we think. I believe what Virilio is getting at is that the inefficiencies in life are what give rise to human creativity. Art is not a result of enabled efficiency; it comes instead from a position of limitation, and overcomes limitations by complicating them, not by eradicating them. But our technologies keep closing the gaps in efficiency, creating a pollution of distances whereby elapsing time and the space between things have collapsed. Hopefully, artists are prepared to complicate things if not disrupt and derail what has become an institutionalized systematics of speed that permeates and controls nearly every aspect of our digitally synced, automatically updated, cloud enabled continuous and increasingly homogenized lives.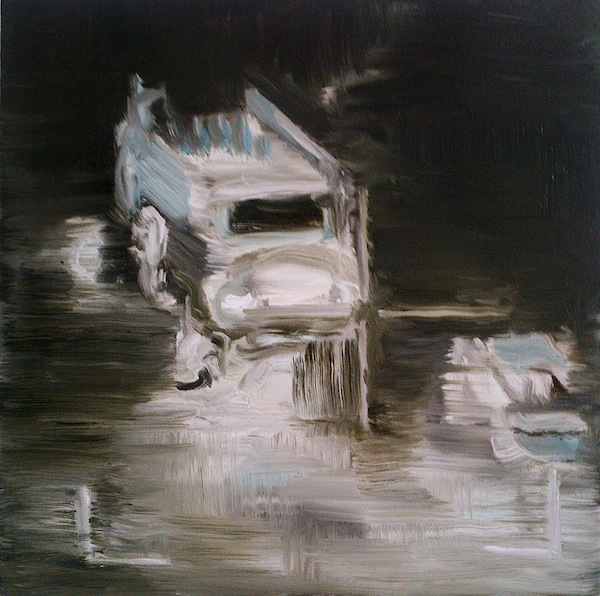 Joy Garnett: Predator 3 (2012). Oil on canvas. 14 x 14 inches. Courtesy of the artist and Winkleman Gallery, NY
Read the full interview with Joy Garnett here.
Popular in the Community