Without a doubt, the hardest decision of my life. Yes or no, am I going to try and walk the length of the Congo River? Never done before, a rare and elegant world first, an extraordinary professional and personal challenge. But, God, it's so far. A commitment to go would mean 18 months of fundraising and training, followed by at least a year of trekking through some of the most demanding terrain in the world.
I used to enjoy jumping from tall bridges. My favorite spot was in the Cevennes, a national park in southern France. Mountain rivers racing through deep limestone gorges meant a phenomenal selection of high bridges, and a river below of sufficient depth to keep you - reasonably - safe. Jumping off bridges is not terribly difficult: one foot off, and then the other. Done. It was simply a question of getting up the nerve to take that step off. After that, whatever knocks were going to come were going to come.
I created a Grand Tour des Ponts and would drag visiting friends around the circuit's eight bridges, from lowest to highest; most people managed the fourth jump before calling it a day. The tallest of the lot was a decommissioned railway crossing. A guy selling ice creams at one end told me that the bridge dropped 48 meters (155 feet) into the water below. I don't know for sure, but it certainly felt preposterously high.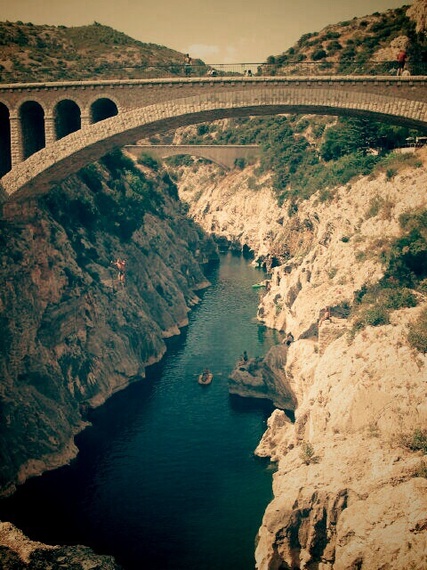 I was petrified and really did not want to go. It didn't help that, just below the bridge, the river widened into a small lake. Being a hot Southern French day, it was crowded with daytrippers from Montpellier, the majority of whom seemed to be craning their necks up to see the idiot sitting straddling the bridge's steel railing. Ah, fuck this. Fuck this. I almost gave up, but I really wanted this one. Come on, jump. Do it. Jump, jump! Just fucking jump! And finally I did. The height was no less preposterous on the way down. The force of the impact blew my shorts off; I waded from the water winded and naked. At least the daytrippers had a good story to take home.
I never jumped from that high again, but it was still a powerful lesson. I tried to develop a just jump philosophy in the face of tough decisions- screw up your courage to take that first frightening step, and then just accept a beating if it comes. For the most part it has stood me in good stead. It took about a minute to make the decision to try and climb Everest and, for all the struggle of that venture, I have no regrets there.
With the Congo I certainly knew what my instincts were telling me to do - jump! - but given the scale of this commitment, I wanted to give myself every opportunity to question that primal urge.
The doubt could, of course, have been down to the fact that a walk down this river was an extremely frightening prospect. Reading Ed Stafford's account of his descent of the Amazon River I was simultaneously intrigued and repulsed by his description of days spent wading through flooded forest, agonizing twelve hour marches where he made perhaps five or six miles progress.
On his website, I watched, over and over again, the final video the expedition had posted. It showed the team's final 50 mile push, bodies barely holding together, and then the moment they reached the Atlantic. After 860 days of grim struggle Ed and his partner Cho sprinted into the waves. The happiest day of his life, Ed said, and I knew that I wanted the same. I wanted to run into the Atlantic - my side of the Atlantic - having suffered my way across a continent.
On August 27th, after two months of roiling internal debate, I finally made the decision to move forwards with the expedition. I sent a creative brief to my regular graphic designer, asking him to create a logo for the expedition. (It's amazing how getting that identity in place right away helps calm the nerves.)
I've booked a flight to head out to Kenya. I will spend a few days up at Flying Kites and then head over to the eastern part of the Democratic Republic of Congo to meet with some people. I need to find a Congolese partner to co-lead the expedition. It is so important that the stories that come out of the expedition have an authenticity and insight that I believe can only come from someone who is walking through their own country. I've emailed anyone I could find that might be interested in joining me, or might know someone that would be interested. Nothing like a face-to-face meeting to show seriousness of intent.
The leap of faith may have been a few weeks in coming, but having made the decision, there is a familiar and pleasurable sense of immersion in the task that I have set myself. I can only imagine the knocks that are going to come over the next few years, but I welcome them.