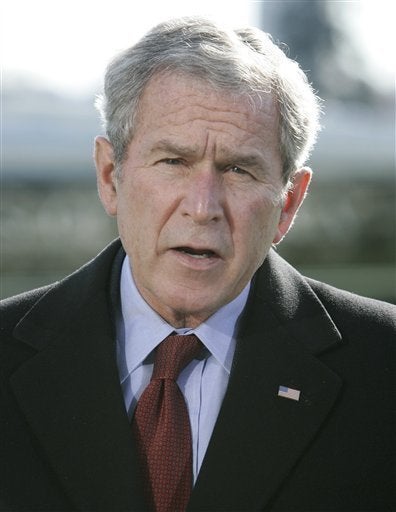 UPDATE -- Saturday, Feb. 20, 1:08 AM: John Yoo, the lead author of the Bush administration's "torture memo," believes that an American president's powers are so broad that he or she could, if they wanted to, order the military to slaughter an entire village of civilians.
Newsweek's Michael Isikoff uncovered Yoo's comments. The interview can be found on page 64 of the report (page 70 of the "final report" embedded below). Isikoff reports that Yoo did not immediately respond to a request for comment.

UPDATE -- 6:58 PM: Sen. Patrick Leahy (D-Vt.) has announced that the Senate Judicial Committee will hold a hearing next Friday, Feb. 26, to examine the Justice Department's report about the Bush administration's torture memos. According to a press release from the Senator's office, witnesses will be announced in the coming days.
Sen. Leahy, a former prosecutor, said that he was "offended" by the "premeditated approach" that John Yoo and Jay Bybee used to draft "seriously flawed national security policies."
On Friday, the Justice Department released a long-awaited watchdog report on the Bush administration legal team that authorized the now-infamous torture memos. And in a move destined to anger critics of the past administration's conduct, the career official in charge of the investigation overruled a previous finding of misconduct -- exonerating the lawyers under examination.
The nearly 300-page report concludes that Yoo and Bybee are not guilty of any "professional misconduct" in writing the memos that recommended "enhanced interrogation techniques." Rather, Yoo and Bybee used "poor judgment" in their issuing of the torture memos.
Rep. John Conyers (D-Mich), who chairs the House Judiciary Committee, placed the document on his website Friday afternoon after months of anticipation surrounding its publication.
Authored by the Justice Department's Office of Professional Responsibility (OPR) and spearheaded by career veteran David Margolis, the report looks into the actions taken by the Bush Justice Department's Office of Legal Counsel. The main focus of the probe were two controversial lawyers -- Jay Bybee and John Yoo -- both of whom had been accused of bending acceptable legal reasoning in an effort to justify the use of torture on terrorism suspects.
In late January, Newsweek reported that Margolis had watered down his criticism of Bybee and Yoo in his final draft. And, indeed, the accompanying documents released show that while an initial OPR report found You and Bybee to have engaged "in professional misconduct," Margolis subsequently decided to drop the charge.
From Margolis' cover letter:
OPR concluded that former Office of Legal COusnel (OLC) attorneys John Yoo AND Jay Bybee engaged in professional misconduct by failing to provide "thorough, candid, and objective" analysis in memoranda regarding the interrogation of detained terrorist suspects. Consistent with OPR's usual procedures, OPR indicated its intent to refer its finding of misconduct to the state bar disciplinary authorities in the jurisdictions where Bybee and Yoo are members.

[snip]

For the reasons stated below, I do not adopt OPR's findings of misconduct. This decision should not be viewed as an endorsement of the legal work that underlies those memoranda. However, OPR's own analytical framework defines "professional misconduct" such that a finding of misconduct depends on application of a known, unambiguous obligation or standard to the attorney's conduct. I am unpersuaded that OPR has identified such a standard. For this reason and based on the additional analysis set forth below, I cannot adopt OPR's findings of misconduct, and I will not authorize OPR to refer its findings to the state bar disciplinary authorities in the jurisdictions where Yoo and Bybee are licensed.
The Huffington Post has embedded both the cover letter and the final summary for readers to read. Please email and let us know what you find in the pages.
Here is the final report
Popular in the Community