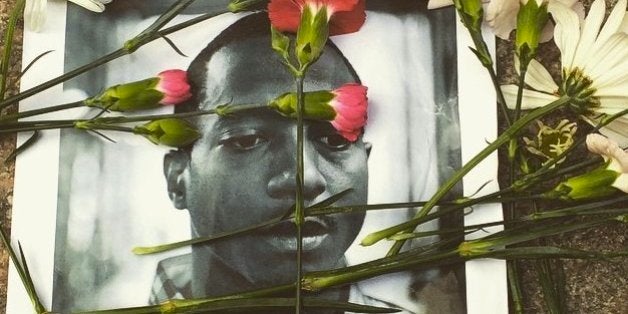 NEW YORK -- A vigil Thursday evening for Kalief Browder -- the young Bronx man who died by suicide this week after spending his teenage years in jail without a trial -- started with a prayer.
"We're here for one reason and one reason only," Rev. Jackie Lewis told a crowd of about 100 people from the steps the Manhattan Detention Complex. "We're here to grieve. We're here to grieve the loss of a particular life, Kalief Browder, who began to die the day he was arrested at 16, and incarcerated and held for 1,000 days without due process."
"He began to die every time someone injured him, tortured him, raped him, isolated him," Lewis continued. "He began to die when his hope died. He began to die when the system failed him."
Browder was 16 years old in 2010 when he was sent to New York's notorious Rikers Island jail for allegedly stealing a backpack. Browder always maintained his innocence. He was unable to make bail, and the Bronx district attorney's office repeatedly delayed his trial. Browder spent three birthdays at the facility. The charges against him were ultimately dismissed.
"We're here to mourn a broken system, a system that needs to die, a system that needs to be broken down, a system that needs to be dismantled," Lewis said.
During his time on Rikers, Browder spent an accumulated two years in solitary confinement. For the other year he was there, he faced horrible violence at the hands of guards and fellow inmates. Browder attempted suicide multiple times during his incarceration.
Upon his release, Browder struggled with mental health problems that his lawyer claims were caused by his time in jail. And last Saturday, after nearly two years of struggling to cope in the outside world, Browder killed himself. He was 22.
Among those at the vigil Thursday was Browder's older brother, who asked not to be named.
"He was a boy. He was not a man," the brother remembered. "He was 16 years old when he was arrested and came out at 20 but he was still a boy. He was young man in body, but he was a boy."
"He did solitary confinement for so long, that, being in my mom's house, by himself, in his room, was his only solitude," the brother added. "Even though he was out of jail, he confined himself again in real life. He didn't want to be around people, but they called it paranoia, they called it a mental illness but he had a rightful reason… his mental illness is due to jail."
"Kalief wouldn't have wanted any of this," said Browder's lawyer, Paul Prestia, pointing at large crowd and all the news cameras. "He didn't want any of the attention… he just wanted to be normal. It was easier said than done for him. He couldn't reconcile what he'd gone through. It was too much for him to overcome."
"There were times when he was alive but barely living," he added.
Prestia added that he hopes there's accountability for Browder's death.
"We're gonna pick up the pieces and move forward," he said. "The family will inherit the lawsuit and we'll continue this quest for justice for Kalief. We can't just let this end."
Mourners laid flowers and photos of Kalief on the steps of the Manhattan jail complex, as officers from the Department of Corrections looked on. The vigil was organized by the advocacy group Gathering for Justice, which is against the incarceration of minors.
"Every New York state jail has a Kalief Browder," Gathering for Justice organizer Angelo Pinto told the crowd. "That's the reality of the matter."
Carmen Perez, Gathering for Justice's executive director, said scandal-plagued Rikers Island "is no place for children."

"It wasn't a place for Kalief," she said. "It wasn't a place for [18-year-old] Kenan Davis, who committed suicide on Rikers yesterday."
"When minors are put into adult jail, we are subjecting them to psychological trauma, rape, torture and isolation, the likes of which few adults could withstand," she added. "Much of this abuse comes at the hands of those who say they're here to protect and serve."
Mysonne Linen, a 38-year-old Bronx resident and Gathering for Justice activist, told The Huffington Post he was incarcerated on Rikers as a young man.
"It was a lot for me at 21," he said. "I can't imagine dealing with those situations at 16."
And Yvette West, who held a sign reading "#RaiseTheAge of Criminal Responsibility to 18," told HuffPost she drove into the city from Westchester for the vigil.
"This could be my son," she said of Browder. "It's heart-wrenching. I have not been able to get this story out of my mind. It's just awful. I'm sorry that the system failed him. He was tortured, and that should've never happened to him."
Support HuffPost
Every Voice Matters
Popular in the Community