It's certainly an eventful period for Kate Moss aficionados. The usually-tight-lipped model has been feeling extra chatty lately, penning a tell-all, autobiographical coffee table book with eight different covers (out in November!). Now, in her latest interview with Vanity Fair, Ms. Moss opens up about her rumored drug use and her relationship with Johnny Depp. It's like Christmas came early this year.
Kate graces the cover of the mag's December 2012 issue, styled like a '60s bombshell with cat eyeliner and teased hair. The talk inside the issue, however, turned to the "heroin chic" style the 38-year-old popularized when she was first starting out in the '90s. Fortunately for Kate, achieving the look didn't require having an eating disorder or actually taking the drug, as gossip magazines have been claiming for years. She says the whole thing wasn't even her idea:
"I had never even taken heroin -- it was nothing to do with me at all. I think Corinne [Day] -- she wasn't on heroin but always loved that Lou Reed song, that whole glamorizing the squat, white-and-black and sparse and thin, and girls with dark eyes. She loved that look. I was thin, but that's because I was doing shows, working really hard. At that time, I was staying at a B and B in Milan, and you'd get home from work and there was no food. You'd get to work in the morning, there was no food. Nobody took you out for lunch when I started. Carla Bruni took me out for lunch once. She was really nice. Otherwise, you don't get fed. But I was never anorexic. They knew it wasn't true -- otherwise I wouldn't be able to work."
Of course, lest you forget, there was that pesky 2005 incident in which Kate was featured on the cover of the Daily Mirror handling a white powder substance alongside the headline "Cocaine Kate." But make what you will of that. The mother goes on to discuss the hardships of modeling at such a young age -- the pressure to take your clothes off without any proper protection from the industry and very few trustworthy mentors (a problem the fashion world is unfortunately still dealing with today). The supermodel says that Johnny Depp, who she dated for four years beginning in 1994, was the only person who she could trust:
"There's nobody that's ever really been able to take care of me. Johnny did for a bit. I believed what he said. Like if I said, 'What do I do?,' he'd tell me. And that's what I missed when I left. I really lost that gauge of somebody I could trust. Nightmare. Years and years of crying. Oh, the tears!"
Even though she's now found her other half in husband Jamie Hince, we still feel for Kate -- losing Johnny Depp definitely has to be a hard pill to swallow. For now, at least, it seems that she's settled into domestic bliss with Jamie and daughter Lila, so we hope she doesn't have much to cry about these days.
Check out her new Vanity Fair cover below. The December issue will be available on newsstands in New York and L.A. on October 31 and nationally and on the iPad, Nook, and Kindle on November 6.
PHOTO: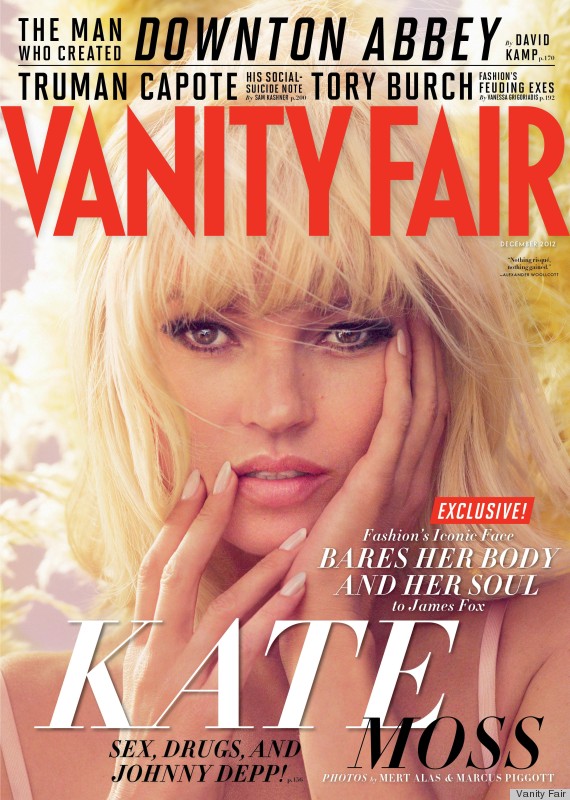 See more of Kate Moss' covers!
PHOTO GALLERY
Kate Moss' Magazine Covers
Want more? Be sure to check out HuffPost Style on Twitter, Facebook, Tumblr, Pinterest and Instagram at @HuffPostStyle.
REAL LIFE. REAL NEWS. REAL VOICES.
Help us tell more of the stories that matter from voices that too often remain unheard.