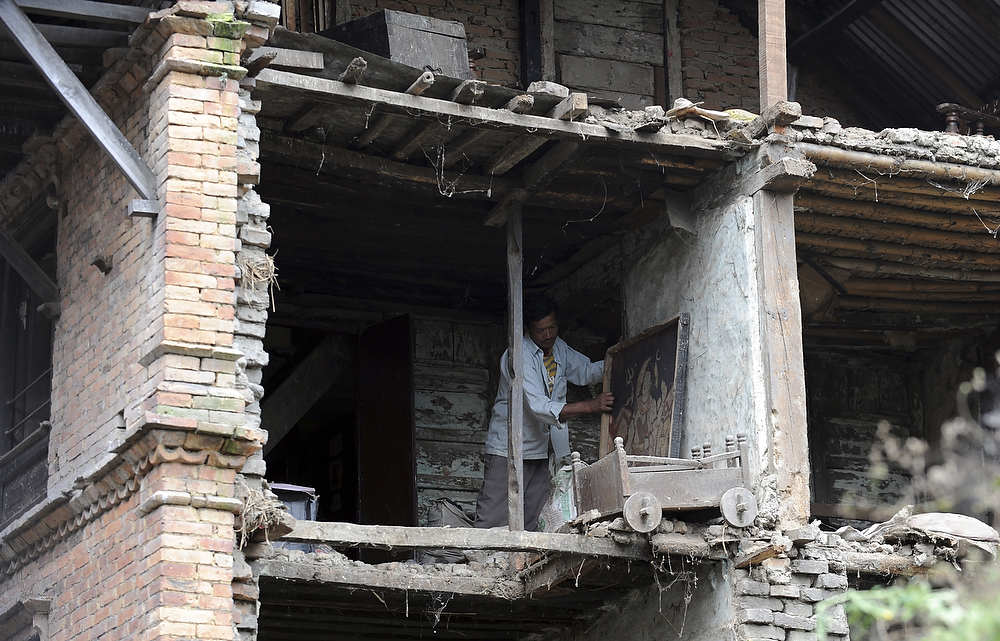 Foto: PRAKASH MATHEMA/AFP
They called it "the big earthquake" -- and many in Kathmandu had anticipated and feared it for years. The last big earthquake near the capital of Nepal took place in 1934, causing several thousand deaths and destroying half the city. Seismologists postulated that it was a cycle that repeated itself every 80 years: the next big quake could come any moment. But optimists hoped that the worst was behind Nepal.
The topic came up time and time again in conversations between Westerners I met during the time I lived in Kathmandu, three years ago. Most were preparing for what could come: technical specialists would go to the homes of those who worked in international organizations to analyze a home's capacity to resist an earthquake, determining the structure's weak and strong points to find the ideal location for shelter.
Those of us who had smaller budgets settled for finding homes that appeared truly solid, with pillars set deeply in the ground, and with buying an American anti-earthquake alarm that claimed to anticipate the moment of the brutal quake by 10 vital seconds. We all had an emergency bag prepared, a survival kit that we placed in a safe place in our homes' patios or gardens, which contained food, drink, clothing, flashlights, and water purification tablets. And one more thing: we had to be in contact with the European embassies -- I got assigned the French one -- in case the earthquake came and an emergency evacuation plan was activated.
It was the curse of Kathmandu, a city of beautiful temples nestled in a valley, where there is so much clay in the ground that when the monsoon rains come, the tarless streets become a pool of mud. Only an emerging Nepalese middle class could afford to worry about whether the structures of their homes were earthquake-resistant, as my landlord, Mr. Shyam, told me when he rented the apartment to me. But most people, in a country with so much inequality, live in the thousands of houses that have proliferated like mushrooms in the valley of Kathmandu, without regulations or planning, in the past 20 years. Others lived in typical old Nepalese homes made of red brick and wood, narrow, poorly ventilated, and difficult to leave in a hurry. The only thing left to do was pray.
Among the generation that is between 20 and 40 years old, some have traveled outside their country, consume global cultural products, and experience their bodies and sexuality with greater freedom than their parents. But in Nepal there are still many who think that things depend only on divine plans, that we each have our own fate, and that the individual and collective will to change things does not matter much if the cosmos and the transcendent are not turning in that direction. It's what the Nepalese anthropologist Dor Bahadur Bista referred to as "fatalism."
Nevertheless, local and foreign NGOs have been trying to raise awareness among residents and the political class for years about the possibility of another massive earthquake, and Nepal's vulnerability to such an event. But Nepal's government has fallen far short of fulfilling its citizens' needs, despite the billions of dollars they have received in aid. Since the '90s, Nepal has endured a civil war between the state and Maoist guerrillas, a regicide, a new king -- later toppled -- a federal republic, more than 10 prime ministers, failed constituent assemblies, endemic corruption, and the continued lack of a constitution.
"This is the state's fault: they knew that this was going to happen because scientists anticipated it. And they have not done anything. Architects said that old houses had to be torn down, but nothing happened, only some protection programs in the schools," my friend Arun, who works as a tour guide and has been taking care of his clients all day, told me through chat. Saudat, another good guy I met there -- who always wore a biker's helmet until he left to study in Australia -- hopes that "this will be a turning point for our country, because it has been a catastrophe." Another friend, Achyut, who taught me the nuances of Eastern philosophies, told me today that it was the most awful horror he had ever seen: "10 hours of tremors between the earthquake and the aftershocks."
According to Arun, "There is no power, and people are on the streets because the tremors come back time and time again." And he thinks there will be many more dead, because "there are a lot of people buried and there are still those in the villages, that we don't know anything about."
"What can we do to help from here, Arun?"
"I don't know, honestly."
But it's also true that the Nepalese are strong, resilient. Battle-hardened, like my good friend Dipendra, who welcomed me and my girlfriend when we got to Nepal, and who took care of us, guided us, and protected us for months, until the very afternoon when I returned to Spain. One day I was walking with him on the street, fixated on the topic of earthquakes, and I asked him how he could be unworried.
"I don't have another option, Jorge. Otherwise, I couldn't live."
This post was originally published on HuffPost Spain and was translated into English.
Calling all HuffPost superfans!
Sign up for membership to become a founding member and help shape HuffPost's next chapter