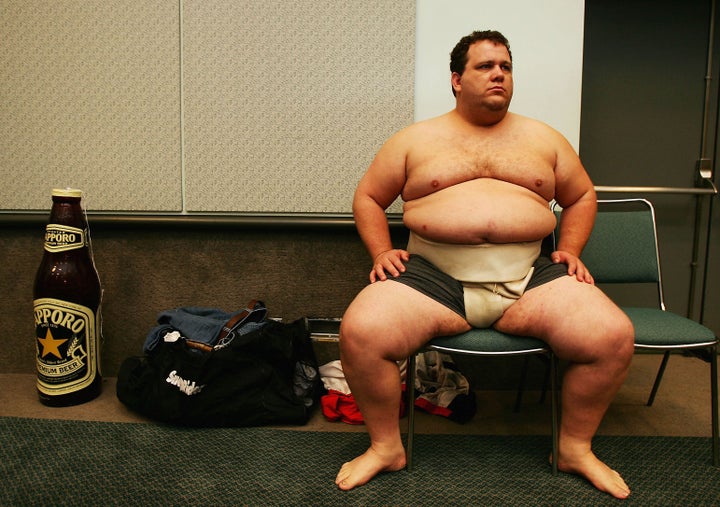 You have to hand it to him for trying.
A 405-pound ex-sumo wrestler has vowed to run the Los Angeles marathon on Sunday, which will earn him a place in the Guinness Book of World Records--if he finishes.
Kelly Gneiting of northeastern Arizona won three sumo wrestling National Championship titles in the US between 2005 and 2007, and even competed in Japan in 2006, where he placed 5th place in the World Sumo Championship.
But now he plans to conquer the challenge of marathon running.
Gneiting finished the LA Marathon in 2008 in 11 hours and 52 minutes, but was not credited by Guinness since he was not weighed directly before and after the race, as Guinness requires, reports CBS Los Angeles.
Gneiting lives on a Navajo reservation in Arizona and has a waist that measures 60 inches. He worked previously as a long-haul trucker, but lost his job after an accident last November.
"I married my wife at 205 pounds," he says..."Suddenly, jeez, I didn't need to attract anyone. I kind of let myself go."
When the married couple landed in financial trouble, Gneiting found that eating made him feel better. But his weight made it tough to get a job, according to the LA Times:
"I would apply to jobs and people would see me and it was like they were wondering, 'Do we really want this monster walking around the office all day?' " he says. "Some people were just really shallow."
Gneiting was raised in eastern Idaho by his mother and his father, who was a banker, before going on a two year Mormon mission and enrolling in Ricks College, where he joined the wrestling team.
But his dreams go beyond running Sunday's marathon. One day, Gneiting promises, he will swim the English Channel, and he also has plans to hike from the Dead Sea to Mount Everest (a route that would take him through both Iran and Iraq.)
"Big people can do the unimaginable," he says.
REAL LIFE. REAL NEWS. REAL VOICES.
Help us tell more of the stories that matter from voices that too often remain unheard.