Following Bill McKibben's "Do The Math" tour stop in Washington, D.C. Sunday, members of 350.org and other activists are marching around the White House urging President Obama to reject the Keystone XL oil sands pipeline.
Following the march, which features a 500-foot mock pipeline, author and 350.org founder Bill McKibben, Sierra Club President Allison Chin and Oklahoma-based environmental leader Earl Hatley plan to speak on the pipeline and encouraged Obama to address climate change.
McKibben recently addressed Washington's inaction on climate change. In an email to HuffPost's Tom Zeller, McKibben wrote, "It's true that D.C. hasn't yet caught on... They're still in the grip of the fossil fuel industry."
The International Energy Agency released its annual World Energy Outlook this week, for example. Among the many points highlighted in the roundup: Global greenhouse gas emissions are increasing at a pace that could make things far hotter on planet Earth than anyone, given the choice, would likely care to endure.

That report came on the heels of another lengthy analysis, published by the National Research Council on behalf of the Central Intelligence Agency, which concluded that climate change is almost certain to destabilize the geopolitical chessboard, and as such it represents a clear concern for U.S. national security.
McKibben's national "Do The Math" Tour comes on the heals of his July Rolling Stone article, "Global Warming's Terrifying New Math," in which he warned, "to grasp the seriousness of our predicament, you just need to do a little math."
Before You Go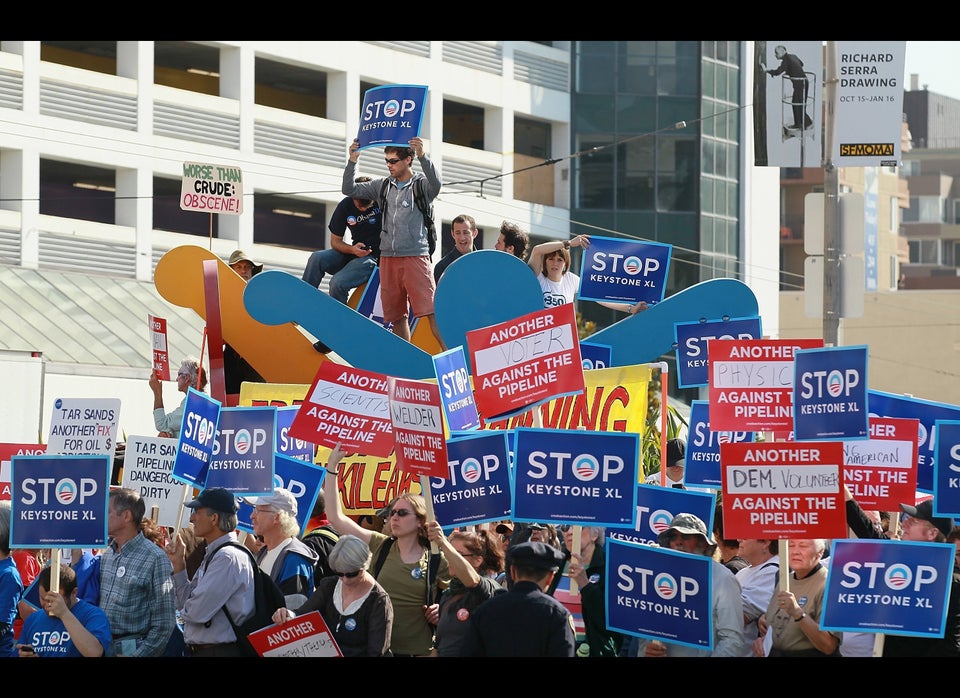 Keystone XL Protests
Popular in the Community