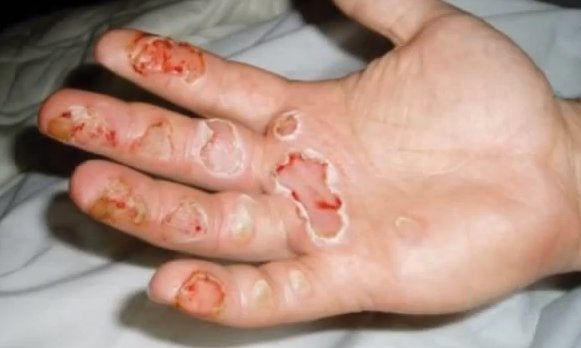 Hair ironing has become a part of many women's morning routines -- but straighteners are also extremely dangerous to kids, a new campaign warns.
One children's hospital in Ireland reported that in 2009-2010, nine percent of children admitted for burns had been injured by a straightening iron. The average age of those kids was 18 months. According to the Telegraph, burns from flat irons are the third most common cause of burns to kids, following hot drinks and hot food.
"Young children can easily pick up or accidentally step on a hot pair of hair straighteners left on the floor and these burns can be quite deep, perhaps even cause permanent scarring," Caroline James, a pediatric burns nurse in the U.K. told the Telegraph. Doctors in the U.K. say that hundreds of kids each year are injured this way.
A new video campaign, "Too Hot to Handle," shows upsetting photos of kids' hands who have sustained straightener burns, warning parents to keep the tools away from kids. According to the press release, flat irons are more dangerous to kids than adults because their skin can be 15 times thinner.
Nicola Vance, a mom from Belfast, told the BBC how her son, Alfie, was seriously burned by her hair straightener. "I was getting ready in the morning and I was straightening my hair, Alfie was seven-months-old so he was sitting up on the bed... Alfie has just learned to shuffle so he was moving along the bed, he caught himself in the sheets and just fell forward onto the straighteners. The middle of his eyebrows was all red and his skin had melted," she said.
Alfie might need plastic surgery, but had Nicola not been there, his injury could have been even worse.
Dr. Julie-Ann Maney, a pediatric emergency medicine consultant at a hospital in the U.K. who's participating in the campaign says burns like Alfie's are preventable. "The Too Hot to Handle campaign will highlight how dangerous these devices are, particularly to small children and that the public need to be aware of the horrific injuries that can be sustained," she said in the press release.

Popular in the Community