How important is it to introduce kids to art? According to British artist Jake Chapman, not very important at all. In an interview with The Independent last month, the contemporary provocateur claimed that it was arrogant for parents to think children could understand modern art.
We wholeheartedly disagree.
To demonstrate (in a very unscientific way) that exposing children to art is anything but pointless, we turned to the Arts Camp at the West Side Y. The New York-based program is dedicated to exposing young people to a variety of art forms from dance to ceramics to painting. We visited the camp on the last day of its run, to talk to a group of kids ages five to six about famous art.
From Renaissance-era portraits to 20th century masterpieces, the students acted like miniature art critics, proving how impactful even a color copy of a painting can be. The result is the hilarious video above.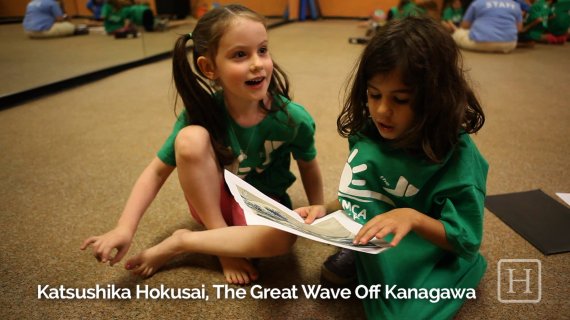 The children were interested in, intrigued by, and endlessly amused with the series of famous artworks we laid before them. And above all, they were funny and self-aware.
One girl mistook our videographer for the female subject in "Girl with a Pearl Earring," while a pair of budding tastemakers zealously pored over Kazimir Malevich's "Black Square." Would you be able to recognize the violent undertones of "The Great Wave off Kanagawa"? These kids can.
"Exposing children ages five to six to art is absolutely essential in the development of their sense of self," Amanda Selwyn, Director of Community Arts at the West Side Y, explained to HuffPost. "As well as observation skills, a sense of creative self-expression, self-confidence, collaboration, physical movement and vocal skills."
Having already been introduced to art at the Met, Lincoln Center, the New Victory Theater, MADD museum, the Highline, and outdoor performances through Summer Stage, the Arts Camp kids were anything but afraid to tackle the familiar and unfamiliar images in front of them.
"These field trips broke up the structure of the week and created opportunities for students to discuss, observe, and analyze art within the context of their other arts learning," Selwyn added. "Through guided discussions with counselors and peers, students were able to articulate their likes and dislikes, developing their voices and feelings as audiences and arts enthusiasts of the future!"
PHOTO GALLERY
Kids Talking About Art, Episode 1
Video shot/edited by Amber Genuske.
For more on the West Side Y's arts programming, check out their website here. Let us know your thoughts on the importance of early arts education in the comments.
Calling all HuffPost superfans!
Sign up for membership to become a founding member and help shape HuffPost's next chapter